Smart luggage that can pass through airport security
You've probably seen the news that bags and suitcases with built-in batteries are banned by the TSA. While that made for a great headline, it's not entirely true. Here is some incredibly smart luggage that can make it through security without getting you flagged by TSA.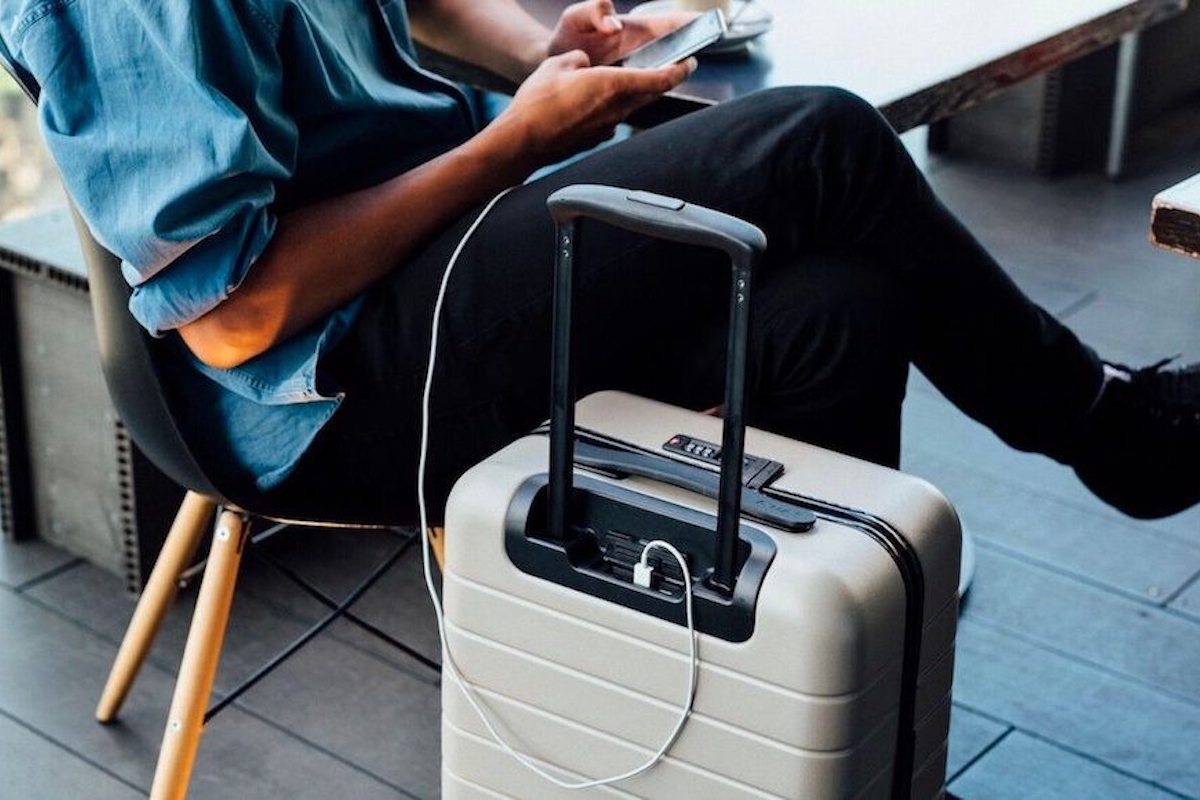 When did the TSA ban smart bags? The TSA banned bags with non-removable lithium batteries in early 2018.
Where can I find more luggage options? Check out our entire collection here. Because living out of these suitcases will be the best experience of your life.
Is there any new travel tech I need to see? While travel is often about escapism, you might not want to be totally detached from your friends and family. This travel tech will help you stay connected, no matter how remote your destination might be.
In 2018, the TSA made the decision to ban smart bags, suitcases, and luggage with built-in batteries. Since then, brands scrambled to find ways to market their current smart luggage while creating new products to fit the new rules.
But, the fix was actually pretty simple. The ban refers only to non-removable lithium batteries. This means that there is plenty of smart luggage out there that meet your needs while remaining TSA-compliant. Don't worry; we compiled the list just for you.
Kabuto Xtend Smart Carry-On Luggage
This carry-on suitcase doesn't just look beautiful, it also has several impressive functions. First of all, this carry-on bag can extend to become an extra 50% larger. It's perfect for when you pick up a few more souvenirs than you intended. Plus, this travel suitcase comes with a removable battery that can charge most smartphones up to eight times over – it can even charge your desktop computer.
Genius Pack Supercharged Carry-On Luggage
Outfitted with loads of convenient features, this single bag will totally upgrade your travel experience. Ultra-light and airline-approved, the Genius Pack Supercharged weighs just 6.8 lbs. and is complete with a removable 10,000mAh Power Pack. Perfect for trips of any length, the bag has two external USB ports so you can top up all your devices even on the go. The exterior also features a durable 100% polycarbonate shell as well as a combination lock and eight 360-degree spinning wheels.
Salsa Deluxe Multiwheel Electronic Tag Suitcase
Complete with its own electronic luggage tag, you're able to check this suitcase before your arrival to the airport so you can avoid long lines and frustration. Equipped with four wheels, the Salsa Deluxe Multiwheel Suitcase easily and effortlessly glides with you in step no matter which direction you push it. Inside are two Flex-Divider systems to make packing a breeze while an add-a-bag holder totally lightens the rest of your load.
Samsara Smart Aluminum Suitcase
This suitcase is the perfect travel companion as it has all the smart features you need. The use of aluminum makes the bag ultra lightweight and easy to move about. Built-in LED lights inside the Samsara Suitcase make it a breeze to see inside even at night. The suitcase is complete with a built-in portable power bank to recharge any and all of your devices. Finally, you'll instantly get a notification if the bag moves away from you thanks to the clever app.
NoviConnected Smart Luggage Travel Roller by INCASE
With four hubless wheels, this suitcase helps you glide around the airport. Once you pass through check-in, the class-A Makrolon polycarbonate shell should also protect your gear in the hold. On the inside, the polyester jacquard interior liner provides a soft space for fragile items. In addition, this case is seriously smart. It has a TSA-approved lock and a built-in 10,500mAh battery bank.
Which of this luggage would you take on your next trip? Share with us in the comments below.
The Gadget Flow Daily Digest highlights and explores the latest in tech trends to keep you informed. Want it straight to your inbox? Subscribe ➜