Enjoy Your Smartphone Life With the QIUB Pocket-Sized Power Bank
It's surprising when you consider the fact that Americans spend nearly 4.7 hours on their smartphones. If you want to keep going with that amount of time or more on your smartphone, you need to think of ways that can make those hours on your phone more smooth and functional. By ways, I am referring to the battery life. That's what happens to be the major concern to keep us "smartphone lovers" going for such long hours every day. What you need is a power bank. But not one that is way too bulky for carrying in your pockets or one that needs to be charged separately now and then. You need something as sleek and powerful as your smartphone. You need the QIUB!
Swiss-Army Knife of Power Banks
QIUB is your one-stop solution for carrying a power bank, charging cable and memory card reader all together in a pocket-sized device. The purpose is to help you come out from those big chargers, flash memory drives and cables every day that can often be a huge hassle. QIUB is a multi-functional device with an integrated cable and memory card reader that replaces the need to carry multiple phone accessories.
So from charging smartphones to getting a power boost on the go to syncing devices and functioning as a memory card reader, this pocket-sized power bank can do all of it.
Pocket-Sized Power
What makes the QIUB a comfortable everyday accessory is the fact that it can fit smoothly in your pocket. QIUB packs a significant battery capacity into a surprisingly small space. It's compact enough to fit in your pocket or on your key ring, so your power bank gives you maximum portability but never weighs you down. Simply plug your QIUB into your phone and power source to start charging your phone.
[tweet_box] Keep your smartphones always charged with the QIUB #powerbank and more! #EDC [/tweet_box]
When your smartphone is fully charged, QIUB will redirect the charge to its internal battery.
Never Face the Dead-Battery Problem Again
QIUB is also capable of turning your power bank into a memory storage device. It can read any Micro-SD card up to 64GB and is compatible with any laptop. QIUB is also a perfect place to keep safe your Micro-SD memory card. QIUB cables fold neatly into the device avoiding cluttered and disordered cables. Their strong and durable custom-made cables are made out of a colorful, hard-wearing and resistant material. Available in two vibrant colors of green or blue, this pocket-sized power bank can surely keep you and your devices charged up on the go.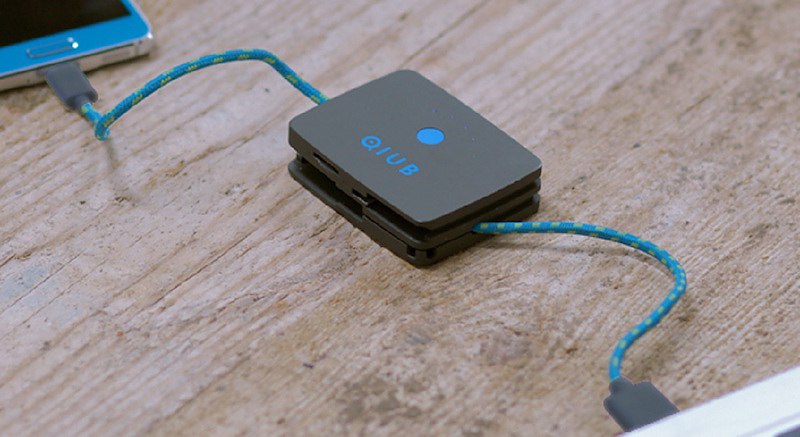 Starting at a pre-order price of $29, you can order one from Indiegogo anytime soon. Do you think a pocket-sized multi-functional power bank like this will solve your everyday charging problems?