Foobot Monitors Your Indoor Air Quality Like a Good Air Guru
In a day, we breathe about 15,000 or more quarts of air. That's much higher than the 2 quarts of clean water we drink per day. But surprisingly, we often fail to understand the health benefits of clean air as compared to that of clean water. I don't think I need to explain why you would need a water filter at home but when it comes to analyzing your indoor air quality, it's just the opposite. In spite of WHO reports saying that the indoor air quality is 8X more polluted than outdoors and is linked to the 5 most deadly diseases in the world, we seem to be neglecting it unknowingly. Take cooking for example. We do it every day but little do we know that the gases emitted are too harmful for our health.
While reading an article on this issue, I was surprised when I came across this statement, "Emissions of nitrogen dioxide in homes with gas stoves exceed the Environmental Protection Agency's definition of clean air in an estimated 55 percent to 70 percent of those homes, according to one model; a quarter of them have air quality worse than the worst recorded smog (nitrogen dioxide) event in London." And yet we are so careless to not consider doing something in order to enhance the indoor air quality. But I am happy that there is a team working on solving this problem, one Foobot at a time!
Track Your Indoor Air Quality Every Moment, 24*7
Foobot is a sleek design packed with powerful technology to track your indoor air quality. It's what they say "The Good Air Guru" you can use to take control of the air you breathe at home. Bad air quality can cause irregularities in sleep or reduce your daily productivity but with Foobot, you can now try and come out from that unwanted style of living and feel fresh and energetic throughout your day and even the nights.
Some of the most vital benefits you'll get to enjoy with Foobot would be – Staying focused and productive, Fighting sicknesses, Gaining body energy, Avoiding kids' respiratory issues and Getting a proper night sleep as well. From the beginning of your day to the time you wake up again next morning, Foobot will make sure you and your family stays safe and well protected from the hazards of indoor air pollution every single moment.
Don't Inhale Toxic Fumes at Home Anymore!
The smart device has been packed with sensors that detect indoor air pollution. These include tVOC: Volatile Organic Compounds (Formaldehyde, Benzene, Xylene, Toluene etc.), PM2.5: Particulate Matter, Temperature & Humidity, CO2: Carbon Dioxide and CO: Carbon Monoxide. Together with the mobile app and the hands-free monitoring device, you will be able to make sure no toxic fumes gather around your place at any point in time. So, even if you're frying your morning pancakes or cleaning your home with a vacuum cleaner, Foobot will be monitoring every single activity and notify you whenever it figures something wrong with your immediate air quality.
You can choose to tap the device for the latest data or simply keep a track on the light output which determines the change of indoor air quality with a change in color. With time, Foobot will be able to learn your habits and detect pollution peaks even before they happen. The best thing about this device is the way it operates silently in the background and be by your side, every step of the way.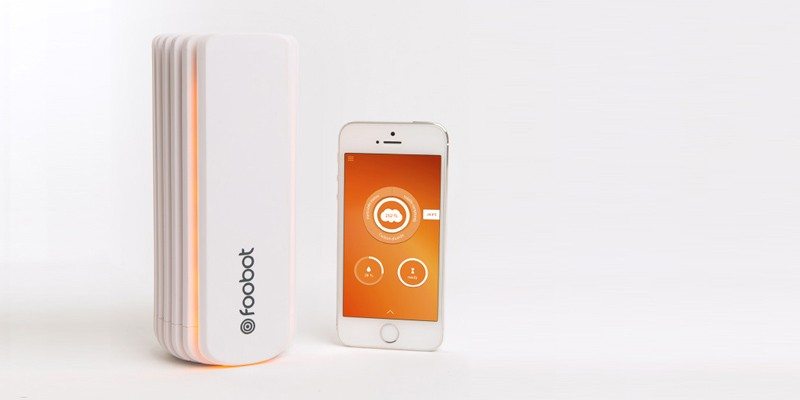 Foobot is beautiful and certainly a must have for every home today. Just like the way you've been drinking filtered water, you need to make sure the air you breathe is clean as well. With a Foobot coming at a price of $199, you'll make your home perfectly fit for a healthy lifestyle forever.
No matter what you do, never compromise with you and your family's health! Let's all go for Foobot now. Happy Gadgeting!