Holiday Gift Guide for Her: Celebration of Modern Fashionistas At Its Best Under $200
After the Holiday Tech Gift Guide we launched last week, it's now turn to bring up individual guides for the fashionistas as well as for the modern gentlemen, one at a time. Starting with the gift guide dedicated for women this week, our focus is now on curating all those amazing products we thought would complement every stylish woman's closet. If you're still going crazy over searching for that apt gift you could give your female friends, this is the guide you must have your eyes on. We have always had a thing for products which are simple yet attractive, stylish as well as useful. After months of curation in our dedicated category for women, here's what we thought would be best for your female buddies this Christmas.
Just to make sure you get to check on your budget, this roundup has gift ideas for women under $200. Have a look: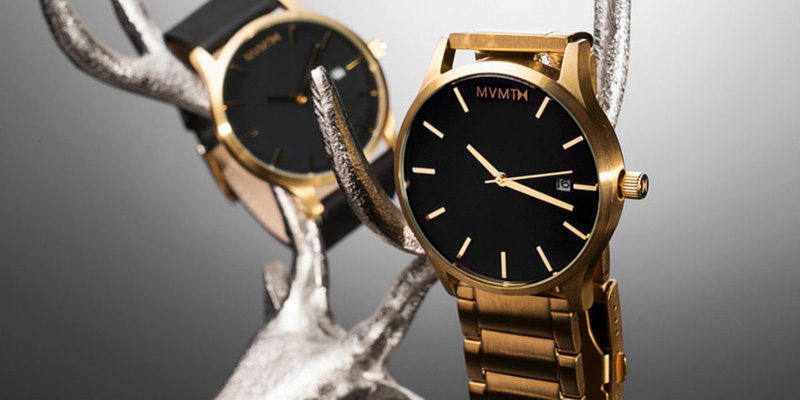 Here's a pretty neat and stylish wristwatch you could have for those pretty ladies who are literally obsessed with timepieces. The dial features custom gold markers and hands and undergoes Miyota Japanese quartz 3 hand movement with date. Price: $115
Stiletto High Heeled Rack by j-me
Holding upto 5 pairs of shoes at a time, it's actually a good way to display newly bought stilettos and big brands. Using the keyhole fixings, you can attach it easily on the wall where you want to display your shoes and use it wisely for all your precious footwear possessions. Perfect for the stiletto crazy member of the group. Price: $90
A classic duffle bag that holds enough to choke a hippo. Wear it as a pack with the tuck-away backpack straps, or strap your skateboard to the bottom and pull it along behind you. High quality leather accents and tie downs, widemouth metal zipper on top. If you've got a female friend who is always up with travelling, here's what you can gift her. Price: $100
It is an adorable mouse shaped ring which comes with a retro burnished silver tone surface having the eyes made from black swarovski crystals. Size can be adjusted for most female finger sizes (4~9 us size). This is probably the most affordable gift from the roundup that can truly bring a smile on every woman's face. Price: $9
Shopaholics can finally get rid of the hassle in carrying multiple bags at once with this ergonomic Mommy Hook. Made from durable, heavy duty aluminium, it can fit any stroller or shopping cart handle without undergoing much of a trouble. The foam grip doesn't slip or slide thus giving you the opportunity to carry your bags with ease. Price: $10
Sleeper Scarf is the first ever scarf with a built in, inflatable neck pillow. Now you can travel fashionably and sleep stylishly! Their patented design makes it easy and stylish to transport your neck pillow while on-the-go. Price: $65
On a single charge, it can play upto 6 hours of wireless music and blocks light for better sleeping. So you can get the joy of a sleep mask and Bluetooth earphones from one single device which encourages better relaxation above anything else. The mask is compatible with all Bluetooth devices ( iPhone, iPad, Samsung Galaxy, Bluetooth-enabled computers, laptops, MP3 players and more) across all platforms (Android or iOS) and makes it super easy for every workaholic to destress themselves with some music in between work hours. Price: $49
Elemoon changes color to match your outfit, alerts important calls/texts, has step tracking, displays time & helps you find your phone!Customizable jewelry that syncs with you! Wearable tech every fashionista would love to have. Price: $199
Experience the overwhelming process of tea brewing while it resides on this Sorapot by Joey Roth. It portrays a modernistic design with a special, architectural glass tube that highlights the tea brewing process happening within. The pot can hold upto 11 oz of liquid at a time, perfect for filling two tea cups at once. If you've got a female friend who loves drinking tea, this is an apt gift you could have for her. Price: $189
Easy installation, two card slots and four vibrant colors make the SurfacePad for iPhone 6 by Twelve South a worthy accessory for your brand new Apple phone. Premium quality buttery soft Napa leather goes behind the making of this adorable cover that isn't bulky but definitely stylish. So if there's a new iPhone 6 buyer in the group, this could be the case that can light up her face at once. Price: $40
The Aviator Mug by Loyal Stricklin
The Aviator Mug by Loyal Stricklin is a classic piece whose handle is made from Horween Chromexcel, one of the best leathers in the world. The glass texture together with the richness of the leather used, makes this mug visually appealing for those who have an inclination towards modern designs having a leather touch. Coffee mugs always work as classic gifts. Price: $30
That being the curation for the fashionistas, next week we'll be coming up with attractive gift ideas for the modern gentlemen out there. Till then, keep yourself busy with our 500+ Christmas Gift Guide and make your festive season be even more special this year. Happy Gadgeting!