This LED helmet keeps you safer on the road
Are you tired of near misses and rude behavior from motorists during your bike rides? Being more visible can minimize your risk of an accident. And a cutting-edge way to be seen is to wear a helmet that lights up and has turn signals. Read about the Lumos Ultra LED bike helmet and learn how you can make your rides safer.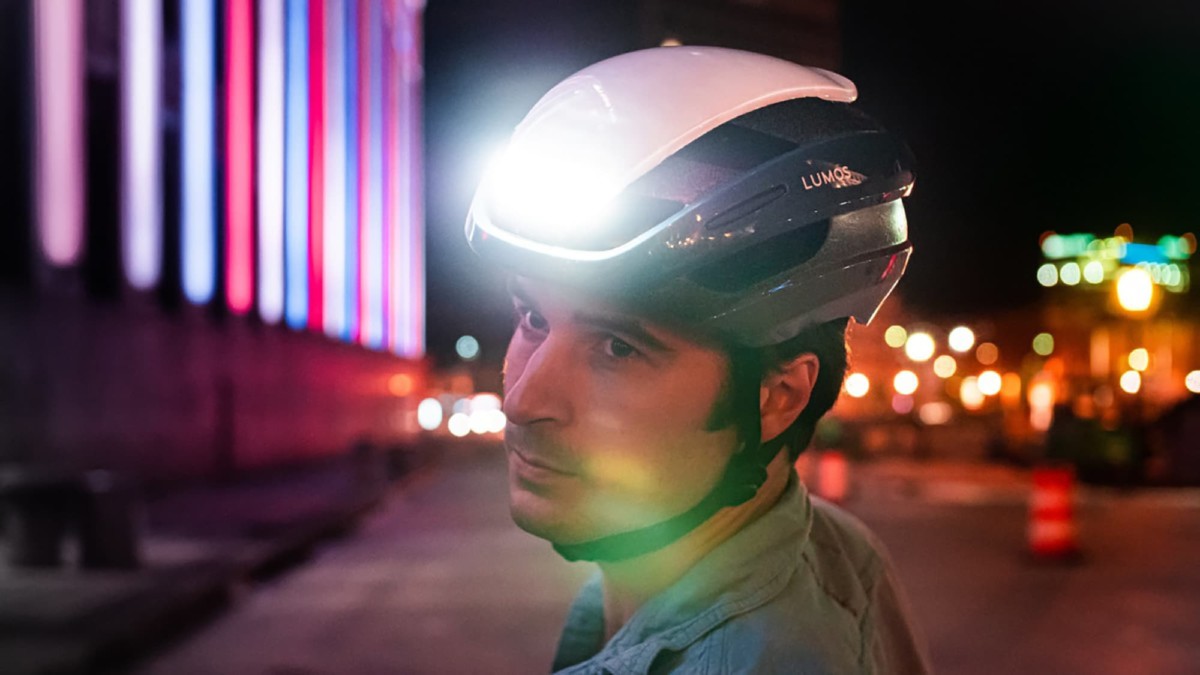 Biking on roads alongside cars and other motorized vehicles can be dangerous. And that's especially at night or on cloudy days when drivers' visibility is low. But you don't have to risk your life to ride. The Lumos Ultra LED helmet not only protects you from falls, but it also has unique turn signals and front and rear lights to make you visible to others—no matter the time or weather.
I often wonder at the bravery of my cyclist family and friends for biking on heavily trafficked streets next to drivers of all skill levels and temperaments. But mostly, I worry about them. A gadget like this LED helmet, however, puts my mind at ease. After a successful Kickstarter campaign for its first helmet, Lumos created the upgraded Lumos Ultra LED bike helmet, which comes with additional features.
At first glance, the Lumos Ultra has a slick look with headlights that brighten the path of its rider. Lights at the back illuminate the rider from behind, making their presence clear. These back lights double as turn signals that flash when the rider uses a remote control or gestures while wearing an Apple Watch. But it's not just the lights that make you safe, this LED helmet also features a reliable design, and the makers added an option to add MIPS.
This bike gadget is easy to operate
If you think operating a gadget like this might take some time to learn, you'd be wrong. The Lumos Ultra is easy to use, so you can focus on riding. Simply wear it, turn it on by pressing the button, and signal your intentions to other drivers. This bike helmet comes with a wireless handlebar remote, which lets you control the signals by pressing a button. And remember when I said you could also operate it with your Apple Watch? The Apple Watch lets you activate the signals by just raising your arm. And during daylight hours, this gives you the benefit of a double signal: both your arm and turn signals. With this helmet, there's no way drivers won't see you.
It uses unconventional lighting
This LED helmet contains Chips On Board (COB), a kind of LED packaging that has some advantages over more conventional lighting technologies. It gives you a more compact footprint while delivering a higher intensity of light. This means motorists will see you from farther away. It's this feature that also gives the lights their uniform look. While it's common for drivers to get lost in their thoughts while driving, these luminous lights will help you catch their attention.
This is one of the safest helmets on the road
The unique lighting isn't the only way this helmet will protect you. It's crash-test certified as standard with plenty of margin to spare. Even with its lights off, this is one of the safest helmets out there. And, if you want additional safety, the Lumos Ultra comes with the option to add MIPS. This is a built-in feature that protects against rotational motion, an issue that can cause minor and severe brain injuries.
The Lumos Ultra has new features
After listening to customer feedback on their first successful helmet, the makers incorporated user suggestions into their upgraded design. The Lumos Ultra now comes in small, medium to large, and extra-large sizes. This way, you can be sure that the whole family will stay safe during their rides. Other new options include a detachable visor for rainy weather, maximum venting for coolness, and a design that's lighter in weight.
The design is waterproof
With lights like these, the waterproofing on this helmet has got to be impressive. Don't worry, Lumos Ultra delivers on that, too. With its IPX6 waterproof rating, this protective bike gear can withstand high-pressure water from any angle and keep you shining, no matter the weather.
The Lumos Ultra LED bike helmet is a practical yet stylish helmet for day or night. As any biker will tell you, getting seen on the road is half the battle, and the Lumos Ultra delivers on its promise. This helmet is excellent for any sort of cyclist but especially those who ride frequently. As a friend and family member of several avid cyclists, I know what gift I'm adding to my holiday shopping list this year.
These LED helmets cost $79, and you can preorder yours on Kickstarter.