Make Your Exotic Vacations an Exhilarating Experience With Our Travel-Must Haves Gadgets Collection
Saint Augustine was absolutely right with his words that said "The World is a book, and those who do not travel read only a page." Being part of a planet that's so diverse in its culture and beauty, it would be an injustice to nature if we don't move out from our abodes and explore it wholeheartedly from time to time. It not only gives us an opportunity to destress our minds from all the daily work ados and live our special moments with family but also lets us explore the real sceneries of beautiful locations that we keep checking on Google Street View everyday! Each vacation is like riding on this magic carpet and enjoying the pleasures of being a part of this planet which has so much abundance to offer. Though all that sounds really picture perfect, the process that goes before making it actually happen is more than hectic at times. To be honest, "hectic" is an understatement.
Planning an outing for even one day can be truly exhausting at times. Yes, the mobile world has made it easy for travellers to plan a successful trip in a lot of ways with travel apps, but a trip does have a lot more to think of other than bookings and itineraries. It's close to a universal truth that we want to live our vacations with comfort and style, ensuring every member of the family (including your woof-woof buddies) have the best comfort devices with them while on the way. Cosy pet carriers to power nap pillows, there are hoards of such wonderful travel gadgets that can now ensure you have a safe ride throughout your trip. But having them all under one roof is what can actually drive your vacation planning exercises down the pleasant road. That's what you'll get to see on our Travel Must-Have Hot Collection – One house for all the trendy and useful travel gadgets you could want on your next outdoor trip!
Let's have a look at some of the newest entries we've had on this category.
Neso Tents for Sunshade at the Beach – Patent Pending
This one's a recent Kickstarter project that has a fantastic solution for you to have a proper shade at the beach that is neither heavy nor light. It'll not fly away with the slightest change of wind and will never leave your family stranded at the beach without a shade. Super easy to set up with just sandbags in use and equally stylish on the sands, such a sunshade is quite worth a try in the coming summer vacations by the sea!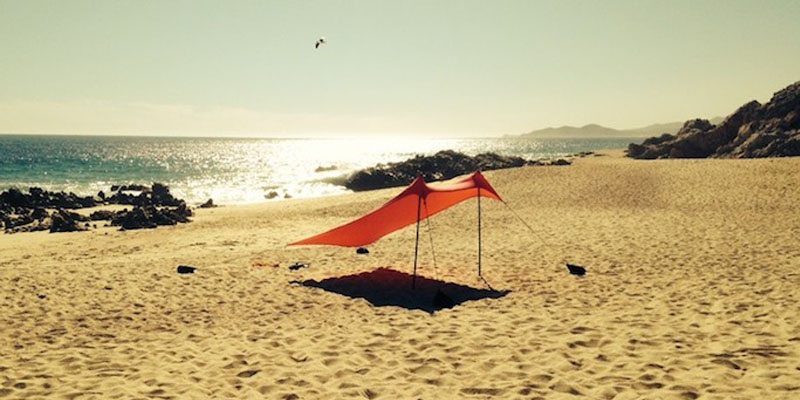 Outdoor trips for today's tech savvy generation cannot survive without portable chargers which often look dull and boring. Unlike this cute Robot Head Portable Charger which looks pretty much like a cardboard robot character. You can charge practically any of your mobile devices with this including cameras and have a happy ride throughout, never missing the chance of sharing it all on social media.
This is for the campers who simply can't do a vacation without BBQ stakes. The best part is it doesn't take any extra space on the car. Instead, it fits perfectly atop your spare tire and goes along the way. All you need to ensure is a fire set up beneath it while on use because it stands on its own steel legs! Bingo!
Piggyback Rider Standing Child Carrier
Kids always have this one demand from parents while on streets – the urge to get piggybacked which often turns so loud a request that you simply can't afford to avoid them. Here you go with a superb solution that makes both you and your little one comfortable and cosy on the road. Neither do you struggle in trying to piggyback them nor are their demands left unfulfilled.
Those were just a few of the unique style and trends this category follows. It's the place where you'll find the most useful devices you could carry on your travel trip and make it a bit more comfortable than what it would have been. Travel Must-Haves on The Gadget Flow is about showcasing the most outstanding choices from the travel world that can lead you close to making the trip of a lifetime. Happy Gadgeting Travelling!