Real Wood Phone Cases Will Make a Perfect Smartphone Accessory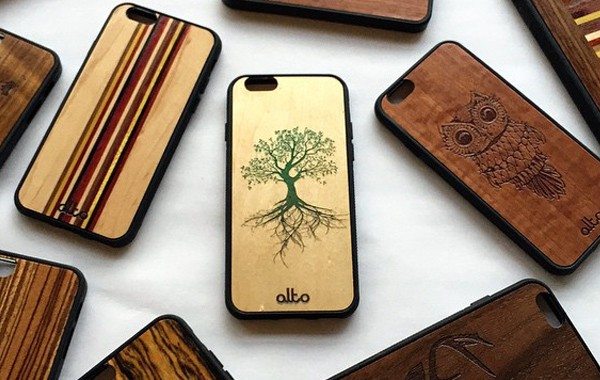 One thing common among the 2 billion smartphone consumers in the world is the urge to get a case that won't ruin their smartphone's design and protect it from damage at the same time. But to get such a phone case isn't an easy task. The industry is over-saturated with too many smartphone case designs but only a few stand out from the lot. Some are made of not-so-good-looking plastic and there are others which are too bulky and so on.
Until Owen and Kevin Alto decided to come up with a new range of wooden phone cases you would love to accessorize your smartphones with. The Real Wood Phone Cases are exactly what they sound – premium quality smartphone case that has been crafted with exceptional care and great attention to detail.
Premium Quality Wooden Cases For Your Smartphone
The idea to design such a high quality wooden phone case first gained success with their previous Kickstarter campaign launched one and a half years back. But this time they want to design cases which not only looks beautiful but will also last for a long time. I have come across many wooden phone cases before but these Real Wood Phone Cases look durable and have various patterns and designs you can choose from.
The premium natural wood used in the construction is of refined quality and can be customized based on your preference. The case is water-resistant and comes with a shockproof rubber layer on the outside that grips your smartphone and gives that perfect fit you desire. Oh, and it will make sure the flash is still usable and not covered by the case at all. Choose the best from the high contrast engravings available and let your smartphone be unique and more in touch with nature.
Available With Engravings Too!
One look at these cases will tell you how much of hard work is put behind every single design. These guys go a step ahead into thinking and designing cases that won't just be a bulky cover protecting your phone from scratches but also enhances its overall appearance at the same time. You need cases that will complement the look of your smartphone and not hide its beauty by any chance.
That's what the Real Wood Phone Cases do which is why I would recommend you to pre-order them now. The cases are available for the iPhone 5/5C/5S/6/6+, Samsung Galaxy Note 4, S6, S5 and S4. You can select from the natural, engraved or the Alto Editions available for pre-order on Kickstarter now. Hurry, the early bird editions are already done with the next pre-order range starting from a price of $24 only. Happy Gadgeting!