Seatylock Makes Urban Bicycling a Convenient Ride With a Crackerjack Bike Saddle and Bike Lock Combo
That fast-paced and energetic experience every bike ride brings forth is an urban rider's health potion which does keep him geared up to face the day. Living in metropolitan cities do take a toll on us at times when we really wish to move out and take in some fresh air from the countryside. A ride on your urban bike with all its comforts in store is what can make this breakthrough experience even more serene than expected. But to make good use of a bike ride inevitably means carrying a bunch of bike accessories too out of which the bike lock is a must. With over 1.5 million bikes being stolen every year, you'll surely be at loss if you don't carry a proper bike lock for keeping your rides in place. While there are new-age digitally connected locks already introduced in the market, the danger still remains for the other removable bike parts that can be stolen even when your bike is well locked and protected. The bike saddle being one of the topmost accessory on a bike thief's list!
Having been part of metropolitan cities, the team behind Seatylock have always had bicycles as their primary means of transportation which is why the rising number of bike thefts was actually a big concern for them. Dragging heavy bike locks in everyday journeys or dismounting the bike saddle and post whenever the bike had to be locked somewhere is a pain no rider wants to go through. Imagine entering your friend's birthday party with a bike saddle in hand just because you're scared someone outdoor will take it away while you enjoy the cake and party indoors.
Revolutionizing Urban Cycling Experience
As told by Ilan Mor, Co founder of Seatylock on MyBikeMagazine, "Necessity is the mother of invention. We believe that SEATYLOCK will revolutionize the urban cycling experience. SEATYLOCK provides a necessary solution for a problem that affects bike commuters on a daily basis. SEATYLOCK  is an Innovation born out of true necessity." Introducing this fresh and much-needed concept on Kickstarter which combines a bike saddle and bike lock in a convenient form factor that won't make you feel overburdened while riding at all. Tada! That's what Seatylock is all about.
What makes Seatylock special is the fact that it is not an extra, bulky accessory you need to carry around everytime you step out on the streets for a bike ride. This bike saddle can transform into a one-meter bike lock in a matter of 30 seconds which will not only secure your bikes on an immovable object but will also be a breath of fresh air for those cyclists who often leave their locks back at home. Since this forms an integral part of your bike, you won't miss out on carrying it during bike rides which, is of course, a big boost up for the cyclists who hate carrying extra baggage along. You may have had these strange experiences of finding innovative solutions while carrying your bike locks all throughout these years and have never been that satisfied to ease yourself from feeling that baggage dangling from the bike while you ride. But now there is a lock which is situated at the Center of Gravity of your bikes that won't let you feel the burden of the lock in any way. Since you're dismantling it everytime you'll be locking your bike to an external object, you can say goodbye to saddle thefts once and for all.
30 Seconds is All You Need to Unlock and Lock it Again
Seatylock installation is pretty simple and is identical to the way you replace your bike saddle. It has a universal adaptor which makes it compatible with any standard bicycle (already tested with over 10,000 bicycles). Once installed, you can easily adjust it to the preferred saddle position. The locking and unlocking operation takes no more than 30 seconds in which the saddle can open up as a one-meter long bike lock which can be wrapped around your bike and locked with a stationary object. The adaptor has a safety mechanism too which tackles accidental release of the saddle in a beautiful way. To ensure use of high-quality and durable materials, the team has used hardened steel links, anti drilling rivets and an anti drilling cylinder too.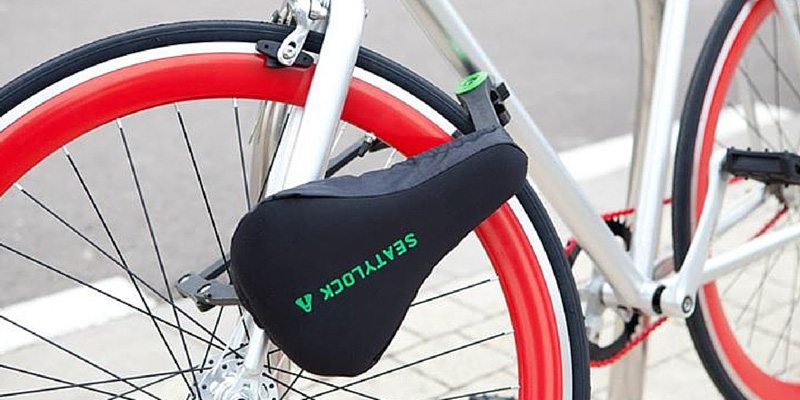 The lock is currently available in two options – Seatylock Trekking and Seatylock Comfort with the former posing a more light and agile ride while the latter is a more comfortable one. They are available in a variety of designs, colors and styles on the Kickstarter page with additional choices of having a cover as well. The retail price for Seatylock will be around $129 with the pre-order price for one Seatylock Trekking Classic starting from $85 on Kickstarter (the Seatylock Classic Black costing $75 is already sold out!). Feel the joy of a metropolitan bike ride with a tough and versatile bike lock and saddle by your side. Happy Gadgeting!