Best of 2013: Some of the Coolest Gadgets We've Discovered
It has been such a great year with tons of product launches and new technologies. Here are at the gadget flow we are doing our best on showcasing only the coolest gadgets of the web and with 5 gadgets being published every day we have reached more than 3000 items on our website. 2013 was really a great year for the tech industry but 2014 is expected to be even better. The gadget flow team wishes you happy holidays and a happy new year and since you'll have some extra time during the holidays we've created a complication of the coolest gadgets of 2013 in case you've missed them.

Wood keys for the Macbook Air, Pro, and Retina of all sizes. This product is precision cut and finished by hand in our Brooklyn workshop. The 3M adhesive used to attach the keys is easily removable and leaves no residue behind. Available with or without backlight as well as support for all languages.

The Death Star Cookie Jar is an official Star Wars product, and you may not use it to fire a deadly planet-killing superlaser. What you can do is use it as a space for stationing crunchy cookies or as a weapon of mass cookie distribution. You may also set a trap and catch cookie stealing Jedi Knights red-handed with their fingers in the cookie jar.

PlayStation 4 is the best place to play with dynamic, connected gaming, powerful graphics and speed, intelligent personalization, deeply integrated social capabilities, and innovative second-screen features. Combining unparalleled content, immersive gaming experiences, all of your favorite digital entertainment apps, and PlayStation exclusives, PS4 centers on gamers, enabling them to play when, where and how they want.

Teddy Bear Lamp From Suck UK. Yogi Bear can't hold a candle compared to this bright spark. This plush teddy bear toy recently lost his head and it's now been surgically replaced by a lamp. The bulb is screwed into a holder that fits in neatly into the teddy bear's neck, and the whole thing is made to look decidedly cute with a black lamp shade/hat that has a reflective golden surface on the inside.

Woody Cruiser From Connor Wood Bicycles. It's hard to look upon a bicycle as a work of art that could become a family heirloom, but this one comes pretty darn close. The Woody Cruiser is a handmade piece that is elegantly designed to combine form with function. There are literally no bells, and certainly no whistles either. It's a minimalistic cruiser that offers the simple pleasure of a smooth ride on what is a very eco-friendly product.

A baseball rolling pin, as many husbands rushed to the ER will testify, is often used on other things besides dough. If it's a baseball-shaped rolling pin, then it's doubly dangerous in the hands of a temperamental chef. If you screw up the food, then take the bat along to the dining table.

Simpsons Homer Egg Cup and Toast Cutter Set .It's an established fact that Homer Simpson has a lot of empty real estate in between his ears. But a vacant head can often be very useful, especially if it is used as an egg cup. Get the Simpsons Homer Egg Cup and Toast Cutter Set so that you not only live and breathe the Simpsons, but eat with them too. The cup is made to look like Homer's head, and has a hatch at the top that opens up so you can put an egg in it.

Directors Edition Digital Alarm Clock. The problem with most clocks is that they're utterly boring. What could possibly be interesting about counting seconds, minutes and hours day after day? You look at a clock, you see the time, and there's nothing more to say about it. This is where Victoria's Deco helps you out by turning your alarm clock into a movie clapper.

AR Basketball App Mug. This is an honest-to-God real and oversized coffee mug. But one side of the mug is flat and has an augmented reality marker. Download the app, launch it and point the camera on your iPhone or iPad at the marker, and it changes on the screen into a basketball hoop.

Fuloon Car Travel PVC Inflatable Bed. If you've ever tried to sleep in the back seat of a car, you'll know it's not much fun. The Fuloon Inflatable Bed is not just a normal blow-up bed. It comes with a clever bit of engineering at the bottom, so that it pushes itself up from the floor of the car, and becomes an extension of the car seat. There's more than enough room for one person, and no chance of slipping down.

Magic pillow neck protecting pillow ostrich neck guard office nap pillow travel pillow car pillow can snooze Whether it is lying on the table, sitting in the office, at the airport, or on the train, can let sleep whenever and wherever possible. It looks like a large hood, almost completely covering the head and neck, only his nose and mouth breathing.

Bring the Nolanverse to your living room with a set of Dark Knight bookshelves. Made to order. Just beam your Bat-Signal into the sky and designer Fahmi Sani will get to work erecting a set of webbed-winged night stalkers to hold your most precious literary masterpieces and Batman action figures. I like the book selections in the photo. I see some Vonnegut.

From the main stage to the man cave, the Marshall Fridge was born to rock. Featuring authentic Marshall Amp parts including logos, fret cloth, and a brass-finished faceplate, the ultimate combination of rock and refrigeration is finally here.

Minneapolis-based designer John Foster created a magnificent cocktail table, which will make your guests take out their cameras once they enter you living room. His one-of-a-kind "Sparkle Palace Cocktail Table" table is a magnificent fusion of glass and light reflection.

Golden iPhone 5 Housing. Billionaires all Golden (in colour only) iPhone 5 replacement housing and back glass. Pimp your iPhone 5 unique look! High quality design. Note: We recommend replacement of this housing by a professional iPhone repair centre.

Virtual Keyboard From Brookstone. Tired of using your thumbs on minuscule smart phone and tablet keyboards? Spilled hot beverages and sticky stuff on a laptop keyboard? Forget all the keyboard pain with this virtual keyboard from Brookstone. It uses lasers to project the keyboard on any flat surface.

The Cricut Cake Personal Electronic Cutter is specifically designed for decorating professional-looking cakes, cupcakes, cookies, and confections in no time at all. Just choose a shape, a size, and press CUT. Decorating like a professional has never been faster or easier.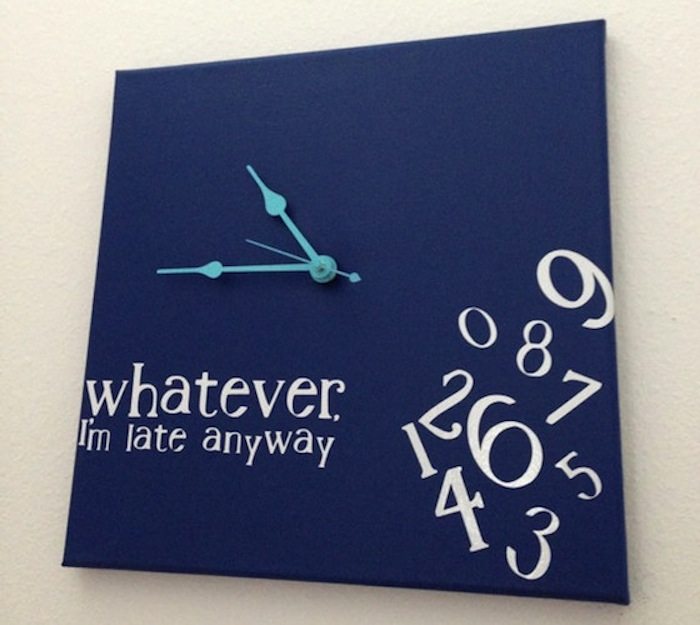 Whatever Clock is a handmade clock, so no two are the same! This is a 12×12 canvas, painted navy with white vinyl lettering and turquoise hands.

Astronauts Phone Stand here's a heavy and sturdy smartphone mount shaped like one that will add a special touch to your workspace. It is beautifully crafted and solid enough to even hold smaller tablets.

Empty Memory USB Drives sticking with the minimalist, design-oriented products of our last few posts, these sleek "Empty" usb drives look like they belong behind a glass display not in your pocket.

Flud Watches puts a classic retro icon on your wrist with the Boombox Watch. This push button digital watch comes complete with slick details accurate from the speakers to the handlebar. One quick push reveals a sharp red LED display.

A wider version of my London skyline tape. Featuring the London skyline all the way from west to east repeating for a lengthy 66 metres. The buildings that have been included in the skyline are: Battersea Power station, The Eye, The Houses of Parliament, Big Ben, The BT Tower, Nelson's Column, St. Paul's Cathedral, The Shard, The Gherkin, Tower Bridge, The Millennium Dome and Canary Wharf!

USB Cassette to MP3 Converter . Chances are you have a lot of old tunes that are stranded on cassette tapes that you haven't played since your Walkman strolled off into the technological sunset. Now you can retrieve your old friends with this easy-to-use cassette converter.

Now you can make delicious, natural peanut butter at home anytime. The Nostalgia Electrics Nut Butter Maker makes it fast and easy to whip up a variety of nut butters. Simply pour your favorite shelled and chopped nuts into the bin, turn the unit on, add oil and out comes fresh nut butter.

This teal reversible printed duvet cover set has the slogan "keep calm it's time for bed" on one side and printed crowns on the other. A must for your teenagers bed. Created from a blend of fine cotton and polyester to give you an easy care fabric that is very long lasting and beautifully smooth.

Vespa BV-12 Chair .Old Vespa's don't die they turn into stylish chairs. Scooter Vespa's, which do not function any more get a really new life as a smart office swivel chair! Original Vespa frames are padded and upholstered with leather in beautiful retro look.

Cradle yourself in complete comfort from head to toe. The Comfort-U Body Pillow was designed by Jean Kelly, RN when she was diagnosed with firbromylagia – an ailment that causes chronic joint and muscle pain.
Share This