Standeazy Tablet and Phone Stands Go With You Wherever You Go
When I first time came across the Standeazy tablet and phone stands, I didn't feel they could be so important in my everyday life. Just like most of the smartphone users out there, I am glued to my phone around the clock. I never thought I needed a docking station for my iPhone until Standeazy sent me one a while ago. Now, you might feel that a phone stand is just another accessory that will make your iPhone look pretty on the table. But Standeazy is a lot more than a pretty desktop accessory. As a matter of fact, this phone stand is
– as small as your credit card
– can entertain different viewing angles
– can be assembled in less than a minute
– is nearly unbreakable ?
Carry it Everywhere
This is one of those phone stands you can use wherever you go. The design is pretty ergonomic and pretty much in line with your everyday life. In fact, the device is as thin as your credit card (I was so surprised to find a full-fledged phone stand delivered to me in a simple envelope ?). But nevertheless, it's worth it. You can carry it wherever you go and use it based on your convenience. So, whether it's about watching movies on the go or taking up on a Skype call in the middle of nowhere, Standeazy helps you manage those situations with ease. I don't even feel the necessity of not using one anymore. It's become a part of my daily life.
Enjoy Different Viewing Angles
Other than being an easy to use accessory, what makes Standeazy versatile is the different viewing angles. So you can choose your angle based on your preference. It supports a variety of phones and tablets so anyone and everyone with a smartphone or a tablet can make use of these stands.
Now, I have the original Standeazy with me, but they are no longer stuck to the stronger plastic as a material for constructing the phone stands anymore. Those of you who are eager to try your hands on this stand, you may as well wait for their upcoming Kickstarter launch – the Standeazy Ultra.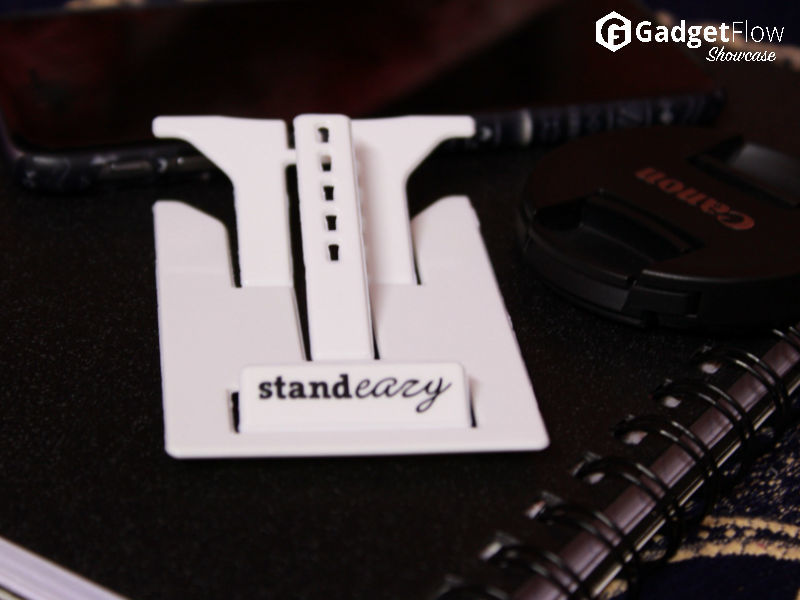 Based on the news available on their website, the Standeazy Ultra has a brushed aluminum finish for an extra special look. It's compact, sturdy and everything you expect a phone stand to be like. And just so that you are aware of its coolness, this stand is just 1.2 mm thin ?.
What We ❤️
I think the main reason why I love this stand is its portability. The design is something you can carry in your pocket, bag or wallet. It goes with you wherever you go. And that's exactly why I love using it every day.
What We Would Like to See
Maybe a prettier design is something I look forward to as a long-term user. As of now, the phone stand serves its purpose pretty well. In the future, I want it to be more visually pleasing at the same time.
Availability
Price: Standeazy stands are available for £2.99
Color: White, Sky Blue, Aqua Green
Stay Tuned: for their upcoming Kickstarter launch – the Standeazy Ultra.