This smart cooling mattress adjusts to your position while you sleep thanks to its biometric sensors
Do you struggle to fall asleep? Your mattress could be the issue. Luckily, the Ghost SmartBed 3D Matrix adapts to your body while you sleep and keeps you cool.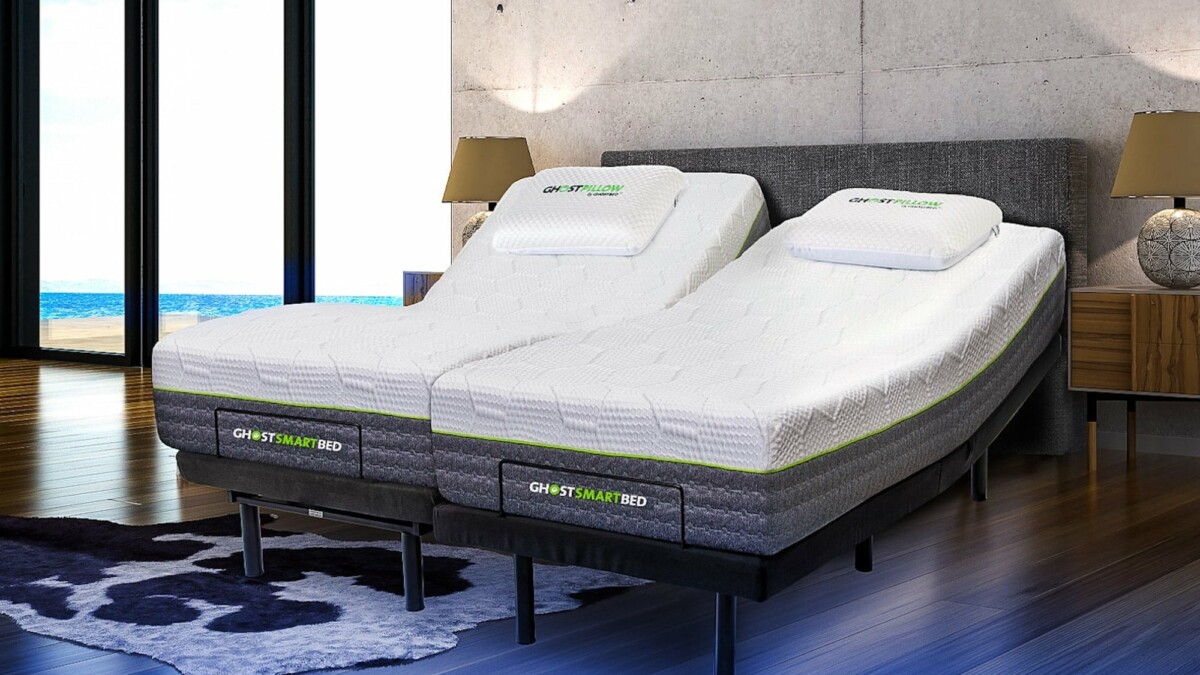 Customize your sleep with the Ghost SmartBed 3D Matrix. This smart cooling mattress uses sensors to read your body pressure and adjusts to your unique shape as you sleep. And with 3 settings, it lets you choose the position you love.
Sleeping in an uncomfortable bed isn't easy. You toss and turn, trying to settle in with no luck—the mattress is too hard or not supportive enough. Meanwhile, your blankets and sheets trap in the heat, causing you to sweat and overheat.
You know that quality sleep is an essential component of good health. Yet nearly half of all Americans report feeling tired during the day 3–7 days per week due to poor quality sleep and sleep disruption.
Sleep disorders are a primary culprit, with between 10% and 30% of adults reporting that they have insomnia. And 41% of primary care patients say they experienced night sweats in the past month.
Stress, working conditions, and travel habits also play significant roles in the quality of sleep people experience. Considering all these factors, doctors wisely recommend that their patients exercise regularly and reduce caffeine and alcohol intake for better sleep.
Paying better attention to your bedroom setup, particularly your mattress, could also help. Experts agree that different sleep surfaces can improve sleep. Research also suggests that mattresses with adjustable firmness are more comfortable and support good spinal alignment, leading to better sleep overall.
So, a comfortable night's sleep is achievable with a better mattress. Specifically, the Ghost SmartBed 3D Matrix adjusts to you while you sleep, as doctors recommend. It also has patented cooling technology, which could help people who suffer from night sweats.
Trust a 5th-generation family business with your sleep
A 5th-generation family business, GhostBed knows a thing or two about good sleep. It all started over 100 years ago when the Werner family first invented the Werner Ladder. Then, over 20 years ago, Marc Werner started Nature's Sleep. After undergoing 3 neck surgeries, he needed a solution to avoid sleeping in constant pain.
He launched GhostBed 6 years ago, giving everyone the chance to experience affordable sleep luxury and wellness on mattresses that use high-quality materials.
The mattresses are extremely popular. Even Venus Williams is a fan, partnering alongside the company to design The Venus Williams Collection by GhostBed, a line of mattresses and bedding created for champion-level recovery.
The GhostBed family company is highly experienced in delivering quality products and helping its customers have a great night's sleep. Let's take a closer look at its smart mattress.
Keep comfy with smart sensors
When you lay in bed after a long day, the last thing you want to do is play with a remote, trying to find your best sleeping position. GhostBed gets it. So the company integrated its latest mattress with smart sensors that can read your body pressure and adjust while you sleep.
Can you imagine a bed that automatically adjusts its position, giving you better support in real time? It's like someone putting an extra pillow beneath your head or under your back, keeping you more comfortable without waking you.
You get the support you need without asking, which helps you fall asleep faster and stay that way. In the morning, you wake up refreshed, without your typical aches and pains.
Customize this smart mattress with 3 settings
While this smart cooling mattress adapts to you automatically, you still retain complete control. In fact, you can choose from 3 operating modes: Manual, Position, and Automatic. So you can personalize your sleep as much or as little as you'd like.
Choose from 5 adjustable comfort zones
If you sleep on your stomach, your support needs are different from a back, side, or combo sleeper—and vice versa. For that reason, the company designed the Ghost SmartBed 3D Matrix with 5 adjustable comfort zones.
These let you play around with settings and firmness levels. There are 40 settings for each zone, ensuring you find the support and comfort you love.
Sleep cooler on a GhostBed mattress
Many Americans sleep too warmly at night, and studies show that the best temperature for sleep is around 60°F to 68°F. Temperatures outside this range can lead to restless, uncomfortable sleep.
And that's where this smart cooling mattress comes in. GhostBed is known for its patented cooling technology across its entire bedding to mattress collection. So, if you're tired of waking up drenched in sweat, switching to a GhostBed mattress is a great solution.
The company set out to create a mattress that works with your body to keep you cool throughout the night. The Ghost SmartBed 3D Matrix is a sleep upgrade, featuring 7 layers of comfort, including a patented gel polymer—the company's secret ingredient for cool, restorative sleep.
This patented gel polymer layer is quite impressive. It attracts excess body heat and pulls it away from the body instead of trapping it inside the mattress. Ergonomic and cooling, it helps you get an incredible night of sleep.
Get personalized comfort on both sides
You and your partner likely have different sleep needs. Maybe you prefer sleeping on a mattress as hard as a rock while they want to sleep on a puffy cloud? Well, you wouldn't be the first couple.
Thankfully, the company behind this smart cooling mattress understands and takes you and your partner's unique needs into account. It designed this mattress with dual-side sensors and air chambers.
This means that the sensors on your side of the bed adjust to you while those on your partner's side adjust to them. It's the same deal with the air chambers. With dual-sided features, it ensures you both get a comfortable night's sleep.
Combined with the gel polymer comfort layer, the adaptive support, and air chambers on both sides, no one has to compromise for a better night's sleep.
Connect to the app for sleep stats
Who needs a sleep-tracking smartwatch when you have the Ghost SmartBed 3D Matrix? You can connect your smartphone or tablet to the companion app for sleep stats.
It actually delves deeper into your sleep health, allowing you to review your sleep statistics while in bed and when you wake up in the morning.
That's right; this mattress can track your sleep stage and breaths per minute, showing you exactly how well you slept. Best of all, the bed comes with its own Wi-Fi chip, allowing for a direct connection if you don't want to connect it to your home network.
Wouldn't it be nice to get the stats on your deep and REM sleep hours right from your mattress? That way, you wouldn't have to wear a bulky smartwatch or sleep tracker. The Ghost SmartBed 3D Matrix ensures comfortable sleep here too.
Compare the 3D Matrix with other smart mattresses
Sure, there are other smart mattresses out there. But these brands don't adjust in real-time to your body movement to put you in a deep sleep. And most have only 1 customizable ergonomic zone, while the 3D Matrix has 5.
Meanwhile, the Ghost SmartBed 3D Matrix's cooling air chamber is built with medical-grade materials for quality you can rely on. The optional adjustable base is also pretty cool. It gives you total head and foot adjustability, massage technology, under-bed LED lighting, and much more.
As you can see, other smart mattresses really can't compare with this feature-packed bed.
Rely on a 25-year warranty
Do you replace your mattress every decade? Get an extra decade and a half with this smart cooling mattress. The company offers a 25-year warranty with proof of purchase from the GhostBed website or an authorized retailer.
It sounds like a long warranty—because it is. The company is so confident in its product that it will repair or replace your Ghost SmartBed 3D Matrix mattress from the original owner if it's found to have faulty workmanship or structural defects for 25 years. So you can rest comfortably for decades when you go for this bed.
Go for the financing options and 101-night trial
A good mattress can set you back more than a few grand. It's a big purchase that you want to be sure about. Thankfully, GhostBed offers a generous 101-night trial.
So you can nap, sleep, or lounge on your GhostBed mattress for over 3 months. And, if you don't like it, you can return it for free with the company's money-back guarantee. How cool is that?
Meanwhile, with a bed this luxurious, you might want to explore your financing options. The company has you covered there, too. GhostBed works with Affirm, giving you options that make buying straightforward, with or without credit.
In fact, you can use Affirm to pay as low as $117 per month with 0% APR for up to 5 years. It's a great way to make a long-term investment in your sleep with a 5th-generation family business that has a leading warranty guarantee.
Set up this connected mattress easily
What's more, setting up your Ghost SmartBed 3D Matrix pump system takes just 6 easy steps. You receive 2 boxes: one with the mattress and another with the bed's pump. Simply follow the Setup Video or User guide steps to connect the air chambers and the pump. Then, download the companion app and complete the last steps there.
Otherwise, you could choose White Glove delivery for complete installation. In this method, a team will come to your home to assemble the bed, connect the pump and air chambers, and remove your old mattress. After delivery, you'll just need to finish connecting the bed to your device via Wi-Fi.
Read our final thoughts
If you can't get comfortable in your bed or if you and your partner have different sleep styles, the Ghost SmartBed 3D Matrix is a worthwhile purchase. The biometric sensors allow the mattress to automatically adjust on both sides, while the cooling technology adapts to your body shape and weight, ensuring a naturally restful night of sleep. It's a cool gadget that you can use for years.
Moreover, with the prevalence of poor sleep quality in the United States, it's wise to take steps to ensure a more comfortable night's sleep. As experts recommend adjustable sleep surfaces, this smart cooling mattress fits the bill.
Ready for more comfortable and restful nights? Buy the Ghost SmartBed 3D Matrix smart cooling mattress for $4,899—or as little as $117 per month with Affirm—on the official website. It makes good sleep automatic.
Have you ever slept on a smart mattress or one with cooling features? Tell us about your experience!