Top 15 Gift Ideas to Celebrate Motherhood This Mother's Day
"Of all the gifts that life has to offer, a loving mother is the greatest of them all." I don't even remember a day when my mom didn't love me the way she does all the time. She's a total bundle of love and care and everything positive you would expect from your life. She's so pure, so gentle and so loving that it's hard to explain her care for you with words. I don't think I need to because all of us feel the same about our mothers. We want to do so much for them and yet it's her love which beats our efforts each time. No one can surpass that but we can of course make her smile the way she makes us do. This Mother's Day let's promise to make it special for our mothers with some out of the box gift ideas she would treasure all her life.
I know you can't celebrate her entire life's love and care in one day but I still like the fact that we have a dedicated day in the calendar for her. And just like I try to make every day special for her, this day could be something extra special. While you get ready for a sumptuous lunch or dinner for Mother's Day, let me help you with the gift ideas you could go for.
For moms who can't do without their smartphones. The Holding Cell is simple to use and can be mounted beside the bed by sliding the panel under the mattress so your phone is within arm's reach, perfect for cell phones and baby monitors.
Price: $19.99
If your mom likes vintage designs, this is the perfect tote bag for her. The stylish Vintage Tote Bag is as Ryan calls it "the Swiss army knife of bags", a bag everyone should have, a bag with so many uses, whether your´re going to the market, to work, or a weekend trip, this is a bag you can just trough your stuff in and go.
Price: $195
Perfect for moms who like to play with footwear designs. This brand brings top quality handmade traditional styles shoes from cottage industry to the fashion hungry market of women's footwear.
Price: $55
For the tech savvy moms of this Century. Using 360-degree haptic nodes, a heart rate monitor, and a built-in high definition microphone, the Arc Pendant tracks your steps, calories, movement and even posture as well as heart rate to give you an overview of what your body is doing.
Price: TBA
Minimally designed jewelry for the best woman in your life. Nisolo is a lifestyle brand that makes handmade shoes and accessories in a way you can feel good about.
Price: $35
Let your mom take care of her health in style. This beautiful piece of wearable tech is designed to help you learn about your body health by analyzing your daily routine. Even if you lack motivation in order to stay fit, LEAF will make sure you keep moving.
Price: $119
This would be a perfect gift for moms who can't do away with music. This speaker can pair with any Bluetooth-enabled device and includes a built-in speakerphone that will help you to attend those hands-free calls. As for the ladies, there's a mirror and a pocket for all your daily clutch essentials.
Price: $150
[tweet_box] Coolest #GiftIdeas for Your Mom This #MothersDay2016! [/tweet_box]
Moms like creative home decor items. This vase plus lamp would be a good choice for her. The design resembles a typical flower vase with a tulip in it but it's actually a ceramic vase with artificial flowers that are made of polyurethane.
Price: $79
It's new, it's fast, it's easy & it's the most effective foot exfoliator, ever. The Skoother Skin Smoother utilizes a unique "micro-abrasive smoothing screen" that quickly smooths rough, callused and cracked heels and feet. Let your mom take care of herself in a smarter way.
Price: $16
If your mom loves to cook, she is going to like this slow cooker. This cooker will enable you to increase or decrease cooking time by turning the temperature up or down. You can also switch the slow cooker to keep warm mode or turn it off completely. All you need to do is access it from the corresponding WeMo App.
Price: $149.99
Like every woman, your mom loves dressing up too. So why not a mirror that's shaped like a smartphone. The mirror has been designed out of highly-polished stainless steel that comes in a plastic case.
Price: $12
Introducing our first line of connected rings that let you put your phone away and your mind at ease. Crafted with an 18K matte gold 3 micron plated setting and precious and semi-precious stones.
Price: $195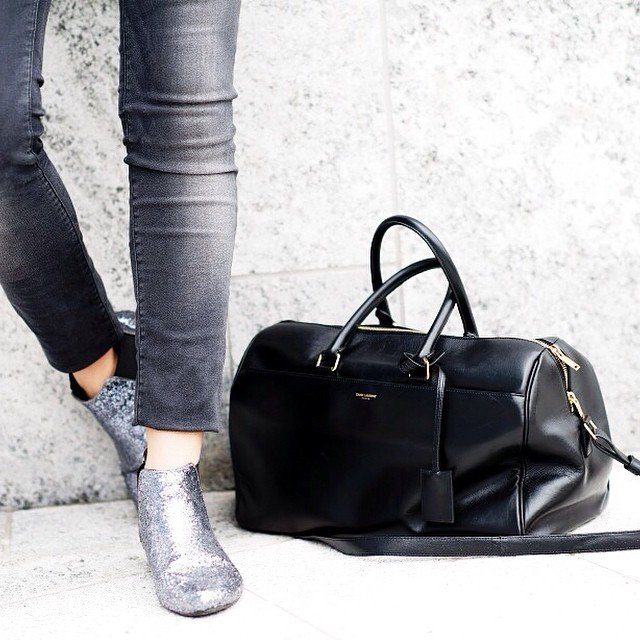 If you would really like a luxurious gift for her, try this classy leather duffel. It has this admirable black glossy smooth calfskin finish which adds a stylish taste to the entire look. The large magnetic-close slip pocket in the front bears the goldtone-stamped "Saint Laurent" logo that gives the duffel the attention it deserves.
Price: $2100
Treat the latest and greatest iPhone with the luxury and care it deserves with the Leather iPhone 6S and 6S Plus Case by Mujjo. Contouring around the edges of your phone, this case will feel like a second skin despite its protective qualities. Designed with simplicity in mind, the Leather iPhone Case comes in your choice of tan or black vegetable tanned full grain leather.
Price: $44
What would you like to gift your mother from this list on Mother's Day?