Your whole family will be cozy under the Big Blanket
When the nights are long and cold, what could be better than getting the whole family cozy under the same, enormous blanket? With the Big Blanket, you can.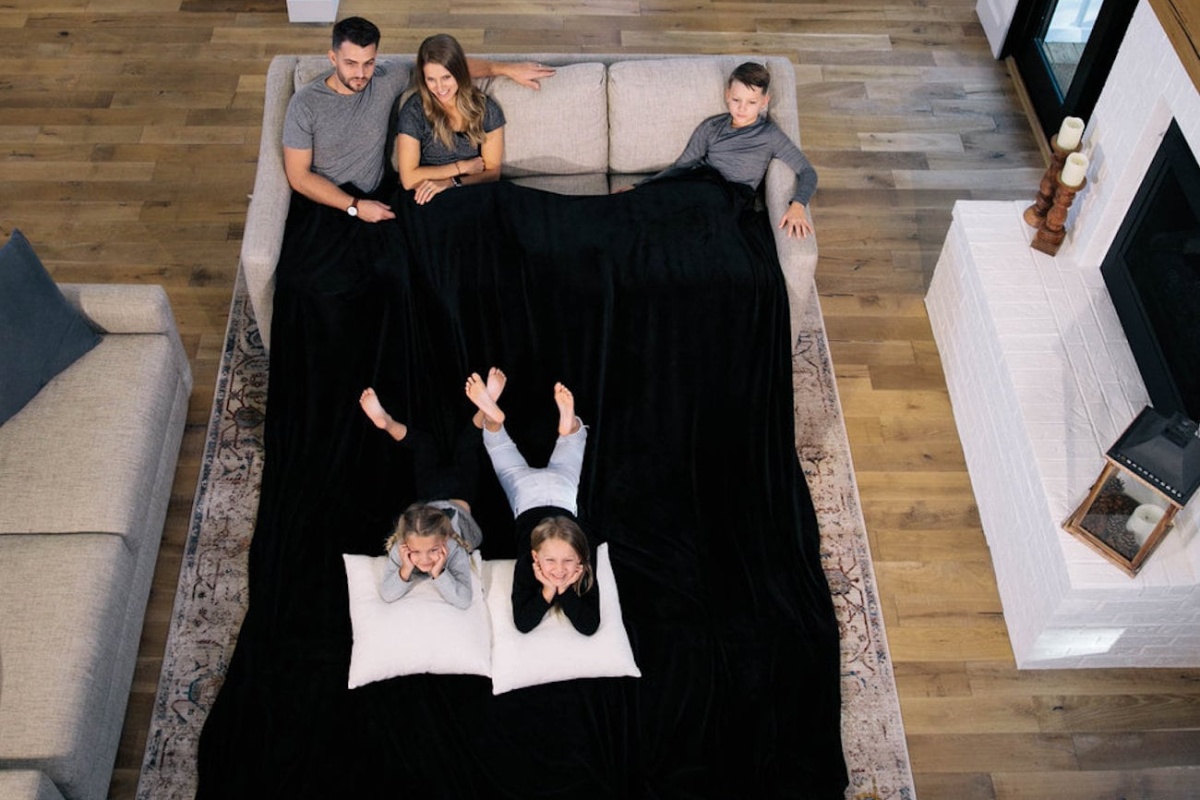 What are some good ways to stay warm this winter? Have a look at our roundup of cozy heated gadgets.
How do you save energy on heating? The easiest way is to wrap up. Try putting on an extra sweater or a blanket before you reach for the thermostat.
What is the best family blanket? As the name suggests, the Big Blanket is large enough to keep your whole family cozy this winter.
Just like a good coat, a blanket should be with you for life. Over the years, that soft shield will defend you against the cold and provide cozy solace in times of sadness. You might take your favorite blanket for a picnic, or use it to keep your feet warm in bed.
All these scenarios are personal to you. But with the Big Blanket, you can share the love with your whole family. This enormous blanket is large enough to keep everyone warm on the sofa and in the great outdoors.
How big is the Big Blanket?
As the name suggests, the Big Blanket is pretty big. Measuring 10 feet along each edge, this enormous sheet of fabric can cover any king-sized bed with plenty of room to spare.
This would be cozy overkill for one person, or even two. But when you have kids to consider, the Big Blanket starts to make a lot of sense.
Instead of packing multiple blankets for a camping trip, you can just pack the one. Instead of draping an assortment of blankets across the sofa, you can all watch a film under the same cover. And should your car ever break down, you can easily keep everyone warm at the roadside.
Size isn't everything
Yet size isn't the only factor that makes the Big Blanket stand out.
Made from polyester and Spandex, the blanket is both very soft and surprisingly stretchy. This premium material provides good temperature regulation, and it wicks away moisture. In summer, you could quite easily use it instead of a duvet.
Just as importantly, the Big Blanket is machine washable. This means you can take it outdoors and allow the kids to use it as an indoor play tent without a care.
Available in five colors, the Big Blanket makes a great investment in collective coziness.
"The Big Blanket has been over a year in the making — it turns out making a 10′ x 10′ blanket isn't easy. Manufacturers laughed at us, cussed at us, and repeatedly told us it couldn't be done, but we've never been the types to take the easy road. We're proud of what we've created and couldn't be more excited to share it with you. " — Big Blanket Co. on Kickstarter
For the whole family
If you're over five feet tall, many blankets won't even cover your feet properly. The Big Blanket solves this problem once and for all.
Future designs
We like the idea of having a ginormous blanket for the summer. Perhaps we will see different versions of the Big Blanket in future.
Availability
– Kickstarter: Until January 7th
– Pledge: $149 USD
– Delivery: February 2019