Mooz Is the Ultimate 3D Printer for Makers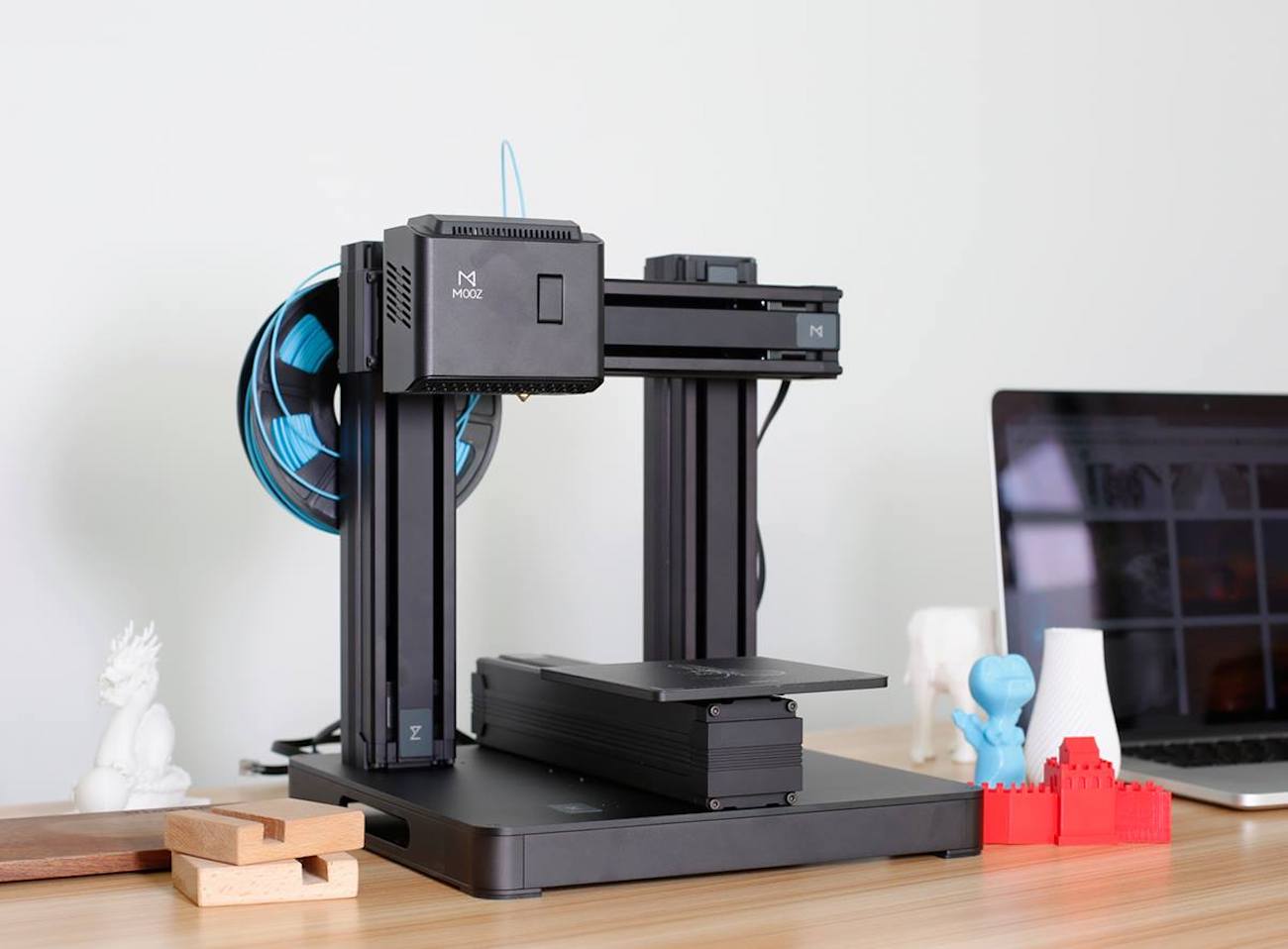 Automated manufacturing has really taken off in recent years. For small startups, the opportunity to create 3D prototypes on a shoestring is truly brilliant. Likewise, CNC machines allow makers to sculpt mesmerising, delicate forms without an artist's touch. Laser engraving can then be used to customize the finished product. With the Mooz 3D printer, you can do all of this without leaving your office. This transformable machine can create industrial-grade parts with the utmost precision. You could call it the ultimate workstation for makers.
– 3-in-1 tabletop device offers 3D printing, CNC routing and laser engraving
– Printing precision of up to 0.02mm for perfect parts
– Made from strong premium aluminum; takes only 10 minutes to construct
3D Printer for Makers
Believe it or not, 3D printers are not new. In fact, the technology first surfaced in the 1980s. For thirty years, it was used solely by large manufacturers who needed to create prototypes of custom parts. It was only when the technology became open source that 3D printing was democratized.
Mooz is the gleaming jewel at the end of this decades-long journey. This compact device puts all the latest manufacturing toys on your desk at an affordable price.
[tweet_box]This 3-in-1 tabletop device offers 3D printing, CNC routing and laser engraving[/tweet_box]
Furthermore, this 3D printer swaps cheap plastic parts for premium hardware. Consequently, your designs are brought to life with absolute precision.
Transformers (Desk Version)
Depending on what you need, Mooz can transform into three different setups.
Mooz-1 is the base version, allowing you to handle basic 3D printing, CNC carving and laser engraving. You have a spacious print volume to work with (130mm x 130mm x 130mm), and the print head moves at 10–80mm per second. Mooz-2 offers a similar set of tools, but with greater precision.
Both versions work perfectly with PLA, ABS, PC, FLEX, and other mainstream materials. To ensure the best possible finish, Mooz has a heated bed.
The supplied software is pretty easy to use, even for relative novices. You simply drag and drop your designs into the editor, and use the built-in controls to make adjustments. Alternatively, you can work with Cura, Slic3r, Printrun, and many other apps.
With Mooz-3, you unlock a brand new set of features. In this configuration, the printer can create mixed-color designs. It can also work at a faster tempo, achieving up to 150mm per second.
If you have never worked with a 3D printer before, there are probably more beginner-friendly machines out there. But considering the advanced features that Mooz provides, this printer really isn't too hard to use.
Premium Parts
While Mooz impresses with multiple functions, it's the quality of this machine that really stands out.
Whereas some of the most popular consumer 3D printers are quite plasticky, Mooz is constructed from premium aluminum alloys. It also has a high-quality linear gateway and an industrial-grade stepper motor. This build quality guarantees perfect prints, time after time.
"MOOZ: the most promising and affordable all-in-one 3D printer with interchangeable heads for 3D printing, laser engraving and CNC carving. No matter whether you are an amateur or professional designer, its rock-solid frame delivers the precise and stable performance you need. With MOOZ, your creativity will always take center stage." — Mooz on Kickstarter
What We ❤️
Who says you can't have an entire FabLab on your desk? Take. Our. Money.
Future Designs
A larger edition would be a nice upgrade for professional creatives.
Availability
– Kickstarter: Until November 15th
– Pledge: $239 USD
– Delivery: November 2017