Migo Is Probably the Most Accessible 3D Printer on the Market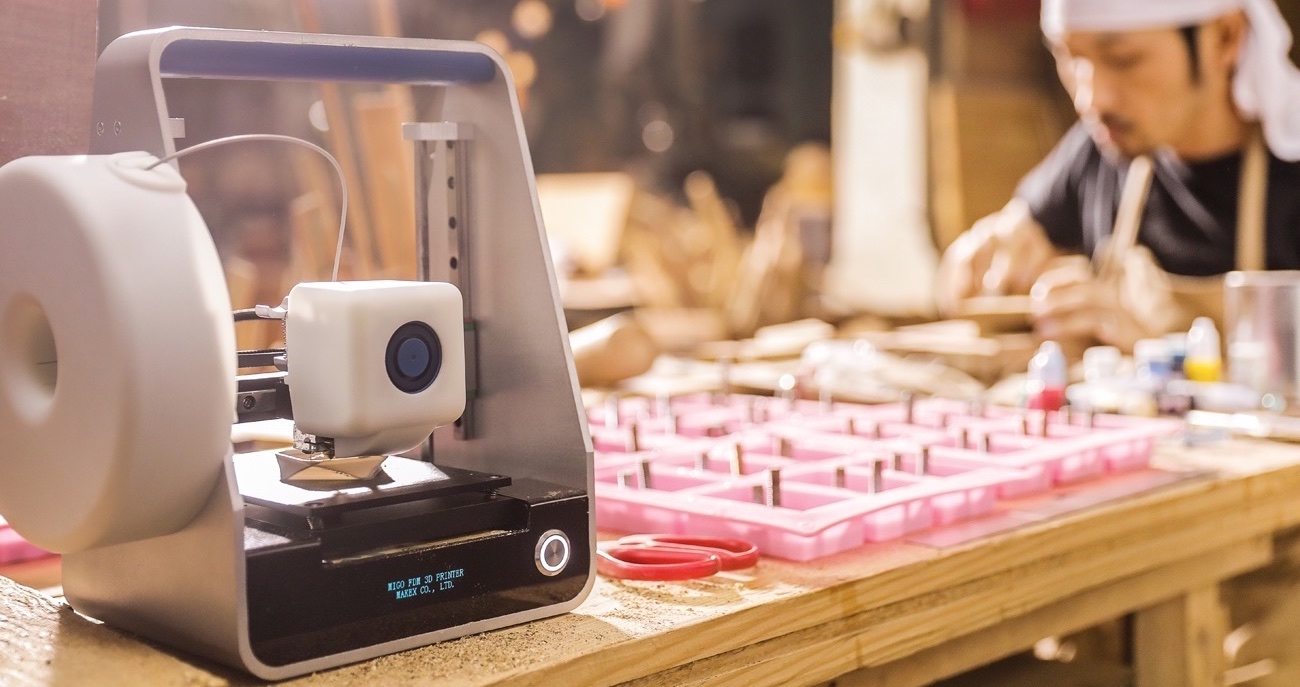 The potential of 3D printing is no secret. Using a table-top machine, you can create a prototype engine or a perfect scale model of any famous building. Users with a disproportionate sense of self-worth can even create their own army of miniature likenesses. But for all this capacity, 3D printing has largely remained a niche pursuit. The reasons for this are self-evident: most machines are expensive, heavy, and complicated to use. Migo couldn't be more different. This 3D printer is one of the most accessible we have ever seen.
– Super portable printer measures just 6.1 x 7.7 x 10.6 inches
– Built-in WiFi for instant access to professional designs
– Easy-to-use software, with optional laser engraving module
Most Accessible
In the olden days (i.e. ten years ago) you would expect to pay around $1000 for a 3D printer. This price bracket immediately erected a barrier to entry for most hobbyists. Even if you had the cash, you needed some serious 3D modeling skills just to print the simplest object.
Time has passed, but 3D printing is still a mystery to most people. That might change with Migo. This compact 3D printer is affordable and pretty easy to use.
[tweet_box]This 3D printer is one of the most accessible we have ever seen[/tweet_box]
It can also connect to the Internet, meaning you can download and build models without any design skills. Plus, Migo is about as portable as it gets.
Plug In and Go
Setting up your Migo printer is remarkably straightforward. You simply connect the printer to your computer via USB Type-C and allow Migo to auto-level itself. After that, you're ready to print.
There are three versions of the Migo available. The Basic version is perfect for education, and novice printers. With a footprint measuring just 6.1 x 7.7 inches, this compact machine can live on your desk. Despite its petite form, the Migo Basic has a print volume equivalent to 28 per cent of the whole device.
The regular Migo offers the same form factor, with the addition of pro-level features. For instance, this version has a built-in camera for monitoring the progress of your designs. Furthermore, it has a heated bed for improved print quality.
The Migo L is the big brother of the regular Migo. You get exactly the same features, but a considerably larger print volume.
All three printers can produce layers of 50–400 microns, working with 1.75mm filaments (FLA, ABS, nylon, etc.). At 200mm per second, it's not as fast as some high-end printers. But then, you get what you pay for.
In addition, you can swap Migo's print head for a laser engraver. This works beautifully with anything soft, from wood to food.
Software Skills
Hardware is only one half of Migo's offering. The companion Migo Xmaker software is super easy to use, and you can easily set up batch printing. Thanks to WiFi connectivity, you can even control the printer from the other side of the world.
If you prefer someone else to do the work, you can download complete models via the Migo Generative Design app.
"Migo is the smallest portable 3D printer. Migo is internet-enabled, offering you a complete range of professional features." — MakeX on Kickstarter
What We ❤️
The perfect combination of portability and features. This is genuinely a glimpse at the future of 3D printing.
Future Designs
A slightly faster travel would be nice, and the upcoming CNC router module will open new creative options.
Availability
– Kickstarter: Until December 14th
– Pledge: $149 USD
– Delivery: July 2018