5 Affordable ergonomic chairs to improve your posture
With how much time most of us spend in an office chair, it makes sense to invest in a comfortable, ergonomic chair that will improve our long-term health and lead to more energized and productive days at work. But with so many options and a wide range of prices, how do you find an ergonomic office chair that gives you the best value for its price?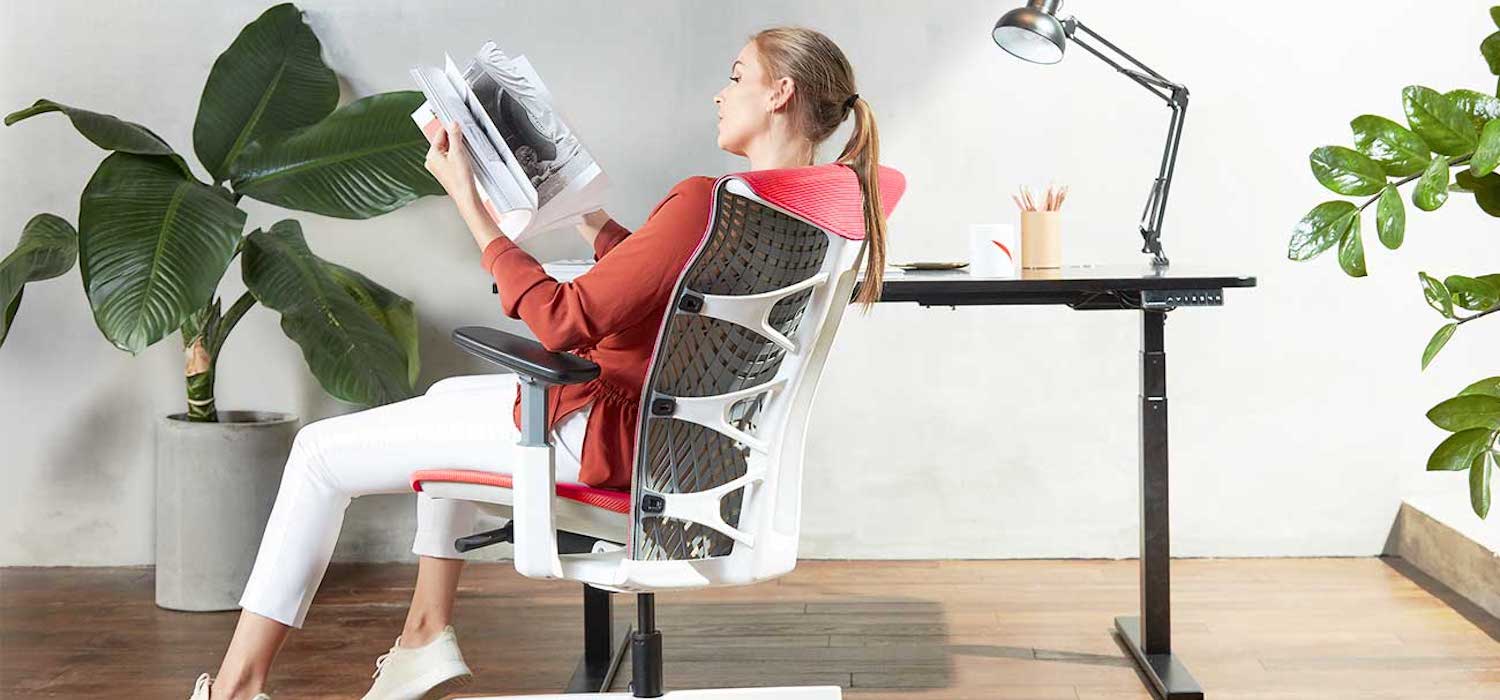 If you, like much of the modern workforce, spend 8-plus hour days at a desk, you've probably wondered how to best balance your overall comfort with the right ergonomic chairs to keep your back healthy and your posture strong.
Sitting for long periods on a daily basis can have serious long-term health impacts, so it's definitely worth investing in an office chair that promotes healthy movement and posture throughout long days at your workspace. The right chair will also keep you energized and engaged throughout the day, leading to a more productive work life.
There are a few things you should be looking for when it comes to shopping for ergonomic chairs. Ample lumbar support will help ensure a neutral posture in your lower back. If you're seeking higher back or neck support, you can go for a chair with a high back and an adjustable headrest. Variable tilt and reclining options are also useful for finding the perfect setup for your workspace.
You can also choose to use an alternative option to desk chairs, like a standing desk. Variable standing desks give you the option to alternate between sitting and standing throughout the day, which reduces the long-term stress on your body. Even still, having a chair option is key so you can give your body a rest when needed.
As far as cost goes, you can find great office chairs anywhere from $40 to more than $1,500. While you probably don't need to break the bank with the most expensive office chair, you'll likely find the best value somewhere in the middle of that range. Keep in mind that while the initial cost might seem daunting, your office chair is an investment into your health that will last you many years, if not a lifetime.
Below we've rounded up some of our favorite affordable ergonomic chairs and workspace solutions that will help improve your posture overall health at work.
Autonomous Kinn Chair Full Range of Motion Office Chair
Ergonomic chairs don't just improve your health. They're also more comfortable than plain old office chairs. The Autonomous Kinn Chair offers complete comfort during long days at your desk. It was designed with ridiculous attention to detail, modeling its backrest after the human spine to promote a neutral back position while sitting. The chair offers ample spine and lumbar support, and its frameless design gives you dynamic movement, so the chair adjusts to you as you move. To perfect your comfort, the chair offers a sliding seat and a recliner with a 25º range of motion.
Price: $399
VARIChair Pro Standing Desk Chair
If you own a standing desk, the VARIChair Pro Standing Desk Chair is a great option for the occasional sit break, and one of our very favorite affordable ergonomic chairs. The chair is designed to engage your core, leg, and back muscles while you sit. And its low profile helps maintain a healthy posture while your work. The articulated pedestal allows for a wider range of motion, and with a max height of 32.75 inches, you can actually lean on the chair as well. Not to mention, you can raise or lower it to the exact perfect height you need. The wide plywood seat is comfortable enough for long days of sitting at your desk.
Price: $250
The ProPedic Adjustable Office Chair is a perfect option for those specifically seeking exceptional back support. The chair comes with three separate back cushions that correspond to your thoracic, lumbar, and cervical vertebrae. These sections also differ in hardness, providing a little extra support for your lumbar so you can sit comfortably all day long. The seat cushion comes with 25 adjustable pocket coils for you to customize to your figure. Add in the extra seat tilt and recliner feature and you can customize this chair to perfectly match your seating needs. We also have to mention the chair's goatskin leather construction, which looks feels totally luxurious compared to the average office chair.
Price: $259
Herman Miller Sayl Chair
Although it's at the top of the range of what's considered "affordable," the Sayl Chair from Herman Miller needed to make an appearance on this list. The designer used the Golden Gate Bridge as inspiration, which you can see throughout the strong and supportive back. Like the bridge, the Sayl Chair is free of a frame and has the 3D Intelligent design to support you however you move. Along with comfort, this chair will bring a pop of color to your workspace. There are countless customizations available from the upholstery to the frame and base.
Price: $510
Steelcase SILQ Chair
If you're looking to truly invest in a chair that will last you for years and years, this is the chair for you. Built with its LiveBack technology, the Steelcase SILQ Chair actually flexes to mimic and support the shape of your spine, giving you extended comfort throughout the day. It also comes with pneumatic seat height controls, adjustable lumbar support, and armrests that pivot in both height and width. As you move, the chair adjusts with you, keeping you supported throughout the most grueling workday. The SILQ is probably one of the nicest chairs you'll find for under $1,000.
Price:$672
With all the time we spend working away at our desks, why not invest in a chair that will keep your posture strong and your back healthy? There are plenty of affordable ergonomic chairs for those on a budget, and the long-term benefits are well worth it, if not the improved comfort you'll experience upgrading to something with better cushion and support.
Have you already found the perfect office chair? Or does one from our list inspire you to achieve all-day comfort? Let us know in the comments!
The Gadget Flow Daily Digest highlights and explores the latest in tech trends to keep you informed. Want it straight to your inbox? Subscribe ➜