The BMW CE 04 electric motorcycle has sci-fi looks with a 130-kilometer range
Electric vehicles are on the rise, and BMW is here to deliver a smooth new riding experience for motorcyclists. Introducing the futuristic 2022 BMW CE 04 electric motorcycle.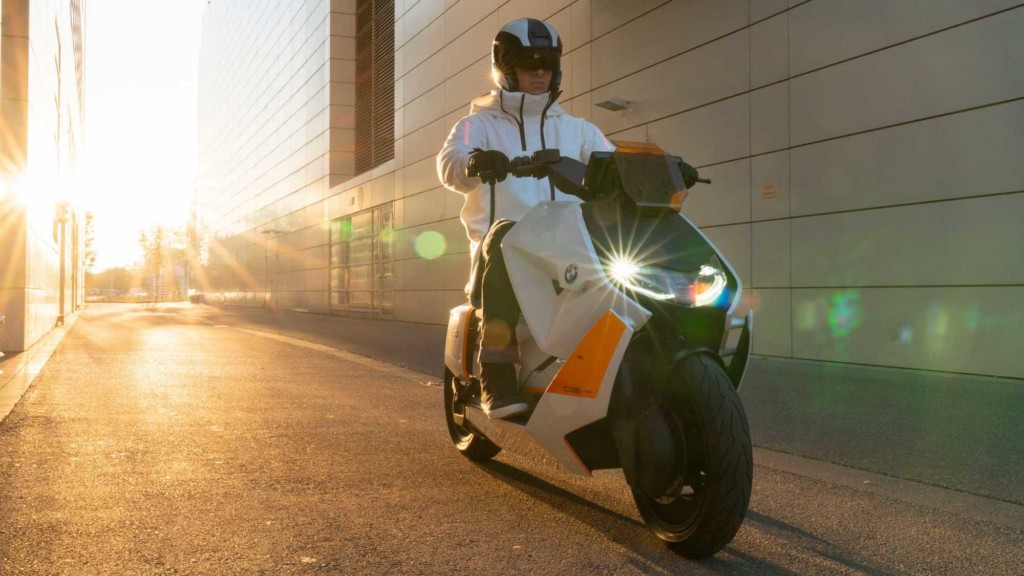 As the automotive industry leads the charge in producing electric vehicles, BMW has arrived with a new entry into its line of products: the 2022 BMW CE 04. The CE 04 is an all-electric scooter-style motorcycle with a sleek aesthetic looking straight out of a science fiction film.
The 2022 CE 04 sports a high-tech design, impressive looks, and a slew of great features. Are you into modern bikes and interested in exploring the growing electric vehicle market? This may be the opportunity you've been waiting for. Let's check it out!
Reimagined core design with the CE 04
BMW reimagines the core design of its scooter around low-profile energy storage. The energy storage unit is slim and built into the underfloor assembly, along with the compact drivetrain. According to BMW, this translates into a variety of beneficial qualities. One result of this design choice is a lower center of gravity, which improves handling. The restructuring also allows more flexibility in crafting a unique aesthetic for the appearance of the bike.
This BMW eScooter is energy-efficient and ideal for urban travel
The CE 04 is an all-electric motorcycle built with urban travel in mind. It uses a permanent-magnet liquid-cooled synchronous motor and doesn't produce carbon emissions. The traction battery, complete with 40 lithium-ion battery cells, is supported by central air cooling. How fast and how far? The bike can get up to 42 hp, accelerate at 2.6 seconds from 0–31.1 mph, and has a (capped) maximum speed of 75 mph. It can also travel approximately 80 miles from a full charge.
Includes fast and flexible charging options
One of the pros of owning a motorcycle is its ability to go seemingly anywhere, especially in the city. Being limited to charging at home can certainly be a drawback. Hence, BMW ensures that charging the CE 04 is perfectly flexible.
Not surprisingly, this eScooter can be powered up via your at-home BMW Wallbox. However, you can also charge it using any regular domestic socket. While it takes about 4 hours to charge using the standard cable, it takes less than 2 hours with the optional quick-charger.
Bikes are more often able to park in places that cars can't. So, finding opportunities to power up the battery should be much easier than for other electric vehicles.
The BMW CE 04 features stunningly futuristic looks
The overall appearance of the BMW CE 04 eScooter is absolutely gorgeous. Its high-tech avantgarde aesthetic appears as though it might have been inspired by any number of futuristic science fiction movies. The bike has a supercool vibe, from the sleek, clean panels and stylish fonts to the reserved yet punchy accents. For those who like a traditional look, this might not be their cup of tea. If, of course, you want something fresh and modern, this may indeed be yours.
Equipped with an array of extra features and on-board tech
Easy to miss on the CE 04 is the number of features hidden beneath its seemingly minimalist surfaces. Standard inclusions like a 10.25-inch TFT display, keyless start, 3 different ride modes, and electronic reverse are just a few to name. Ample storage compartments provide a place to put a helmet and more.
Optional features include heated grips, various seat options, an anti-theft alarm, and a high windscreen. There are also many accessories worth mentioning, from side bags and luggage carriers to decorative sticker sets. Undoubtedly, more will be added with time.
This BMW eScooter is a bike alternative to electric cars
Many companies are diving deeper into the electric vehicle market, and BMW is clearly one of them. This is great for consumers looking to either reduce their carbon footprint or embrace new advancements in technology. While there's an increasing number of electric cars on the market to choose from, it's great to see solid alternatives. If motorcycles are your thing, the CE 04 should absolutely be on your radar.
The BMW CE 04 base model starts at $11,795 and is slated to be released in 2022. More information is available on the official website.