CHATLIGHT Will Surely Illuminate Your Video Chats and Selfies
We all know the importance of video chatting in today's world. Whether it's just a personal chat with your loved one or a professional meeting with your clients, video chats have become an integral part of our digital lives. So is the urge to take selfies on the go. Be it at the top of Eiffel Tower or at your neighbor's birthday party, you can't avoid clicking a selfie just about anywhere you go these days. But have you ever had this dumb feeling of looking awful because of poor lighting conditions during video chats and selfie sessions? I bet you did. We all do and that's when we realize how pathetic technology can be at times.
Though you can't always blame technology for not being powerful enough to draw light from poorly lit areas in the darkest hours of the night. Sometimes table lamps can be used to create that kind of illumination but I think there's still a big scope of improvement. Well, that is, in case if you think that they are the only solution for this kind of lighting problem we face in our digital lives everyday. I prefer to have a CHATLIGHT instead. With a flawless design and compact size, this lighting solution can make you look the best during video chats and selfie sessions.
Look the Best DuringVideo Chats
Coming from founders Henry Geddes and Ian Shiell, CHATLIGHT is an interesting solution that can truly make video chats look better than before. Being a photographer himself, Henry knew that a good lens and appearance does not always make your photos or video chats look the best unless you have the right kind of lighting around. He has even said on the product's Kickstarter page, "As a photographer I was immediately struck by how poor the light quality was during video chat sessions and knew that I could develop a solution." After undergoing 14 prototypes since 2008, the duo finally came up with CHATLIGHT, the only product that will not make every late night chat and crazy selfies suffer from poor lighting anymore.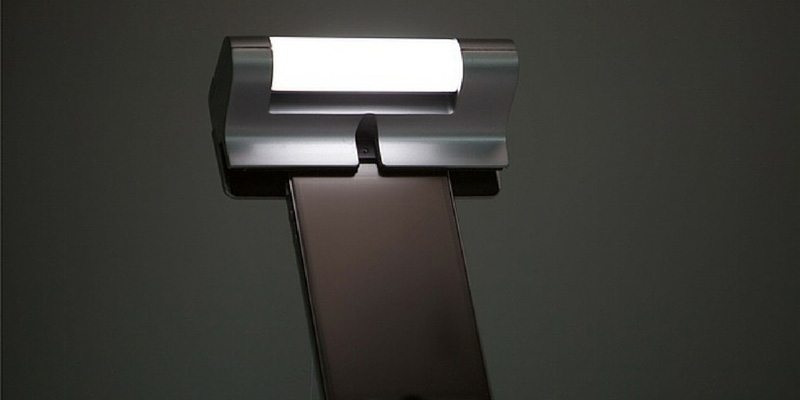 Use the Latest LED Technology
As compared to table lamps, CHATLIGHT is designed to project the optimal amount of light required to make your face be recorded in a more flattering tone (far better than the orange or yellow appearance you get from table lamps!). The light uses the latest LED technology which is durable enough to last over 50,000 hours and up to 90 minutes on the brightest setting. You can easily expand it and make it fit perfectly on any smartphone, tablet or laptop and most desktop computers (that are less than 3/4" inch thick). The light does not require batteries for operation and can recharge in only 15 minutes when plugged into a power outlet.
Ensures Perfect Light Projection
Depending on the amount of light you need, you can always flip the brightness of CHATLIGHT. The light bar can also be swiveled up or down so that you get the perfect fit and light projection. Apart from considering it as a handy light source for your video chats and selfies, you can also use it for a number of other purposes, such as lighting up your keyboards, books or videos. The Kickstarter project is currently on where you can get your CHATLIGHTS starting from a pledge price of $15-$25 and in four beautiful colors of silver, satin gold, glossy white and green. Gone are those days when you struggled for better lighting during late night video chats and selfie shoots. One CHATLIGHT is enough to get the job done now. So, what are you waiting for? Pre-order yours and get set to participate in this new age of beautiful lighting. Happy Gadgeting!