Ivation 1800 Watt Portable Induction Cooktop – Amazing Destination For Flameless Cooking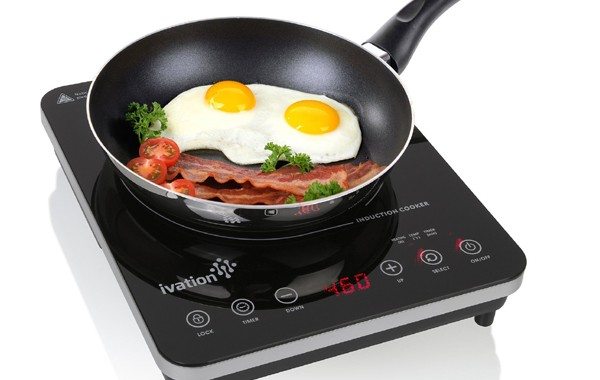 There's no doubt in the fact that induction cooking stations are far more advantageous than gas or electric stove tops. This does not only represent a cooking method that takes less time and saves about 20% energy as compared to other methods but also keeps you and your little ones safe from coming in contact with heat. On the other hand, since you're saving energy, you're also playing a vital role in saving the planet. If I continue narrating the number of benefits you get out of induction cooking, I think it would be a pretty long read. So cutting things short, I'd better introduce you to Ivation 1800 Watt Portable Induction Cooktop. For those who think induction cooktops don't look that stylish as compared to electric stove tops, this one is about to change your perspective!
Premium Glass Top Surface
First and foremost, the Ivation induction cooktop gives you the opportunity to select a flameless cooking station with premium full glass top surface. It is made of quality materials so as to ensure durability. The touch control panel includes a digital display and can support all induction-ready cookware. What's truly amazing here is the use of the glass top which looks very classy and sophisticated in terms of being an everyday kitchen gadget. You'll get to access 10 programmable power levels with a maximum output of 1800 watt and 10 temperature level settings that range from 140°F to 460°F. The setting controls are quite accurate and you'll get to access consistent heat levels. In fact, the glass top surface will maintain constant contact with your pot or pan and will cool down instantly after cooking so that your little ones never hurt themselves while playing in the kitchen.
Safe and Reliable Flameless Cooking
Cleaning this cooktop is super easy. All you need is a damp cloth and use it to wipe clean the glass top post cooking every time. If you're using induction-ready cookware on this cooktop, you will not need any induction interface (that's so cool!). These cookware could be pots and pans made of steel, cast iron, enameled iron, and stainless steel with magnetic bottoms, as well as flat-bottom cookware with a 4.75 – 10.25 inch diameter. Each time you want to cook something delicious, just plug it in and place your cookware on it and "Start Cooking". From pastas to full-course dinner, you can cook just about anything on this super efficient and reliable cooktop.
Did You Know: There's an auto-off cooking timer which can be set from 0 to 180 minutes.
The other interesting safety features include the child lock system, the auto off system if no pan is detected for over 60 seconds, low and high voltage warning system and a diagnostic error message system. The design is adorable with the touch interface giving it an overall classy appearance. Currently priced at $69 on Amazon, you can get your Ivation Cooktop for a discount of $20 with the Gadget Flow Coupon Code G6B7IWXV. Order yours now and don't forget to share your cooking experience on this cooktop with us in the comments below. Happy Gadgeting!