IFA 2018 – The latest products from Europe's biggest tech show [updated]
IFA 2018 has kicked off with pre-show announcements from loads of big brands. From Sony to Dell to LG to Beoplay, this much-anticipated trade show is already delivering. Taking place from August 31st to September 5th, follow along so you never miss an announcement.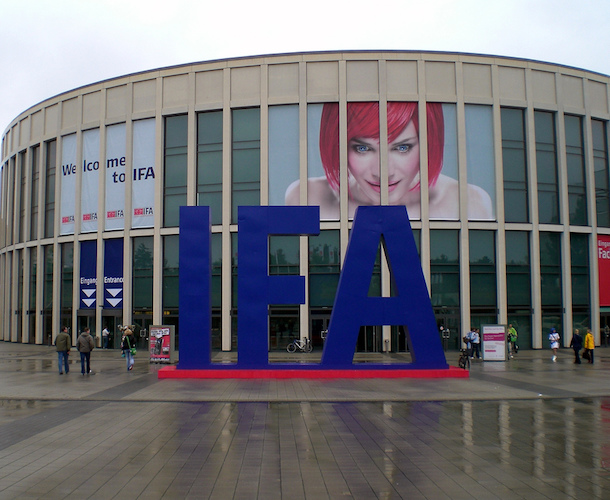 What is IFA? IFA Berlin stands for Internationale Funkausstellung Berlin (International radio exhibition Berlin, a.k.a. 'Berlin Radio Show').
What is the IFA 2018 all about? The IFA is a leading trade show for consumer electronics and home appliances. It happens in Berlin every year.
When is the IFA 2018? The IFA 2018 is scheduled between August 31-September 05, 2018.
Just months after CES earlier this year, IFA 2018 is here to bring us all the latest consumer electronics and home appliances from top brands in the industry. We'll be covering the event each day, bringing you a compilation of all the best announcements. Make sure you tune back into the blog every day to stay up to date.
LG Display 88-inch 8K OLED TV
As the world's first, this futuristic TV has a whopping 33 million pixels. Not only that, but the pixels are also self-emitting. Rather than relying on a backlit design, each individual pixel functions on its own.
LG Centum System Energy Efficient Bottom-Freezer Refrigerator
Featuring Centum System Technology, this kitchen staple is a practical cooling solution. Additionally, the LG Centum System Refrigerator uses an Inverter Linear Compressor, increasing its energy efficiency by 32 percent.
Samsung QLED 8K TV
This QLED TV transforms the way you enjoy content thanks to 8K AI Upscaling. Available in four ultra-large screen sizes, its unique Quantum Processor 8K can recognize and upscale the content to appear in 8K quality.
Samsung Thunderbolt 3 QLED Curved Monitor
With the Thunderbolt 3 connection, you can achieve speeds up to 40GB/s. Processing and performance have never been better. Plus, the curved design gives a totally immersive experience.
Samsung X5 Thunderbolt 3 Portable SSD
Lightweight yet durable, this portable hard drive offers impressive write speeds. The X5 comes in three sizes: 500GB, 1TB, and 2TB. These figures are truly revolutionary as they're 5.2 times faster than most portable SSDs and 25.5 times faster than external HDDs.
Sennheiser MOMENTUM True Wireless Earbuds
Featuring the renowned audiophile driver technology of Sennheiser, these earbuds are your music companion wherever you go. Additionally, the advanced Qualcomm apt-X Low Latency compatibility lets you enjoy your audio with better precision and accuracy.
Olloclip Multi-Device Mobile Lens Clip
This clip works with six different interchangeable lenses and is a universal lens attachment for most smartphones. In fact, the expandable design provides a flush alignment of the camera and lens so ensure perfection with every shot.
Lenovo Yoga Book C930 Laptop
The laptop redefines the entire concept of portable productivity with a beautiful dual display design. The e-ink display serves multiple purposes based on your needs.
Lenovo Yoga S730 Laptop
This 13.3-inch laptop packs an ultra-low power IPS panel for longer battery life. As a result, it can run for up to 10 hours on a single charge and also uses Rapid Charge to quickly power up for consistent use.
Lenovo Yoga C630 WOS Laptop
This 2-in-1 laptop combines a mobile design with a 25+ hour battery life. As a result, you'll get to enjoy smartphone mobility with laptop performance on the go.
Lenovo ThinkPad X1 Extreme Laptop
Together with the NVIDIA GeForce graphics and the latest 8th Gen Intel Core processors, you'll be able to fly through tasks faster than before. The multi-monitor support feature works wonders for those who love to multitask.
Lenovo Yoga C930 Laptop
This laptop offers an immersive experience for the on-the-go users. The Windows 10 2-in-1 laptop is powered by 8th Gen Intel Core processors. Additionally, it also comes with a Rotating Sound Bar featuring a Dolby Atmos Speaker System.
ZTE Axon 9 Pro AMOLED Display Smartphone
Utilizing an Axon Vision system, this mobile device consistently delivers smooth and sharp visuals. Likewise, the Axon Vision system combines an AMOLED screen, dedicated display processor, and RGB sensor.
BlackBerry KEY2 LE Physical Keyboard Smartphone
This phone features the physical keyboard that BlackBerry is known for, along with the brand's leading privacy and security developments. Running the Android 8.1 Oreo OS, the KEY2 is the first BlackBerry smartphone to have a dual-rear camera.
Sony 1000XM3 Wireless Noise-Canceling Headphones
This headset blocks out more of the sounds around you, resulting in a truly immersive audio experience. The latest HD Noise-Canceling Processor QN1 enhances the headphones' ability to shut out outside sound.
Sony Xperia XZ3 HDR OLED Display Smartphone
Featuring an HDR and OLED display, this mobile phone provides extraordinary clarity, color, and contrast. Along with the display, the QHD+ resolution adds to the impressive entertainment experience.
Libratone Zipp 2 Smart Portable Alexa Speakers
Featuring a similar design to their predecessors, these speakers come with a fabric cover and unique zipper. Likewise, the zipper allows you to easily change the color of the speaker whenever you feel like it.
Dell Inspiron Chromebook 14
This innovative laptop combines the power of a laptop with the convenience of a tablet to give you everything you need. The Chromebook 14 features a 14-inch FHD touchscreen display.
Sony Tough Ultra Durable SD Card
Designed for everything your adventures could bring, this ultra-tough SD card is built to withstand it all. Complete with impressive waterproof and dustproof ratings, the Tough SD Card has also been drop tested up to 5 meters.
RHA CL2 Planar Magnetic In-Ear Headphones
With both wired and wireless options, these luxurious earbuds feature a revolutionary 10mm planar magnetic driver inside. As a result, you get impressively accurate audio as the artist intended it to be heard.
LG XBOOM Go Portable Speakers
These Bluetooth speakers are the redesigned versions of the already impressive XBOOM Go range. However, they've received a fantastic update: you can carry them with ease.
Beoplay E6 Lightweight Wireless Earphones
Complete with Bang & Olufsen's Signature Sound, these in-ear earphones offer secure comfort. The E6 Earphones come with four ear fins, four ear tips, and a pair of Comply ear tips.
Garmin Vivosmart 4 Activity Tracker
With a fashionable design, this tracker features metal accents as well as an easy-to-read display. The slim-fit design of the Vivosmart 4 makes it stylish and perfect for everyday wear.
Ultimate Ears MEGABOOM 3 Bluetooth Speaker
This waterproof outdoor speaker comes with increased size and a larger woofer. As a result, the intense bass effect is stronger than the BOOM 3 speaker. Additionally, the speaker is highly durable and has been put through multiple tests to ensure its durability.
Ultimate Ears BOOM 3 Bluetooth Speaker
This waterproof speaker enhances the way you listen to music thanks to its 360-degree sound and waterproof design. A must-have for pool parties or beach trips, you can even use the speaker underwater.
Asus ZenBook 2018
Coming in 13-, 14- and 15-inch models, these new laptops from ASUS look surprisingly small and compact. In fact, the new display is glossy and comes with a bezel measuring just a few millimeters on all sides.
Acer OJO 500 Detachable Mixed Reality Headset
Featuring a detachable design, this device makes it easy to share your mixed or virtual reality experience with others. Likewise, you can quickly remove the head strap and lens, making it easy to clean and store.
Beosound Edge Wireless Multiroom Speaker
Featuring a user-friendly design, this speaker combines audio clarity and aesthetic appeal. Additionally, the Beosound Edge allows you to control the sound level by rolling the speaker back and forth.
Acer Predator Triton 900 Convertible Gaming Laptop
Featuring a rotating design, this device makes it possible to twist the screen around completely. You can also set it up like a tent for comfortable viewing or lay it down to use it like a tablet. Additionally, the Acer Predator Tritan 900 comes with a 4K UHD touchscreen complete with Nvidia G-Sync.
HTC U12 Life Smartphone
This Android phone packs a lot of power and offers a fresh take in design. Additionally, the dual camera delivers crisp and high-quality images as well as videos. In fact, the camera helps you capture artistic bokeh photos with total ease.
Casio PRO TREK WSD-F30 Smart Outdoor Watch
This intelligent watch includes a dual-layer monochrome and full-color display. Highlighting maps and data in finer detail, the watch shows so much more than just time. It also shows atmospheric pressure, altitude, and compass bearing.
Dell 27 USB-C Ultrathin Monitor
The premium HDR monitor comes with VESA-certified DisplayHDR 600 which features up to 600 nits peak brightness. Additionally, the monitor also integrates Corning Iris Glass light-guide plate (LGP) technology.
LG Tone Premium Wireless Bluetooth Headphones
The latest wearable audio products from LG include the LG TONE Platinum SE and the LG TONE Ultra SE. The LG Tone Platinum SE features a dedicated Google Assistant button, allowing you to use your voice to control your music and more.
Skagen Falster 2 Minimalist Wear OS Smartwatch
Running Google's Wear OS, this wearable comes with many useful features including a heart rate tracker and GPS tracking. Complete with two programmable buttons, you can simply set your favorite shortcuts for quick and easy access.
Acer Predator Thronos Gaming Cockpit
This impressive gaming chair offers total comfort and immersion as you play the most intense games. As part of the Acer Predator collection, the Thronos reclines up to 140° for the perfect gaming angle.
Which is your favorite IFA 2018 release so far? Share with us in the comments below.