STEALTHO makes it easy to organize your desk
While pens, headphones and sticky notes are relatively small, together they can cover your desk. STEALTHO is a new smart organizer and wireless charger with a customizable layout, helping you maintain some order.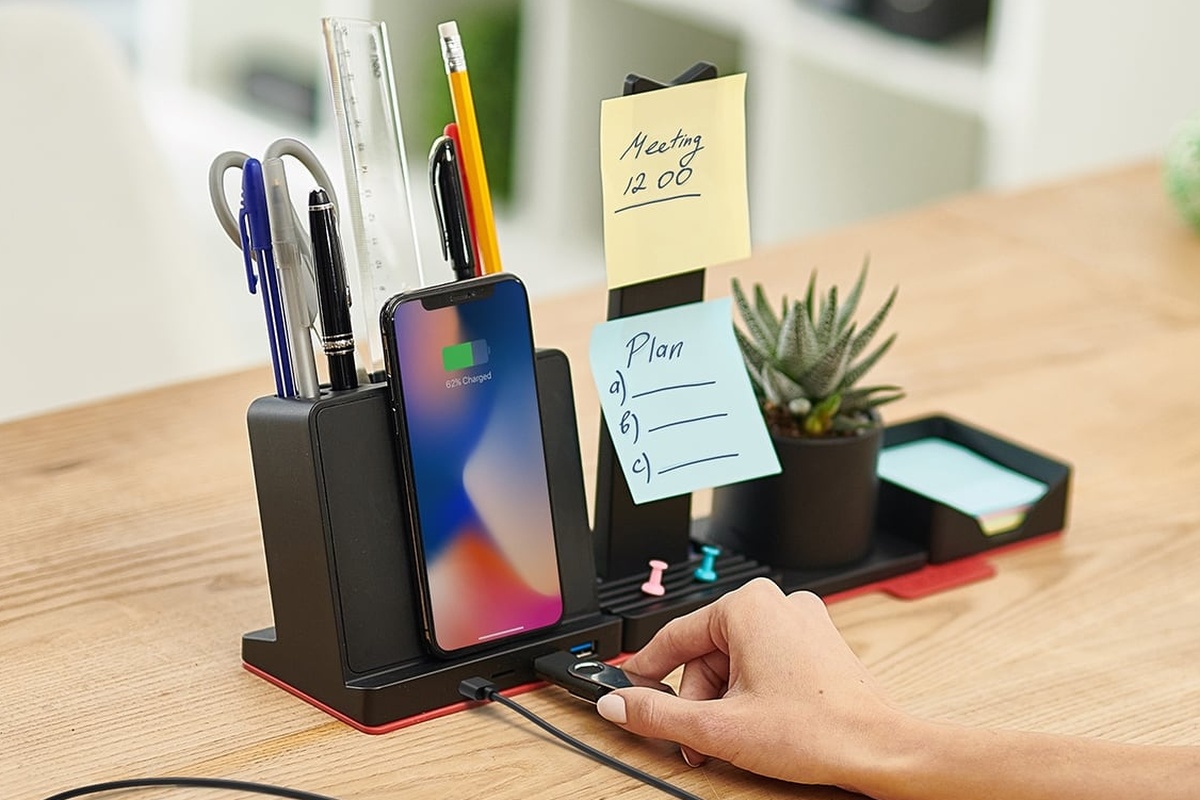 What are the best workspace gadgets? Take a look through our carefully curated collection of workspace tech!
How can you declutter your desk? Try converting paper to digital where possible, and move everything you don't often use away from your desk.
What is the smartest desk organizer? Try STEALTHO. This new smart organizer is customizable, with wireless charging and loads of connectivity built in.
It's often said that a messy desk is a sign of genius. Albert Einstein and Mark Twain both famously worked amid chaos, as did Thomas Edison and Steve Jobs. However, there is a limit to the benefits of disorder. Even the most brilliant note is rendered useless if you can't find the piece of paper.
STEALTHO is a new smart organizer that restores a little order to your workspace. The exact arrangement can be customized for your needs, while the base doubles as both a wireless charger and a USB hub. It's an excellent use of desktop real estate.
How do you save space on your desk?
Even the largest, CEO-sized desk only has a limited amount of surface space. To make the most of that horizontal area, you need to think vertically with your organization.
[tweet_box]STEALTHO is a new smart organizer and wireless charger with a customizable layout, helping you maintain some order[/tweet_box]
A good chunk of this surface will be taken up either by your laptop or your PC monitor, mouse and keyboard. However, the other items on your desk are probably much smaller – making them easier to stack.
STEALTHO provides the ideal home for your pens, paper clips, business cards, and other stationery. It also offers a headphones stand, a wireless charging pad for your phone, a place for your favorite succulent, and even a document holder. You will also find a tiny blackboard and a tower for sticky notes.
In fact, STEALTHO offers 12 different features in total. The whole organizer is modular, so you can add and remove various parts as you wish.
The modules attach to the supplied TPU base, with a simple locking system to ensure that the whole thing stays put. In total, nine slots are available.
Charging hub
Aside from smart storage, STEALTHO provides a wealth of connectivity and charging options.
The wireless charger module provides a useful upright stand for your smartphone while it soaks up power. This pad works with any Qi device, so you could even charge a small tablet.
On the base of this module, you will find two USB 3.0 ports, two USB-C ports, a micro SD card reader, and an HDMI port. This allows you to connect multiple accessories and peripherals to your MacBook through one cable.
"At STEALTHO, we know that no two people are alike…Our engineers answered the demand with a snap-and-fit style design that allows you to rearrange each piece of the organizer." — STEALTHO on Kickstarter
One smart organizer
It's remarkable how much functionality is packed into such a small footprint with STEALTHO. We also like the customizable nature of this smart organizer.
Future designs
The only slight problem with the design is that the microSD slot is very close to desk level. This might make it a little fiddly to insert and remove your memory card.
Availability
– Kickstarter: Until March 21st
– Pledge: $69 USD
– Delivery: August 2019