Get organized with these desk gadgets and accessories
A messy environment makes a messy mind. Organize your workspace with the desk gadgets in today's Daily Digest and watch how your creativity and productivity upgrade. Continue reading to explore our top picks for a home or office workspace.
Do you work from home and find that your workspace is becoming cluttered? Or perhaps you want to tidy your office work area without having to dejunk. Either way, we have the best 10 desk gadgets and accessories to spruce up your work zone to make it more productive, efficient, and organized.
Related: Most affordable budget ergonomic chairs for your home office
Office gadgets aren't typically built for aesthetics, but we scoured the net for some decorative (and, most importantly, useful) accessories that make your workstation more zen, personal, and stress-reducing. It's the little things that make a difference to your workday: an ergonomic layout and organized stations to keep your devices on hand and presentable. Plus, you'll take more pride in your work if you respect your area. Totally transform your office and work spirit with today's tech.
You're in a predicament: your phone causes distractions but you need it nearby for important notifications or to use as a second screen. Fortunately, the Native Union MagSafe Booster Duo iPhone 12 charger and stand handles this conundrum by keeping your smartphone either vertical or horizontal all while charging it.
Order this combined charger and stand for a discounted price of $79.98.
Give your smartphone, smartwatch, earbuds, and other devices a dedicated, protected surface on your desk with the hardgraft Rest Station Square tech pad. This accessory features two sides: leather and felt. So you can choose a side that suits your office layout.
Purchase this tech pad for $109.
3. Create healthy habits while you work with the RLDH Alto minimal standing desk. Place it on top of your current desk to provide back pain relief and increase circulation.
Working at a computer all day doesn't mean that you have to be sitting for hours. With the RLDH Alto minimal standing desk, you can continue typing while stretching your legs, alleviating aches and pains. Moreover, it's lightweight and compact for daily commutes to the office.
Buy this standing desk for a reduced price of $127.
4. Declutter your workstation with the hardgraft Inbox Tray Trio desk organizer. It keeps small items, like pens, out of the way.
Since a clear desk makes a clear mind, the hardgraft Inbox Tray Trio desk organizer is a must-have. It boasts a presentable design with three leather trays to organize stationery, miscellaneous items, and paper. Therefore, you'll never have to search your desk for what you need again.
Get your hands on this desk organizer for $505.
Keep your smartphone and smartwatch powered all day with the Elago MS5 Duo Charging Stand with MagSafe. This desk accessory also keeps your phone at a viewable angle for video calls and reading notifications without having to make any adjustments. It's one of the best desk gadgets and accessories for technophiles.
Buy this desk charger for $25.99.
6. Get inspired at your desk with the Elgato Stream Deck MK.2 creative interface. This desk accessory streamlines your workload for instant access to your most-used apps.
Incorporate the Elgato Stream Deck MK.2 creative interface into your daily work routine. This desk gadget offers 15 LCD keys that let you control apps, launch social posts, mute your microphone, and do much more at the touch of a button.
Order this creative interface for $149.99.
Use the Brydge Stone Pro Thunderbolt 3 docking station to connect digital audio devices, dual monitors, networks, and more to your computer. Additionally, it offers 87 watts of power to charge your computer. Plus, there's enough power to charge 4 connected USB devices.
Buy this docking station for $249.99.
8. Decorate your home or work office with the Kensington StudioCaddy Apple device storage system. Save space while having your Apple gadgets within reach.
The Kensington StudioCaddy Apple device storage system solves two problems: it provides a dedicated space for storing your Apple gadgets and prevents your smartphone, tablet, computer, etc., from scratches on your desk. Above all, it keeps your desk orderly, and you'll feel satisfied putting your laptop away at the end of a workday.
Purchase this desk storage system for $179.99.
9. The Grovemade Wood Keyboard Tray provides a sturdy surface for your keyboard and makes your desk look presentable.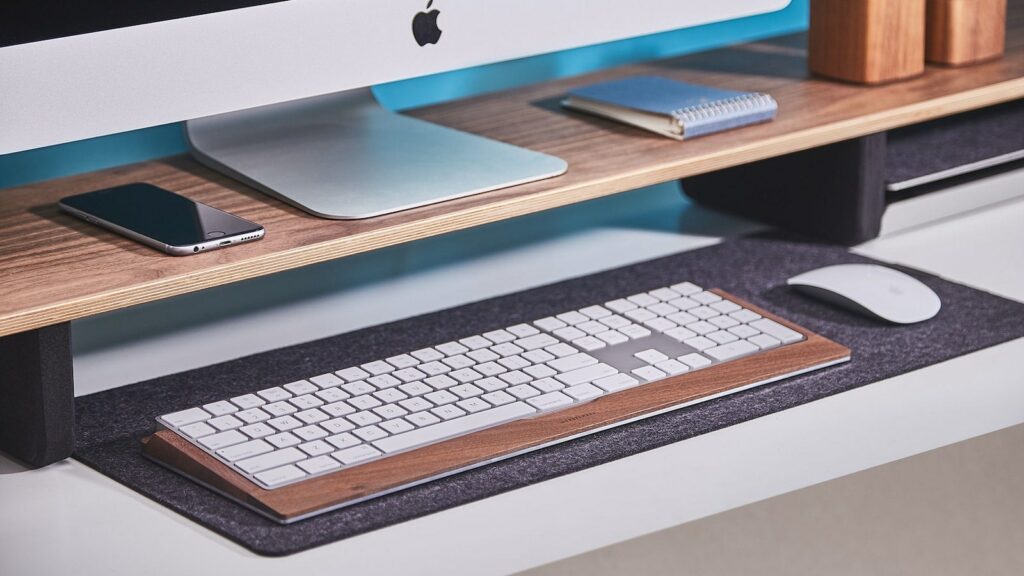 Not all desk gadgets and accessories have to focus solely on productivity. For example, the Grovemade Wood Keyboard Tray offers a designated space for your computer accessory while adding a stylish flair to your work desk.
Order this desk accessory for $110.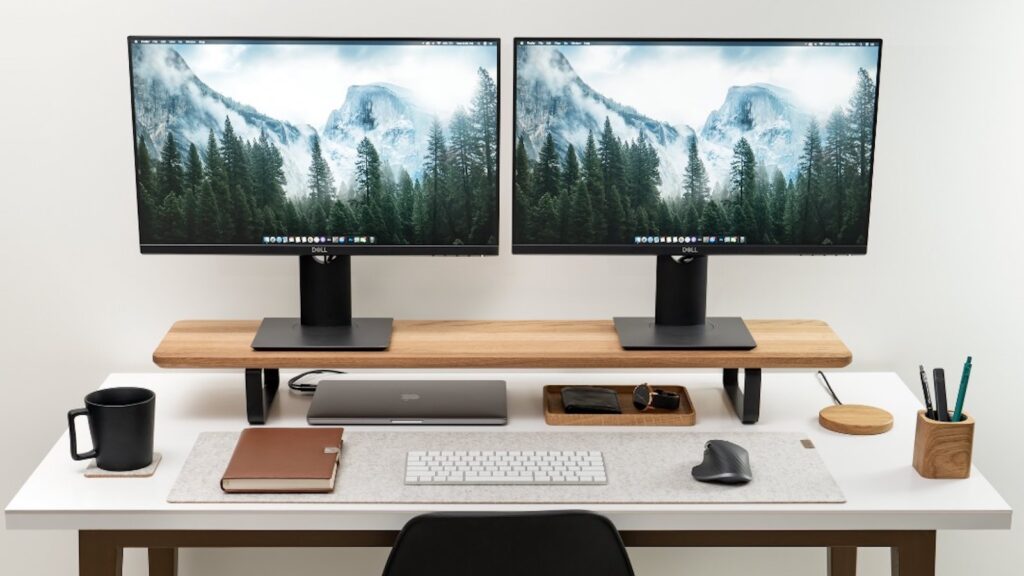 Finally, the Oakywood Desk Shelf dual monitor stand is for fans of dual monitors. Providing a designated space for your monitors, this stand elevates the screens for a more ergonomic view. All the while, it offers a useful hidden spot to store your laptop and accessories.
Buy this dual monitor stand for $179.
These desk gadgets and accessories will avail your work schedule. Do you have any tips and tricks for organizing your home or work office? Share your go-to's with our readers in the comments.
Want more tech news, reviews, and guides from Gadget Flow? Follow us on Apple News, Google News, Feedly, and Flipboard. If you use Flipboard, you should definitely check out our Curated Stories. We publish three new stories every day, so make sure to follow us to stay updated!
The Gadget Flow Daily Digest highlights and explores the latest in tech trends to keep you informed. Want it straight to your inbox? Subscribe ➜