Apple HomeKit smart home guide
Apple's HomeKit makes your smart home even smarter. But is this platform truly feasible? Which tools work best with the HomeKit? And what's coming up in the future? In today's blog, we'll be answering all of these questions and providing a roundup of our favorite HomeKit-enabled products.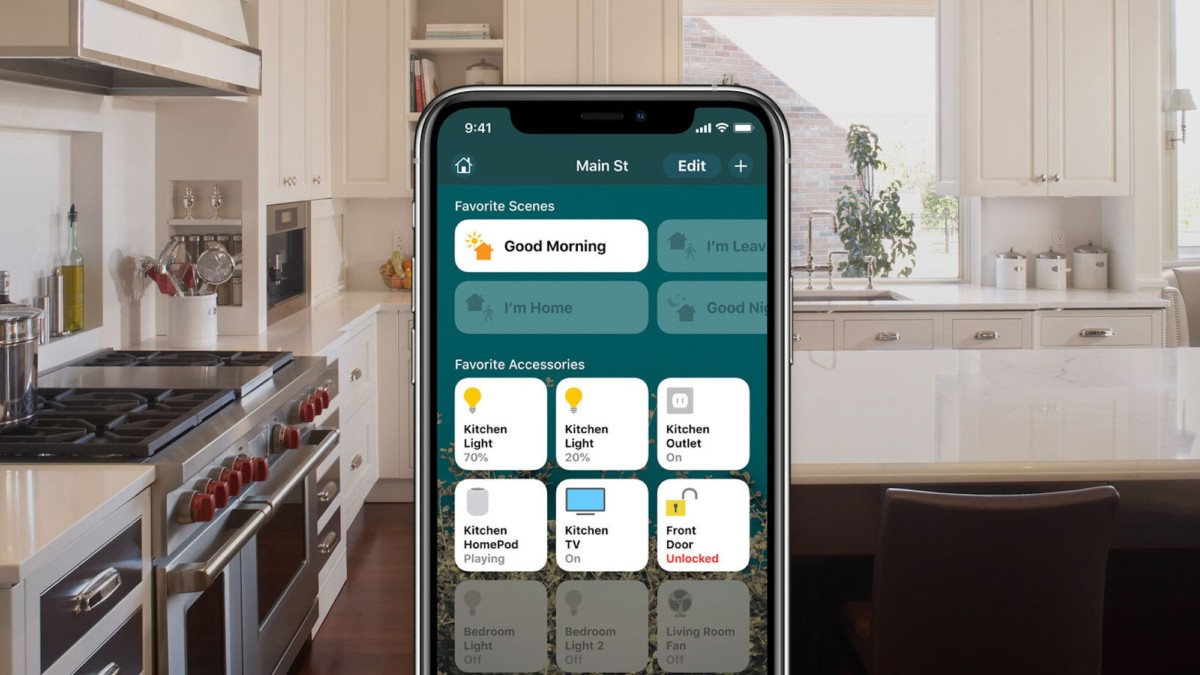 Homekit, designed by Apple, is a smart home platform that allows you to control a variety of Wi-Fi-connected home devices, including lights bulbs, thermostats, window blinds, plugs, and more. There are a plethora of Homekit-enabled smart gadgets on the market that let you operate them from your Apple products.
Related: 23 Smart home gadgets to cover every corner of your home
This isn't a tangible product but is a smart platform that adds convenience to your daily routine. In particular, you can control smart home gadgets using an iPhone or Siri. And once you own one Homekit-enabled product, you'll want another, so you can control all of them via the same platform. Released in 2016, it's still a fairly new concept that tech fiends are getting used to. And in today's article, we want to breakdown any confusion about the Apple HomeKit smart homes and share some related products.
The benefits of using Apple HomeKit
Apple's smart home platform has numerous benefits, helping to make your life a little easier and smarter. For example, it boasts automation. Set the brightness on your outdoor lights to come on at a certain time of the day and adjust the settings throughout the year. And you can even set up your coffee machine to switch on when you wake up each morning.
Perhaps another of HomeKit's benefits is its voice commands. So if you're a big Siri enthusiast, you'll love that you can continue using this technology with HomeKit. And you'll love that you can create 'Scenes' via the Home app. In fact, being able to control several devices with one command will certainly come in handy. As an example, you can lower the thermostat, switch off lights, and lock doors at a certain time each day.
HomeKit installation and setup
Once you've purchased a Homekit-enabled gadget, the setup process is fairly straightforward; it doesn't matter whether you've bought a smart plug, light bulb, or speaker—the installation process will still be the same.
Open up the Home app on your iOS device; this could be on an iPhone. Tap the 'Add Accessory' button on the main screen on the Home app, and follow the instructions presented to you on the screen. It'll then open your iOS device's rear camera where you scan the HomeKit QR code on your smart product. Following this step adds a device to your HomeKit, which you can later use. Once your gadget appears, select it on the screen and name it. You can also assign it to a room in your home to help you identify it in the Home app. We recommend doing this to avoid any confusion if you add more smart gadgets to your arsenal.
HomeKit devices connect to the Home app via Wi-Fi, Bluetooth, or a hub, with the most common being an internet connection. The downside of a Bluetooth connection is that you need an extensive range to operate the smart gadget via your Apple product, and most times, this connection range can be limited.
Furthermore, in 2018, Apple released the HomePod—a hub that lets you control your HomeKit accessories when you're not at home. Available in various devices, HomePod, HomePod mini, Apple  TV, or iPad, you can operate home lighting, switch of devices, and schedule the thermostat to switch off while you're away.
Requirements
Using an Apple Homekit requires any Apple product, such as an iPad or iPhone, that uses the latest version of iOS.
Controlling your Apple HomeKit setup
There are various ways to control your AppleHomeKit. For example, use Siri voice commands on your iPhone, iPad, Mac, Apple Watch, HomePod, Apple TV, or iPod touch. Alternatively, control your HomeKit-enabled gadgets via the Home app on your Apple device. Alternatively, you can purchase HomeKit-enabled button devices that act as a remote to activate the HomeKit without using an iPhone, etc.
The best compatible HomeKit gadgets
We've trudged the internet for the best HomeKit gadgets that are compatible with Apple HomeKit.
Aqara Smart HomeKit Camera Hub G2H
The Aqara Smart Camera Hub G2H allows you to feel safer at home. Featuring a vibration, motion, door, window, and water leak sensors, it can prevent disasters from happening. Moreso, the device will send you notifications if it detects any of these motions with its sensors.
It can help you to feel safer and have better peace of mind by featuring a 140-degree wide lens camera. This allows for high-quality footage that can capture any movement, so you can leave your home unattended without having to monitor it 24/7. But to reduce being bombarded with notifications, you can track specific zones, so you'll only be notified when there are interactions in specific areas.
Logitech Circle View HomeKit-enabled doorbell
Opt for the Logitech Circle View—the first HomeKit-enabled doorbell that also features Apple HomeKit Secure Video. Therefore, you can always see who's at your door, whether you're home or not. It's also equipped with Face Recognition, and it'll even alert you if someone's at your door that it hasn't seen before.
Best of all, it boasts a HD video and color night vision, allowing you to see clearly any time of the day. And it looks slim and presentable on most doorframes. Furthermore, it'll send you notifications when you need them, so you always feel safe in your home.
Anker eufyCam 2 Pro 2K HomeKit-enabled Security Camera
Another great way to feel safer at home is with the Anker eufyCam 2 Pro 2K Security Camera. This smart gadget works with HomeKit, Alexa, and Google. Impressively, it features free local video storage, so you can look back at recordings. Plus, with a 2k resolution, it guarantees clear-quality content. This way, you'll never miss an important moment outside of your home.
Moreover, this smart gadget's battery lasts all year. And it features human-detection software. Therefore, it can distinguish between a person and an animal. This is important for sending you unwanted notifications, allowing you to focus better at work.
First Alert Onelink Smoke and CO Detector
The First Alert Onelink smoke and CO detector features a five-year battery and is compatible with Android and Apple devices, including Apple's HomeKit. With this smart gadget, you'll receive two sensors in one. In particular, it's a smart alarm with a smoke sensor and a carbon monoxide sensor. Impressively, it can deliver phone and voice alerts. Therefore, it'll send you notifications in an emergency whether you're at home or not.
Satechi Smart Outlet Wi-Fi Plug
Control your appliances remotely with the Satechi Smart Outlet Wi-Fi Plug. This works with Apple HomeKit and requires iOS 10.3 to operate. Once you've connected it, you can use the plug with numerous gadgets. For example, connect it to a coffee machine to schedule hot drinks. Or, you can switch the TV on or power lights with ease.
This Wi-Fi Plug also lets you schedule routines while you're out of the house. It's a great way to schedule chores you're often too busy for. And with a helping hand, this smart gadget could make your life a little easier.
Apple Homekit vs. Alexa and Google Home
Amazon, Google, and Amazon dominate the smart home world. And they all have different strengths, which can make the choice very overwhelming. Let's take an in-depth look of each smart platform, so you can decide which is best for you.
Features
An important consideration to make is device compatibility to operate your smart devices Apple HomeKit's list is extensive: cameras, locks, sensors, switches, lights, and more. And there are also some top brands that have HomeKit-enabled products, including Philips Hue, Ecobbe, and Logitech to name a few. Amazon Alexa also has an equally overwhelming list of compatible devices: speakers, bulbs, cameras, locks, thermostats, and Amazon even has an Alexa-compatible microwave. And some tech giants with Alexa-enabled compatibility include Lifx, Netatmo, Netgear, Philips Hue, and others. Alexa's sheer number of compatible devices might make it a preferred smart home platform for some. However, Google Home's list isn't as extensive, but it does work well with Chromecast built-in devices, too.
Furthermore, Amazon Alexa is also highly functional and easy to use. In particular, you can adjust the brightness levels of smart bulbs, switch off lights with an "Alexa, goodnight" command, and even group together devices in a room to control them simultaneously.
Controlling the devices
Similar to Amazon's smart home platform, you can control Google Home devices via voice command (Google Assistant) or use the interface on an app. You can also control several devices at once with one single command; in fact, both smart platforms have a similar interface.
Finally, Apple's HomeKit boasts more smart automation than Alexa or Google. However, without using Apple's HomePod, the Home app is just a tapping tool to switch on and off smart home gadgets. Although it's useful to have Siri, at the moment, there aren't that many products that are compatible with this. Moreover, the setup process is a little simpler with Alexa and Google. This is because you need to scan a code and have your iPhone closeby. Alternatively, Google and Amazon's setup process is through Wi-Fi, which makes it a little less fiddly.
With that being said, HomeKit also works over Bluetooth, so your smart home devices don't always have to be connected to the internet. Moreover, HomeKit really stands out with its automation, too. For example, you can switch lights off when you leave without lifting a finger, due to linking your location to an iPhone.
Future tech and HomeKit updates
HomeKit Secure Video is the latest update in the HomeKit realm and lets you customize your video recordings, storage, sharing, and notification options. To use this, you need an iPhone, iPad, or iPod Touch with iOS 13.2 or later. First, check with your camera manufacturer if you need to install their iOS or iPadOS camera app.
Add your camera as an accessory in the Home app. You'll receive a notification on your accessory that the camera has been added to this app. And if you lose a network connection while your camera is recording, the content might not be saved. Then, continue the process by following the on-screen instructions to select the record settings, user permissions, and more. You can always adjust these settings at a later day.
Moreover, HomeKit Secure Video lets you view your view streams and recordings in the Home app via the Home tab under Favorite Cameras. Members, or guests, can also view these view streams via the Home app or control panel on an Apple TV. However, the primary home app user can monitor who can view these recordings.
The future of Apple HomeKit looks promising as products have been released in recent years. But there are still some developments we'd like to see, such as a less-crowded layout on the Home app. If you're growing an army of HomeKit-compatible gadgets, you don't want to be scrolling through several pages to find the one accessory you need. A slight redesign to the Home app's interface would make it more user-friendly and easier to automate and configure settings.
Are you a fan of Apple HomeKit smart home? Let us know your thoughts, and any additional HomeKit accessories we haven't mentioned above, in the comments.