The ultimate Apple workspace setup for designers
Let's face it, working in front of a computer screen at a boring desk is not the most inspiring environment for creative people. If you are a professional designer, you know how important it is to have the best laptop for the job (we're guessing it's the Macbook Pro). But what about the rest of your setup?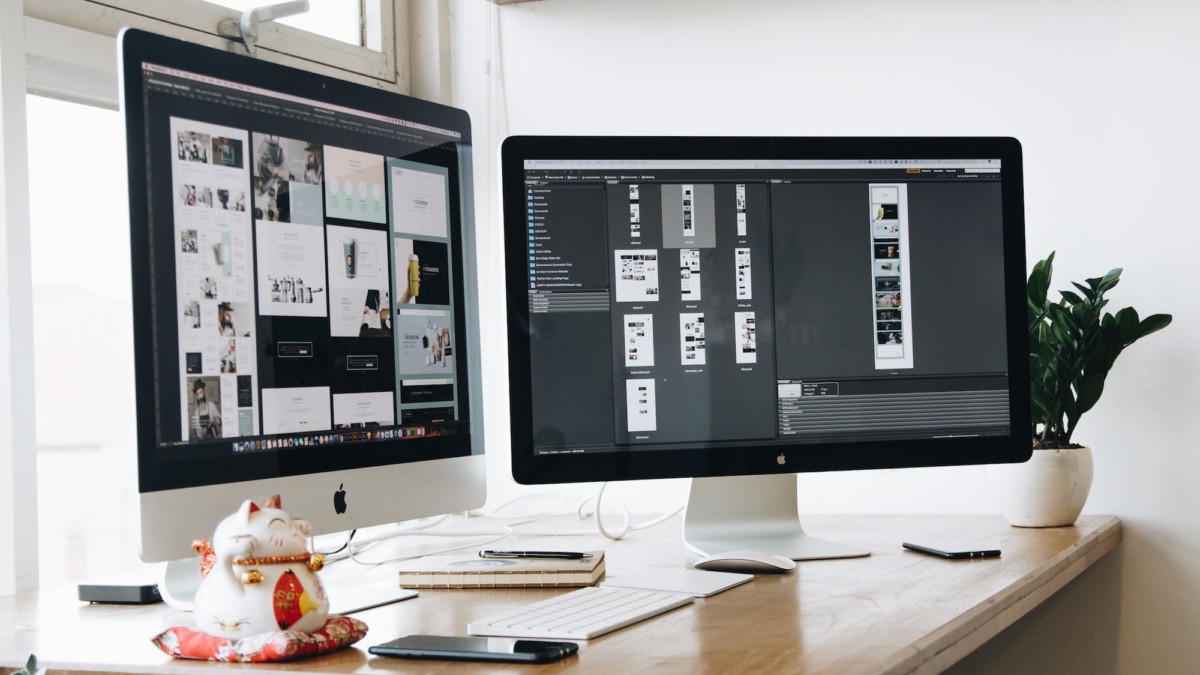 When creativity is your business, your work area needs to do more than just help you get the job done. The ultimate Apple workspace for designers should make you comfortable, boost your productivity and, above all, keep you inspired. According to Business News Daily, a great workspace keeps your gadgets organized, has room for items that inspire your productivity, and allows opportunities for movement. It's time to give your boring, uncomfortable work area an update. With that in mind, here are some of our favorite workspace gadgets that will complement your Apple products and maintain your design needs.
LG UltraFine Ergo Swiveling Display lets you turn and tilt your monitor
When creating your ultimate Apple workspace for designers, you can't forget a quality monitor. Designed with a swiveling and tilting hinge, The LG UltraFine Ergo also installs quickly and easily thanks to its clamp attachment. If you spend a lot of time working at your computer, this ergonomic LG display will help you stay comfortable. Avoid back and neck pain and strain with this computer monitor, which you can pull forward closer to you or push back toward its stand. Additionally, you can raise the UltraFine Ergo to your eye level or even lower it all the way to your desk. As far as swiveling goes, this display can actually turn all the way around if you have something to share. With a 32-inch 4K screen, this LG monitor provides detail and accuracy—great for anyone working with color.
Logitech MX Master 3 Advanced Wireless Mouse ensures precision
No matter your craft, the Logitech MX Master 3 Advanced Wireless Mouse will give you the precision you need. Whether you're coding behind the scenes of a super-detailed website or designing an intricate building, this mouse helps you eliminate mistakes. With a new type of wheel that scrolls using electromagnetics, this advanced mouse stops on the exact pixel you choose. However, this mouse for coders is still fast enough to scroll 1,000 lines in a second. This is all without making a sound. Additionally, this precise mouse fits the shape of your hand for added comfort. Those eight—or more, be honest—hour workdays will fly by as you scroll horizontally using the mouse's thumbwheel. And, even if you're using two different operating systems at once, this mouse lets you work seamlessly.
Bluelounge Posto Headphone Stand keeps your earphones tidy
Designed with a flexible rubber headrest, the Bluelounge Posto Headphone Stand forms to the curve of your headphones. This creates a beautiful place to display them when they're not in use. Its universal design makes it ideal for headphones of all sizes, small and large. Packed flat, the Posto requires a simple one-time assembly. Once put together, Posto will keep desks nice and tidy for a more efficient workspace. It's available in black and white, but what makes it versatile is the small footprint. There's also the silicone headrest, which conforms to the shape of your headphones and keeps their structure. Instead of just tossing them on your desk, you now have a nice home for your headphones. Exactly what you need for your ultimate Apple workspace for designers.
Satechi Type-C Aluminum iMac Monitor Stand Hub elevates your setup
Make the most out of your workspace with the Satechi Type-C Aluminum iMac Monitor Stand Hub. Featuring a two-in-one design, this device elevates and enhances your work area. Designed for your iMac, this stand features integrated USB 3.0 ports and a USB-C data port. Likewise, it comes with SD and micro SD card slots along with an audio jack, ensuring all the crucial ports are easily accessible. Moreover, the stand brings your monitor screen to an ideal viewing angle. Made from aluminum, the hub is both sleek and modern. Similarly, the Silver and Space Gray color options complement your iMac. The Satechi Type-C Aluminum Monitor Stand also provides space under your iMac, enabling you to make the most out of your desk.
Grovemade Cork Apple Watch Dock is impressively stylish
If you're a creative professional, you'll also want to be sure your Apple workspace inspires you. The stylish Grovemade Cork Apple Watch Dock can do that. A refreshing take on Apple Watch power systems, this dock uses premium materials and an impressively minimalist design to look good anywhere. Unlike other chargers, the Apple Watch Dock is thin and flat to seamlessly blend into any space—whether it's your nightstand, side table, or desk. Featuring cork and brushed stainless steel, this dock has a slight divot in the center to cradle your smartwatch. Likewise, the stainless steel base offers a sturdy anchor to prevent the device from sliding around. Available in light and dark models, the Apple Watch Dock is the charger your space deserves.
Keychron K1 Ultra-Slim Wireless Mechanical Keyboard will help your productivity
Enhance the way you type with the Keychron K1 Ultra-Slim Wireless Mechanical Keyboard. Complete with self-contained switches, this device makes it easier to type in the Magic Keyboard style. Likewise, Keychron K1 combines minimalist design with the tactile sensation of a mechanical keyboard. Designed for productivity, it's loaded with desirable keyboard features. Aside from its ultra-slim body and tactile feel, the wireless mechanical keyboard also enhances your typing experience. By requiring less force and using less finger travel, the keyboard reduces finger fatigue for comfortable typing. Ideal for any workspace, the ultra-slim body adds to the sleek appearance of the Keychron. Additionally, it's compatible with Mac and Windows and even features a Mac layout along with macOS function keys from F1 to F12. Offering multiple key quantities, the Keychron K1 makes it easier for anyone to type.
Grovemade Wool Felt Desk Pad keeps your work setup classy
Another way to add some style to your ultimate Apple workspace for designers is with the Grovemade Wool Felt Desk Pad. Made with three-millimeter thick premium Merino Wool Felt, this thing is perfect for protecting your desk from scratches. It also comes in a wide range of sizes, for whatever your needs are. If you'd like to cover the whole desk, you can. If you just want a nice mouse pad, the small size is perfect for you. Aside from this, the fabric prevents your keyboard from sliding and can serve as a handy cup holder. Its material is also slightly grippy, which keeps you from knocking pens off your desk. If your desk needs a makeover, consider grabbing this wonderfully stylish felt pad.
Amber Smart Storage Platform lets you access your files from anywhere
Safely access your files from anywhere with the Amber Smart Storage Platform. Featuring an all-in-one design, this device makes it easy to store your files locally and access them remotely. Easy to set up, Amber eliminates the headache of compromising clouds and complex solutions. Offering a secure all-in-one platform, Amber allows you to back up, share, and stream as you please. In addition, the smart storage platform provides a faster and safer way to store your digital photos, videos, and files both online and offline. Hosted on Amber servers, the cloud service is not accessible to the public, keeping your files private and protected. Furthermore, the companion app allows for convenient control from anywhere in the world. With storage capacities of up to four terabytes, Amber is your one-stop solution when it comes to protecting and sharing your files.
The Loupedeck CT Editing Console lets you seamlessly create your work
Whatever type of content you create, the Loupedeck CT Custom Editing Console lets you craft it how you want. Whether you want to edit photos, videos, or music, you can do so on this minimalist deck. This creative tool has a large central dial, six smaller dials, buttons, and screens. Through these interfaces, it gives you instant access to your software. Set up shortcuts on this Loupedeck console so you can customize the way you work. Doing so ensures you stay organized, helping you be more productive. This tool integrates seamlessly with your favorite software, from Adobe Lightroom Classic to Final Cut Pro X. Set the Loupedeck CT on your desk and pair it with your mouse and keyboard to create your most efficient workspace setup yet.
These are our picks for all the items you need to create your ultimate Apple workspace for designers. These gadgets will boost your productivity, make you more comfortable, and provide a bit of inspiration. Anyone who works long hours in front of a computer knows they need to feel good physically and mentally to produce their most original work. Take care of your work and yourself. Give your workspace an update!