CES 2017 Day 2 – Lynx Robot, Smart InstaView Refrigerator and More
So, we are done with another awesome day at CES 2017. At first, we thought nothing could be better than the gadgets we saw on Day 1. But, CES 2017 Day 2 surprised us even more. There were mind-blowing gadgets and technologies we could not have imagined having in our lives before. From smart laundry machines to spectacular VR gadgets, the list is simply endless. And we are so glad about that. Furthermore, we went live on FaceBook from the floor towards the end of the day. That's when we met Steve Aoki on the grounds of CES 2017. ? Now that's amazing, don't you think?
Let's have a look at everything awesome we came across during Day 2.
Lynx is the new robot for your family with Alexa-enabled voice features. This Alexa-enabled robot is here to make robotics more fun for you. You will not have to look for your Amazon Echo for voicing out commands anymore. Instead, Lynx makes it easy for you to plan your entire day. This robot is more human-like and entertaining.
Enjoy better accuracy and better audio quality with the Ella Planar Magnetic Headphones by Blue. This offers a niche form of sound generation. In short, these headphones create sound by pushing a thin diaphragm. These headphones also have square 50mm planar drivers to offer high-fidelity sound. The new headband system is more comfortable and less bulky. Additionally, there are three different modes for the amplifier.
Welcome to the future of gaming immersion with the Project Ariana Video Projector by Razer. This project takes the Razer Chroma to a completely new dimension altogether. In addition, it brings the concept of multi-color lighting to video projection. It's here to change the way you play your game. The projector also uses an ultra-wide fisheye lens for a more immersive gaming experience.
Thanks to the Everlast and PIQ Sport Intelligence Wearable, you can finally measure your boxing punches with precision. This wearable is so much more than a sensor. It has the capability to determine a good punch from a bad punch. All you have to do is wear it on your wrist and let the sensor do the rest. The device will give you real-time actionable information for improving your punches.
Go for the best desktop computing experience with the Dell XPS 27 All-in-One Desktop. Incredibly, this desktop shows you every detail of the pixel without having to zoom in. The UltraSharp 4K Ultra HD display is truly one of a kind. The color gradients you see here are crisper with better details.
Washing your clothes is chore enough. Finish the job with ease with FoldiMate, the laundry folding machine. Simply clip your clothing to the outside of this automatic machine and watch as FoldiMate slides them inside to let the mechanical arms fold them to crisp perfection. FoldiMate can also steam, de-wrinkle, and soften each of your articles of clothing.
Relax, rejuvenate, and refresh with the Bodyfriend Futuristic Massage Chair. Taking inspiration from a sports car, this chair is impossibly comfortable to reset your body after a long day. In a bucket chair design, each part of your body receives the royal treatment with simultaneous massage. It focuses on the common problem areas such as your shoulders, back, and neck.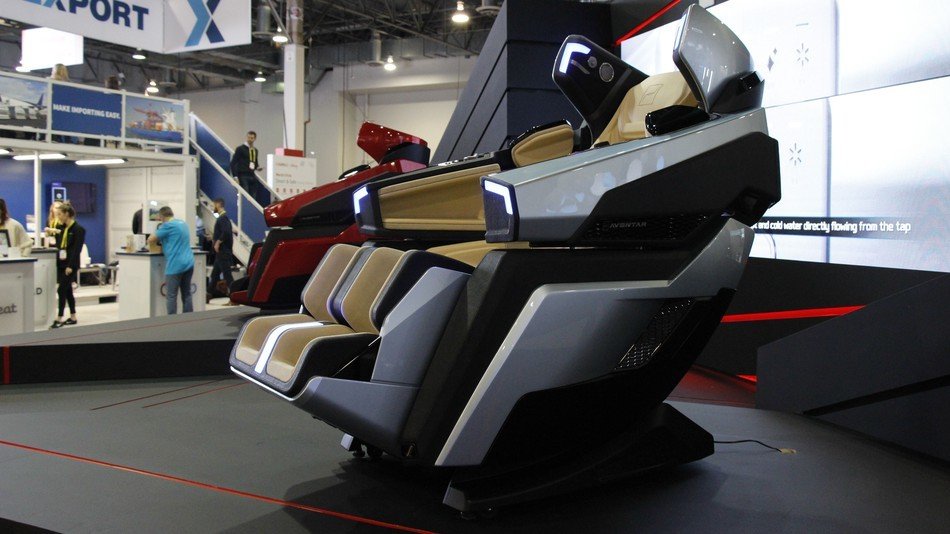 Say no to those bulky laptop chargers and go for DART-C, the smallest laptop charger instead. This charger is specifically designed for the USB Type-C laptops. What makes it perfect is the sleek and lightweight design. In fact, this charger is about four times smaller than the ones available on the market today. It is a 65W laptop charger with a 6-ft. USB-C Cable.
Get the full picture each morning with the HiMirror Smart Beauty Mirror. Equipped with a built-in camera, all it takes is one use to realize this device is so much more than a mirror. Giving a full analysis, the HiMirror is able to assess the condition of your skin for features such as wrinkles and fine lines, complexion, dark spots and circles, red spots, and even pores.
Make the most of music and GPS from your wrist with the Misfit Vapor Smartwatch. No phones required at all. This smartwatch includes built-in location services for tracking your activities in real-time. In addition, you can also use it to track your heart rate. There is also a virtual bezel for quick navigation. The watch is complete a pretty cool and modern design.
Simplify your food shopping with the FridgeCam Smart Refrigerator Camera. Attaching to the inside of virtually any fridge, this camera can give you a view of what's inside wherever you are. The FridgeCam takes a snapshot of your refrigerator each time you open it. It then stores this image for your reference.
Enrich your experiences with the HTC Vive VR Tracker Attachment. Using this device, game developers are able to track objects in virtual reality. Simply attach the compact device to your VR accessories and get playing. As you move around, the system can identify objects and retain their presence in your virtual reality. This brings an entirely new level of intuitiveness to your game which makes it a lot less virtual and a lot more realistic.
Introducing the Xiaomi Mi V 4 Ultrathin TV. Despite its 65-inch diagonal measurement, this breath-taking TV comes in at just .196 inches thick (4.98mm) at its thinnest. That's an incredible 30% thinner than an iPhone. We'll wait for you to pick your jaw up off the floor. This TV, which is also available at 49″ and 55," uses an AI-drive system and a PatchWall UI.
Ditch those charging cables once and for all with the Dell 2-in-1 Latitude 7285 Wireless Charging Laptop. This laptop offers a wireless charging keyboard base. In addition, it works as a hybrid laptop and detachable tablet. The laptop has three keyboards to choose from. First, you will get the wireless charging keyboard.
[tweet_box] Everything awesome from #CES2017 Day 2 with @jessicanaziri on the show floor! #GadgetFlowCES2017 [/tweet_box]
Make the most of your food with the Whirlpool ZERA Food Recycler. This device turns your food scraps into ready to use fertilizer within 24 hours. In addition, the system uses a fully automated process to reduce food waste by two-third of its original volume. The fertilizer you make works perfectly for your lawn or indoor garden.
Hydrate, charge, and listen with the Next Bottle. This is the next generation of awesome! How many times have you had your hands full carrying your phone, water bottle and keys and then misplaced one or all of them? Next Bottle is an all-in-one, innovative hydration station.
Kick snoring to the curb with Nora, the smart snoring solution. This non-invasive device works seamlessly in your bedroom. A small device sits on your nightstand and, when you snore, activates the Expander, which slides under your pillow. When activated, the Expander gently adjusts your head placement to stop the snoring in its tracks.
HELLO transforms any TV into the ultimate cross-platform communication device. It is an all-in-one, voice-controlled smart home or office device for video conferencing, wireless screen sharing, live broadcasting, security surveillance with motion detection and more. The company's latest Kickstarter stretch goal update says that HELLO will also have additional support for Microsoft Skype, Facebook Messenger, Google Hangouts, and Cisco WebEx. It works as an easy extension of the already feature-rich Solaborate platform – designed for both individuals and remote working teams that expect high-quality, ease of use and versatile experiences.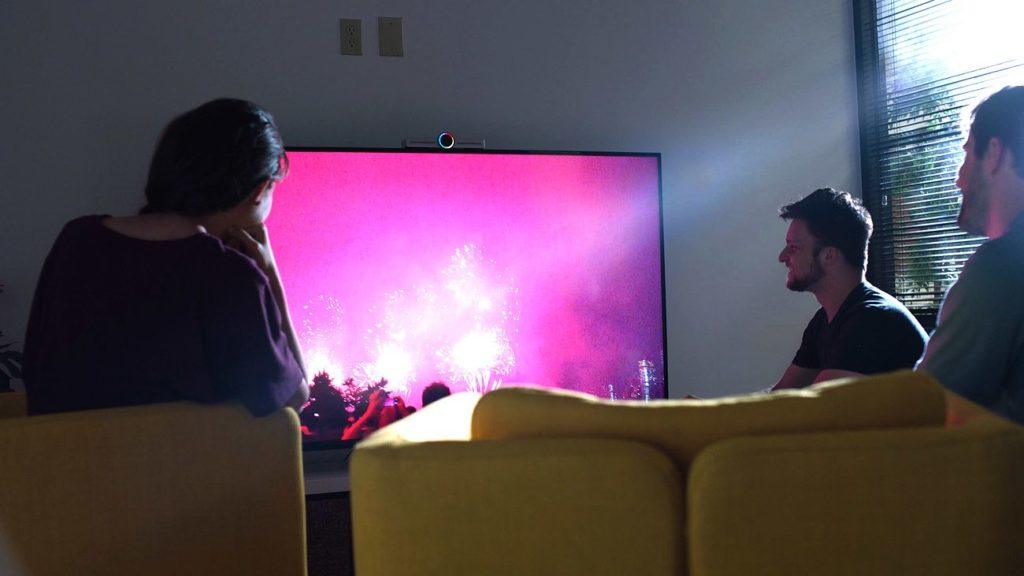 Feel the true pleasure of diamonds on your ears with these Onkyo Diamond Headphones. These headphones are as luxurious as it gets – they're made of real diamonds. In addition, every pair of headphones is meticulously handmade. You even have your pick of customization choices. You can choose the size of the diamonds used in your headphones.
Cleaning grills is now super easy thanks to the Grillbot. This is an automatic grill cleaning robot. It makes the whole process of cleaning grills easy and hassle-free. You just have to place the robot on your grill, press a button and you are done. No scrubbing required. The Grillbot does its job efficiently and without requiring any involvement from you. In addition, the Grillbot has a pretty portable design.
Be productive at work rfom anywhere while on the go with the LG Gram 14 Laptop. This is possibly one of the lightest laptops as it weighs only 2.13 pounds. Additionally, the laptop comes with 24 hours of battery life. You also have the 14-inch Full HD IPS display for an immersive experience. In addition to that, you must consider the carbon magnesium and lithium magnesium materials. These make the laptop extremely durable.
You can identify your drug compositions with the LinkSquare Portable Spectroscope by Stratio. This gadget makes drug identification as easy as having a smartphone. Additionally, the spectroscope is highly portable. You can also use it to identify a pill with the help of the corresponding mobile app. In addition, this spectroscope saves the workflow of medical professionals to a large extent.
Experience a whole new form of home entertainment with the Triby Smart Portable Speaker. This voice-controlled speaker comes with a built-in Alexa Voice Service. As a result, you can ask it to perform any task you want. Whether you're asking about the news or setting alarms, this speaker can do it all. Beyond this, the speaker also features an array of microphones and In Vivo Acoustic Technology.
Say it loud and say it proud with the POP-I e-Paper Backpack. Spacious and practical, this ingenious bag features an actual e-paper display visible on the back. You can select virtually any image you'd like to be displayed. As it connects to your smartphone via Bluetooth, you can upload, swap, and change patterns and images as you like.
Head for your adventures without worrying about losing your location with the Casio Smart Outdoor Watch. This PRO TREK Smart WSD-F20 watch has GPS as well as a full-color map. Additionally, the watch identifies your current location and indicates it on a full-color offline map. There are two new designs linked with the GPS function.
Best From Social Media
Wow…now there's a smart Hair Brush!!! Great one @Withings ???(via @jessicanaziri ) #CES2017 #gadgetflowces2017 #gadgets pic.twitter.com/bftmWAZhto

— The Gadget Flow (@TheGadgetFlow) January 6, 2017
A gadget show without a #StarWars themed product is NOT HAPPENING! ??? #CES2017 #gadgetflowces2017 pic.twitter.com/G1VFoYW1u1

— The Gadget Flow (@TheGadgetFlow) January 6, 2017
14-Sensor e-skin shirt! ??? Not bad @Xenoma_Inc ? #CES2017 #gadgetflowces2017 #wearabletech pic.twitter.com/SEn9cDSTrO

— The Gadget Flow (@TheGadgetFlow) January 6, 2017
Gadget Flow team at #CES2017 ???? @evanvar @CassieOusta @jessicanaziri pic.twitter.com/gyjXwy1sG7

— The Gadget Flow (@TheGadgetFlow) January 6, 2017
We were just "Wow…ed" by NASA's Mars Robot! ?? #CES2017 #GadgetFlowCES2017 #robotics pic.twitter.com/Rzr8pR61ka

— The Gadget Flow (@TheGadgetFlow) January 6, 2017
The show is not over yet. Stay tuned for Day 3 at CES 2017 later today! ?