Can education technology shape the future of learning?
Technology and education have often gone hand in hand. However, we're entering a new era of education technology. With teachers utilizing AR and VR in the classroom, is this technology truly helpful?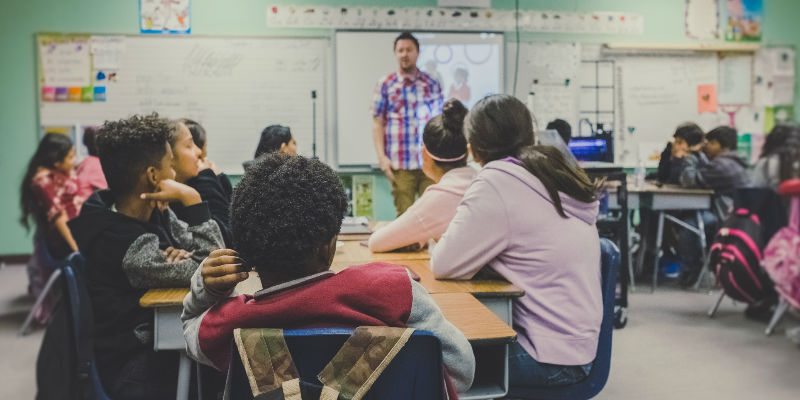 Recent studies show that fitness levels are directly correlated to the onset of dementia, a disorder that causes loss of memory and intellectual abilities. Staying fit can keep you smarter for longer.
While many teachers enforce a no-smartphones rule, technology is making its mark in the classroom. The use of AI and VR helps students learn more thoroughly than ever before.
However, one expert thinks that technology in the classroom may cause a teacher to "baby" students into learning.
Gone are those days when school assignments were done on paper. As unlikely as it sounds, some schools are even trying to go paperless. It might sound crazy, but going digital with students can actually boost their attention in school. Imagine learning your science experiments from YouTube or using a robot to learn to code. These would have sounded unbelievable for the kids of yesteryear but it's what the future has become. No matter how technophobic you are, you can't keep today's kids away from the internet for long. But, you can always teach them how to be safe online and actually learn from the world wide web.
Why do you need technology in education?
The purpose of technology-infused learning is not just to make the classroom look fancy. It has a lot to do with making kids want to go to school and learn. Considering the fact that they learn practically anything from the internet, going to school takes a little more convincing. It's like going back to a vintage watch after wearing a smartwatch. This is why education needs to change. Kids need to know the importance of technology and how they can put it to good use. Technology in the classroom can:
– reduce the usage of paper, thereby saving our planet.
– boost students' skills of searching information online. This will help them enhance their career profiles in the long run.
– increase their IQ which will make them smarter in the long run.
– make assignments more fun and engaging for students, thus inspiring them to learn.
– help students collaborate better with their fellow classmates and even students from around the world.
– Make students active learners and the teacher more like a guide and adviser. Note that the teacher's role is still equally important because someone needs to guide them on the internet. In fact, Brian Greenberg, CEO of Silicon Schools, has said that a teacher's role in a classroom is imperative.
Technology is important, but it's really just the means to an end. The real magic is in giving great educators freedom and license into how school works.
Importance of virtual classrooms
According to the formal definition,
A virtual classroom is a teaching and learning environment where participants can interact, communicate, view and discuss presentations, and engage with learning resources while working in groups, all in an online setting.
Video-conferencing plays a very important role in such classrooms which connects students from various backgrounds and brings them under one roof. The Internet is a primary requirement for such classrooms which encourages smarter thinking and a diverse knowledge-base. In fact, it's also a great technique that is being used to grab more worthy candidates in the new teaching pool.
VR and AI in teaching
Now, when we come to the hardware that empowers education, you have to consider VR. Virtual reality has allowed students to step out of the classroom without leaving their seats. With VR, students get to see the depths of the ocean or explore space by experiencing the entire lesson on a whole new level. It's not just about watching a video or reading a chapter from a book. Learning becomes a real-time experience. Thanks to companies like ClassVR and NearPod, students are finally getting that opportunity to learn with experience.
Fun Fact: Here's how a teacher got VR in the classroom at an affordable rate with Google Cardboard and cheap $10 headsets.
Artificial intelligence is also considered to solve one of the most crucial issues most students, as well as teachers, face in a classroom. It helps cater to the individual needs of a student even within a group. Additionally, it enhances the entire grading system and the feedback on course quality.
STEM-focused gadgets for kids
Learn how to code in a fun way with the Root Educational Coding Robot. This educational robot teaches problem-solving skills, creativity, and coding in an entertaining way. Additionally, it's so easy to use that even kids from the age of four can use it. Likewise, adults can also learn something from Root.
Squaggle Kids Educational Tablet
Featuring award-winning apps and a durable kid-friendly design, this educational tablet allows you to control your kid's screen time. It's perfect for giving kids quality education and entertainment while also protecting them from inappropriate content.
Human Body AR Educational Book
This informative and interesting book uses the power of an app to bring the contents to life. With augmented reality, the Imagina Books combine traditional book reading with the latest technology.
Logitow 3D Animation Building Blocks
Logitow features interactive smart building blocks with 3D animation mirroring in real time. As your kid builds a creation, it instantly becomes a 3D animation mirrored via a wireless connection on screen.
In addition to these, apps like ClassDojo and Khan Academy can also help kids as well as parents keep up with this new method of education. With education embracing technology like it has, the area of concern now shifts to the next level – is too much technology in the classroom harmful?
The Gadget Flow Daily Digest highlights and explores the latest in tech trends to keep you informed. Want it straight to your inbox? Subscribe ➜