These exclusive modular watches are inspired by aviation
You want your watch to match your outfit every day, but for most of us, buying a new timepiece for every look isn't feasible. But do you know what is? Watches that you can customize quickly and easily. Watches like Infantry modular watches. Check out these aviation-inspired timepieces. They'll change how you thought a watch could be worn.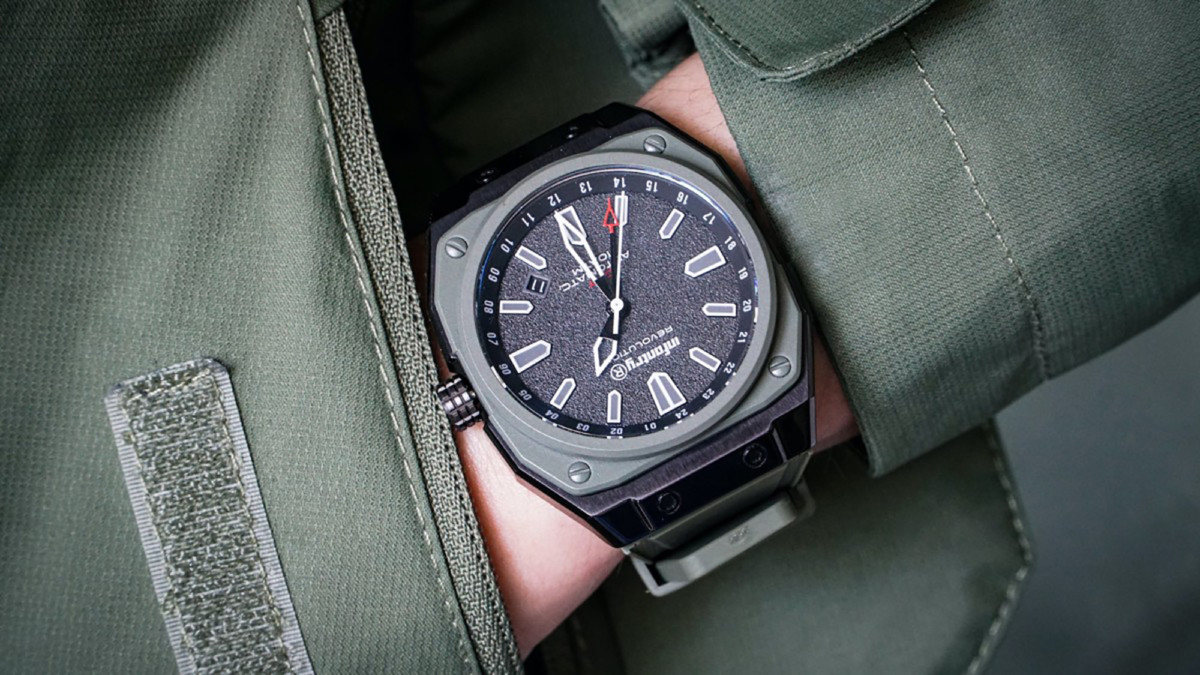 A wristwatch is more than a way to tell the time. It's an accessory that's part of your outfit and can speak volumes about your style. And of course, your watch needs to be suitable for what you're doing for the day. But having a collection of watches can cause a storage problem and a financial one. A good solution is to invest in quality watches that you customize and assemble yourself in a matter of seconds. Watches like Infantry modular watches. This exclusive modular watch matches your style of the day and gets its inspiration from aviation.
Infantry modular watches are more stylish than your typical modular watch and feature parts that are of a higher quality. This results in a line of watches that are great for everyday wear as well as more special occasions. These exclusive modular watches are available in four base models—the Skeleton MKI, Skeleton MKII, 24HR Military Time, and Analog with Date. Overall, the watches have a tough, military style, and have design elements inspired by fighter-jet panels and engines.
Get the benefits of a modular watch
With a modular watch, you'll be able to build your accessory using the included parts. The Infantry modular watches let you put your watch together on your own and lock it by rotating the watch ring/bezel clockwise. The entire assembly process takes just 20 seconds and requires only two fingers. This means you won't need any tools to create your watch. I promise. Having a modular watch lets you pick and choose the overall style of your watch. It also makes for more compact storage.
Customize this unique timepiece
I mentioned that you'd have certain choices when it comes to your Infantry watches' design. The company's Kickstarter page writes that you can interchange the dial with the movement and that you'll also be able to choose your faceplate, ring (bezel), and strap whenever you want. All pieces of these exclusive modular watches boast high-quality materials, a wide color range, and careful craftsmanship. There are thousands of possible combinations. With the interchangeable parts, you'll always be able to design a watch that matches your activities for the day.
Read time clearly with Swiss Super Lume
These exclusive modular watches also have super Luminus coated markings and hands. These components glow and allow you to tell the time, even in the dark. So if the power cuts out, you know you'll always be able to rely on your watch dial. Another great feature of this watch is the quick-release watch strap. This allows you to change the strap in as little as three seconds. So if you want to switch to a more durable strap while you're going for a ride on your eBike, you'll be able to do so easily and quickly.
Enjoy a modular timepiece with the highest-quality protection
True to their tough design influences, Infantry modular watches can keep up with your active lifestyle. This is due to their Sapphire Crystal glass top. It provides the highest protection possible to the watch dial and movement since sapphire is one of the earth's hardest substances. It's even harder than a diamond, so you can be sure this watch cover won't shatter.
Wear your wristwatch without fear of water
Not all watches are waterproof, but this one is. These exclusive modular watches are structured for 100M (10ATM) water-resistance. This means that they're suitable for wear while you swim, surf, snorkel, sail, as well as other water sports. So these watches will stand up to the sports you use your beach gadgets for.
Store your innovative timepiece in a beautiful box
Quality items should come in aesthetically-pleasing packages. And that's another box this watch ticks (both puns intended). Infantry watches' packaging consists of a shock-resistant EVA ethylene-vinyl acetate copolymer that stabilizes the parts inside of the box. The packaging's exterior is made of wood, which further protects your timepieces from bumps, rough handling, and the like.
Infantry modular watches are a great addition to anyone's wardrobe. Their modular concept gives you thousands of styling options and they're just cool watches to own. You'll definitely impress your friends with how quickly you can assemble this exclusive modular watch. What's most impressive is the quality materials. We've seen modular watches before, but they've rarely featured such excellent components. Infantry watches are an item you'll be proud to have as part of your everyday routine.
Infantry modular watches cost $251.18, and you can preorder them on Kickstarter.