iPhone 6 and iPhone 6 Plus Symbolize the Biggest Displays From the iPhone Series That Apple Has Ever Released
Those of you who haven't had the chance to keep up with the live updates of the iPhone and iWatch release last morning, this post is about getting you introduced to the latest release from the iPhone series that has come across as a dramatic advancement in the iPhone evolution Apple has had till date. Though the new release clearly cross passed the rumors of having a transparent screen or a curved display, iPhone 6 does have a lot of new features and technicalities for you to keep up the interest. As Apple rightly says, it's not just a bigger phone but better in every which way. It comes with a smooth metal surface that has been topped with a Retina HD Display that has beautifully united the software and hardware worlds making this release of iPhone inevitably the best looking one from the generation. If others agree with me, we've definitely stepped into an iPhone year once again!
The interesting fact about the release is that iPhone 6 (4.7 inches) is not just bigger but finely thinner too. It comes in two versions with the iPhone 6 Plus (5.5 inches) coming up as the first phablet from Apple that can be a strong competition to the rest of the smartphone brands we've seen around. An iPhone is an iPhone and it's a brand which is kind of a symbolization of luxury in the world of smartphone users. That's probably why everytime an iPhone is up for release, it's nothing short of being a festival. This time, that festival comes with a bigger and better display. Let's have a look at some of the fresh concepts and hardware features of iPhone 6 that might make you run for the store on September 19, the official public launch date for the phone.
Largest and Thinnest Display Among All iPhones
The idea of holding a big phone on your hand maybe sound a bit dissatisfying on the first go but the amount of intricacy Apple has gone through behind setting up the display is impressive. It's large and thin too with the iPhone 6 having 6.9 mm and iPhone 6 Plus having 7.1 mm thickness only. The cover glass meets the anodized aluminium in a beautiful way thus making the curved edges look pretty smart and beautifully elegant from that aspect. There are no gaps or distinct edges which is what stands out as a new feature for this model.
Swipe Gestures Are More Fluid
Since this model of iPhone 6 pairs up with iOS8, the software has been made to enhance the physical design to a large extent. Navigating the phone with one hand becomes easy having features like Reachability in store.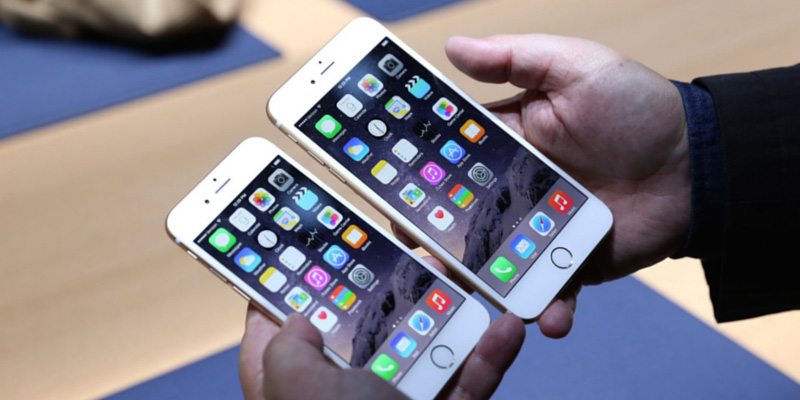 Redesigned Buttons
From elongated volume buttons to the Sleep/Wake button having a new home on the side of the device, the aim has been in making your iPhone experience more intuitive and subtle than ever.
Retina HD Display
The target was in bringing forth one of the best Multi-Touch Displays on the iPhone and by including a whole bunch of features, Apple might just as well take the crown here too. The iPhone 6 model comes with a 1334×750 resolution and the iPhone 6 Plus model comes with a 1920×1080 resolution. The displays have a full sRGB color standard, higher contrast, and incredible brightness and white balance. An advanced process of photo alignment is used to achieve the higher contrast. It also has dual-domain pixels to enable color accuracy from corner to corner and thus provide a wide angle viewing. Even when you're wearing sunglasses, the improved polarizer will not affect the iPhone experience by any way.
Landscape View and Display Zoom Comes to Life
View your content in whatever zoom size you prefer and even in the landscape mode if wanted. The larger viewing area and screen space will only make the time spent on your iPhone seem more interesting than ever.
A8 Chip Boosts Up the iPhone Technology
The A8 chip is built on the second-generation 64-bit desktop-class architecture whose power is enhanced by an M8 motion coprocessor. This can measure your activity from sensors including a barometer, accelerometer and gyroscope. So, you could do a lot more stuff with your iPhone having better performance and longer battery life. Playing graphic intensive or enjoying videos for a long span of time will not be that tough on the A8 chip anymore.
Amazing Camera With Better Video Enhancements
iSight gets even better with a new sensor having Focus Pixels, improved face detection, and exposure control. All you need to do is click the photo, rest is all left upon your iPhone to do! The video camera has also been enhanced which now lets you take 1080p HD video at 60 fps, capture more dramatic slo-mo video, and for the first time, create time-lapse videos. The front-facing FaceTime HD camera now captures 81 percent more light with the burst mode taking 10 photos per second. So, no matter how you click your selfie, it's always going to look the best.
Wireless Connectivity At Its Best
iPhone 6 comes with faster LTE with speeds upto 150 Mbps that will enable you to enjoy faster upload and download speeds while browsing the web. It has upto 20 LTE bands which is way more than any other smartphone. The new support for 802.11ac will let you experience up to 3x faster Wi‑Fi than with 802.11n. That's what we call super fast connectivity.
Make Your Fingerprint Your Password
The TouchID technology uses a unique fingerprint scanning sensor that makes unlocking your phone more secure and easy too. No weird combinations or number arithmetic, your password is your thumb indeed. Not only this, it can also approve purchases from iTunes, iBooks, and the App Store, so you don't have to enter your password or billing information again and again.
Apple Pay
Finally, with the Apple Pay release, the iPhone 6 has simply made mobile wallets a thing you'd want to have. It changes how you pay with contactless payment technology and unique security features built right into the devices you have with you every day. As they rightly say on the website, "Instead of using your actual credit and debit card numbers when you add your card, a unique Device Account Number is assigned, encrypted and securely stored in the Secure Element, a dedicated chip in iPhone. These numbers are never stored on Apple servers. And when you make a purchase, the Device Account Number alongside a transaction-specific dynamic security code is used to process your payment. So your actual credit or debit card numbers are never shared with merchants or transmitted with payment."
Powerpacked with iOS 8 and super slim features, iPhone 6 and iPhone 6 Plus is a breakthrough innovation in the world of Apple devices which can make the rest of the iPhones from previous series rest in peace! iPhone 6 will start at a price of $199 (for 16 GB) and iPhone 6 Plus will start at $299 (for 16 GB). Happy Gadgeting!