15 Must-Have Star Wars Gadgets [The Rise of Skywalker Edition]
It's Star Wars weekend. Maybe you've had your tickets for a while, you saw the movie last night, or you're waiting until theaters calm down a bit. But whatever your plan, you're probably just as amped as us. To celebrate the excitement of Episode IX: The Rise of Skywalker, we've rounded up some of our favorite Star Wars gadgets.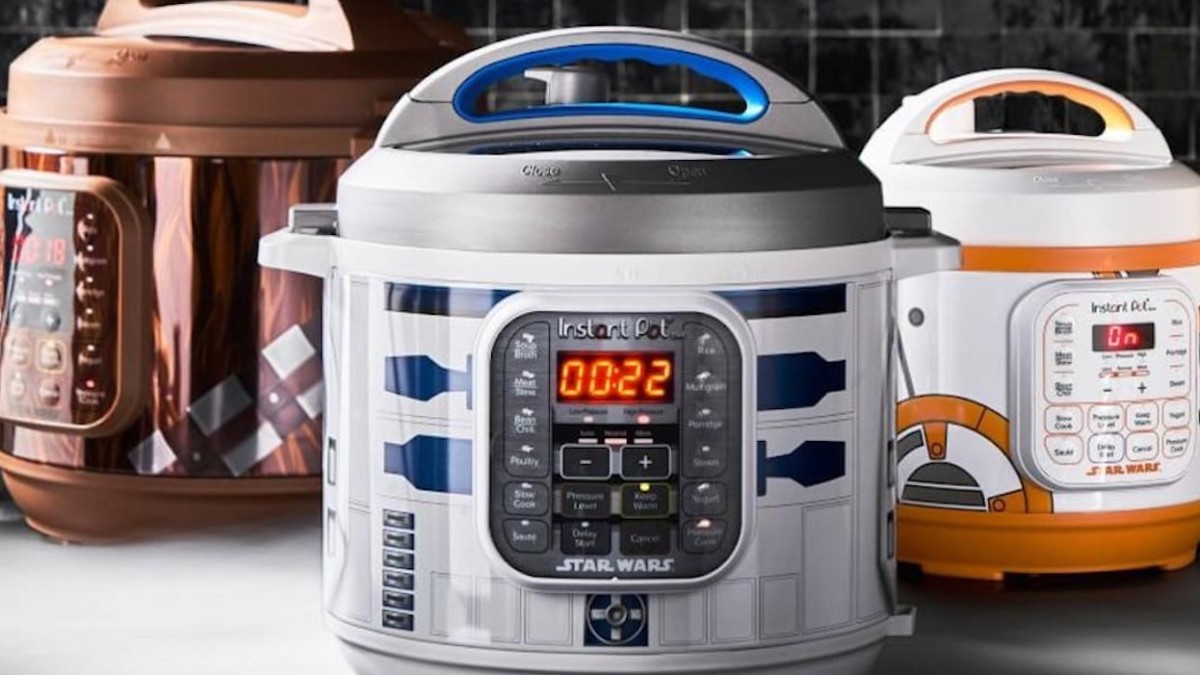 I've had my tickets since the day they went up for preorder, and I saw the movie last night. I was too young to see the originals in the theater, but as soon as I was old enough, my dad introduced me to all things Star Wars. I've been hooked ever since, and my house is filled with all sorts of Star Wars gadgets. I'm the person who has a black cat named Vader, and the year The Force Awakens came out, my Halloween party was Star Wars themed, even down to the food and drinks. I even made Bantha milk.
Last night, I sat in that movie theater with tears in my eyes as I watched the final episode with my dad. It was everything I needed it to be to finish the series off. Was it perfect? No, but that's Star Wars. Was it cheesy in moments? Yes, but that's Star Wars.
I'm sure I'll go see it two or three more times, but in the meantime, now I just want to shop for all of the Star Wars stuff.
Instant Pot Duo Star Wars Pressure Cooker
I have to admit, as soon as I saw these Star Wars Instant Pots, I started thinking about ways my Instant Pot could magically break so I could get a new one. They're everything you love about your Instant Pot, except made better with Star Wars. The only tough decision you're going to run into is which character to choose.
Star Wars Lamps 3D Character Lights
These 3D character lights are a great addition to any desk, or to any kids room to use as a nightlight. They emit a soft glow, and you can get them in one of three characters: Rey, Chewbacca, or a Stormtrooper.
Samsung Galaxy Note10+ Star Wars Edition Smartphone
I'm an Apple girl through and through, but this Note10+ Star Wars Edition has me thinking about stepping outside of my norm. The special edition set comes with the Note10+, Galaxy Buds, an S Pen, a metal badge, and a case. The Sith-inspired design is all black and red, and it looks pretty darn sharp.
Star Wars R2-D2 Coffee Press
There's nothing like a cup of French press coffee. I'm a bit of a coffee snob, and it's how I make my coffee every morning. I love that this R2-D2 press has a removable glass carafe that's dishwasher-safe, and that it holds 32 oz., which is about 4 cups of coffee. Two cups, if you're me.
Star Wars Death Star Levitating Bluetooth Speaker
This Death Star Levitating Bluetooth speaker is awesome looking, and I definitely want one for my office. It's magnetically suspended 10mm above the base and spins as it plays music. And since the battery lasts for eight hours of playtime, you can take it with you.
Firebox Star Wars TIE Fighter Desk Lamp
These TIE Fighter desk lamp will look great on any desk, in any office. It's poseable and will stand up to 60 centimeters tall. It also comes with a three-meter-long cable, so you won't have to worry about having it super close to the outlet. We all know what a pain it can be to place stuff when the cords are short.
Star Wars AR Stormtrooper Robot
Who doesn't want to have their own Stormtrooper robot patrolling their house? This robot has Sentry Patrolling mode, so you can order it to patrol a certain area of your home. It even follows voice commands, and it has facial recognition abilities to recognize up to three faces.
Millennium Falcon Bottle Opener Keychain
I already have a couple of these Millennium Falcon Bottle Opener Keychains, and you should too. They look like they would be heavy, but they're actually pretty light, so they're not onerous to have on your keychain. Plus, they don't look like traditional keychain bottle openers, so you don't have to field questions from Grandma about why you need a bottle opener with you at all times.
Star Wars Darth Vader Clapper
This Darth Vader Clapper is perfect for your child's room. All you have to do is plug whatever you want controlled by the clapper into the base of Vader's helmet, and you're good to go. Clap twice to turn the device on or off. And your child will get a kick out of Vader's accompanying phrases: "You underestimate the power of the Dark Side" and "The Force is strong with this one."
Onnit Star Wars Functional Fitness Equipment
We all know what the new year is going to bring. Resolutions. And for a lot of us, those resolutions are going to be health and fitness related. The Onnit Star Wars Functional Fitness Equipment is the perfect way to geek out a little bit while you get your fitness on. They have kettleballs, a yoga mat, and a slam ball, in some of your favorite Star Wars designs.
Hallmark Star Wars Yoda Metal Bookend
I used to have a Yoda Metal Bookend like this, but over the course of moving, it's been lost. The slanted design makes it look like Yoda is holding the books up, and it's super cute. Now, if only we could get a Baby Yoda holding one up, we'd be set. (Or if we could get that Thrawn book made into a movie, that'd be even better.)
Star Wars the Force Coding Teaching Kit
This is a great gift if you want to teach your kid how to code. The Star Wars the Force Coding Teaching Kit teaches through fun, interactive games to teach loops, logic, and variables. And you can choose whether to be Light Side or Dark Side.
Star Wars Death Star Popcorn Maker
If you're settling in to rewatch the Star Wars movies or catch up on The Mandalorian, you need popcorn to go with it. And what better than a Death Star Popcorn Maker to make it for you? And if you're still thinking about those New Year's Resolutions, this popcorn maker doesn't even require butter or oil, so you can have a healthy snack.
Razer BlackWidow Lite Stormtrooper Edition Keyboard
If you're in the market for a new keyboard, and you're a Star Wars fan, you'll want to check out the Razer BlackWidow Lite Stormtrooper Edition Keyboard. It's super responsive, and Razer optimized the actuation. They've also added O-rings to the keycaps, which means you'll have the mechanical keyboard you love without the annoying sounds.
Star Wars Darth Vader Stovetop Tea Kettle
If you're going to get that R2-D2 French press, you're going to need this Darth Vader Stovetop Tea Kettle to go with it. It's made from food-grade stainless steel, and works on any type of stovetop. It holds 1.7 liters, and it has a matte enamel finish, which will make it resitant to dents, scratches, and rust.
Now that you're all geared up for The Rise of Skywalker, which of these Star Wars gadgets has your name on it? Let us know!
The Gadget Flow Daily Digest highlights and explores the latest in tech trends to keep you informed. Want it straight to your inbox? Subscribe ➜