Upgrading your mattress? Go for these plush and best smart mattresses of 2021
Tired of feeling tired? It's time to revamp your bedroom with a deluxe mattress that helps you drift off and start your day feeling refreshed.
We spend a third of our lives sleeping or trying to get to sleep. Replace your mattress with one that provides proper spinal alignment, prevents aches and pains, and cradles your body from head to toe. Fortunately, we have the best mattresses that help you drift off quicker, stay asleep longer, and wake feeling refreshed.
Related: The best air purifiers of 2021 for your home
Upgrade your sleeping arrangement to a plush or smart mattress from our selection below. Because you deserve only the best, we focused on mattresses that feature memory foam, cooling technology, and several layers of cushioning. And, for technophiles, we have a special bed with a vibrating alarm clock and health-monitoring abilities. Prioritize your sleep and well-being with the best mattresses of 2021.
1. The Purple Hybrid Premier reshapes as you adjust to provide all-night comfort. It also cradles and supports your entire body.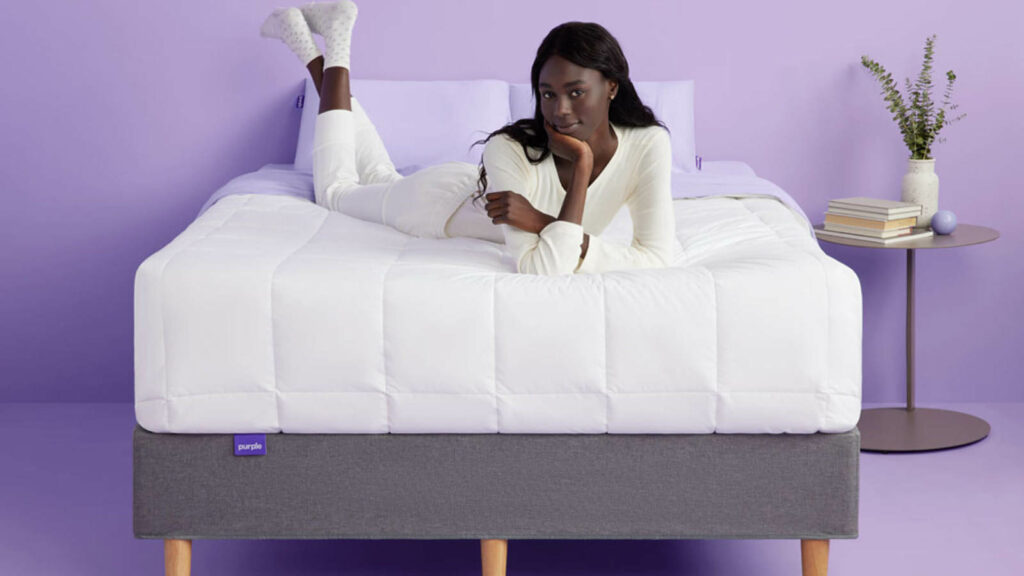 Sleep better every night with the Purple Hybrid Premier. This foam mattress cradles, supports, and soothes your body to eliminate aches and pains. Moreover, it keeps you at an optimal temperature with built-in air channels and a gel material.
Treat yourself from $2,099.
2. With 6 layers of protection and comfort, the Layla Sleep Hybrid Mattress features both a soft and a firm side.
With two sides on offer, the Layla Sleep Hybrid Mattress lets you switch to a softer or firmer side. It includes copper-infused foam to keep heat away from your body, helping keep you cool in summer. Additionally, the antimicrobial barrier keeps bacteria and odors at bay.
Order from $1,099.
3. The Eight Sleep Pod Pro is a smart mattress with ambient sensors to monitor the humidity and temperature. It also vibrates to wake you.
Make bedtime smarter with the Eight Sleep Pod Pro. This smart mattress offers advanced sleep tracking to monitor sleep stages, the number of tosses and turns, total sleep time, and more. You can even set your preferred temperature, making it great for warm summers or cold winters. Moreover, it sends you a report of your sleeping heart rate and respiratory rate.
Treat yourself from $2,695.
4. Drift off with the Casper Nova Hybrid. It increases airflow and relaxes your back muscles for an undisturbed night's sleep.
Feel more relaxed in bed when you have the Casper Nova Hybrid. Featuring planet-friendly textiles, it uses up to 70 recycled bottles in each cover. Additionally, it features 3 layers for breathability, comfort, and support. In particular, the base uses polyurethane foam with encased springs.
Purchase from $1,015.75.
5. Keep cool while you sleep with the Casper Wave Hybrid. It prevents you from overheating and properly aligns your spine.
Remain comfortable all night with the Casper Wave Hybrid. Featuring 86 gel pods, it ensures you receive ample support compared to foam alone. All of the pods are placed under your waist and back to keep your spine aligned and eliminate sinking.
Upgrade your sleep from $1,355.75.
6. The Sleep Number 360 c2 stretches and conforms to your body for a well-rested night. You can also adjust the firmness on each side.
If you and your partner prefer different qualities in a mattress, you need the Sleep Number 360 c2. You can alter the level of firmness to suit your liking while your partner can do the same. Furthermore, it re-adjusts as you move to keep you comfortable throughout the night.
Purchase from $699.
7. The ReST Original Smart Bed lets you choose a comfort setting from soft to firm, and it adjusts to your body as you switch positions.
Wake feeling refreshed when you have the ReST Original Smart Bed. Featuring limitless firmness settings, it adjusts to suit your preferences, so it'll last for years to come. Moreover, the Position mode lets you set different sleeping positions, such as back or side, so it adjusts to you.
Buy this smart bed from $3,599.
8. The Nectar Memory Foam Mattress takes the pressure off of your back, muscles, and joints for better spinal alignment.
Get comfortable and stay that way with the Nectar Memory Foam Mattress. It has just the right amount of softness and firmness for a good night's sleep. Finally, it's easy to set up, and you roll it onto your bed in seconds.
Grab this mattress from $499.
9. Add some luxury to your bedroom with the DreamCloud Luxury Hybrid Mattress. Its quilted top layer provides maximum breathability.
Stay cool and cozy with the DreamCloud Luxury Hybrid Mattress. Its base foam layer absorbs motion, so you won't wake up your partner when switching sleeping positions. Additionally, its top layer allows hot air to escape and provides a premium softness you'll love.
Treat yourself to this mattress for about $762.
10. Providing pressure-relieving support, the Lessa Original Mattress helps you drift off quickly and wake well-rested.
Lastly, the Lessa Original Mattress features four layers of foam and fabric for ample support and breathability. In particular, the third layer—the memory foam recovery layer—relieves pressure off of your shoulders, hips, and back.
Purchase this mattress in various sizes from $672.24.
With these best mattresses, you'll wake pain-free and ready to start your day. What are your go-to bedtime accessories? Share your recommendations in the comments.
Want more tech news, reviews, and guides from Gadget Flow? Follow us on Apple News, Google News, Feedly, and Flipboard. If you use Flipboard, you should definitely check out our Curated Stories. We publish three new stories every day, so make sure to follow us to stay updated!
The Gadget Flow Daily Digest highlights and explores the latest in tech trends to keep you informed. Want it straight to your inbox? Subscribe ➜