You won't believe what this smart home furniture can do
Ever wished your desk would charge your phone, or that your coffee table would cool your beer? You're not alone. We decided to pick out the best smart home furniture with cool hidden features.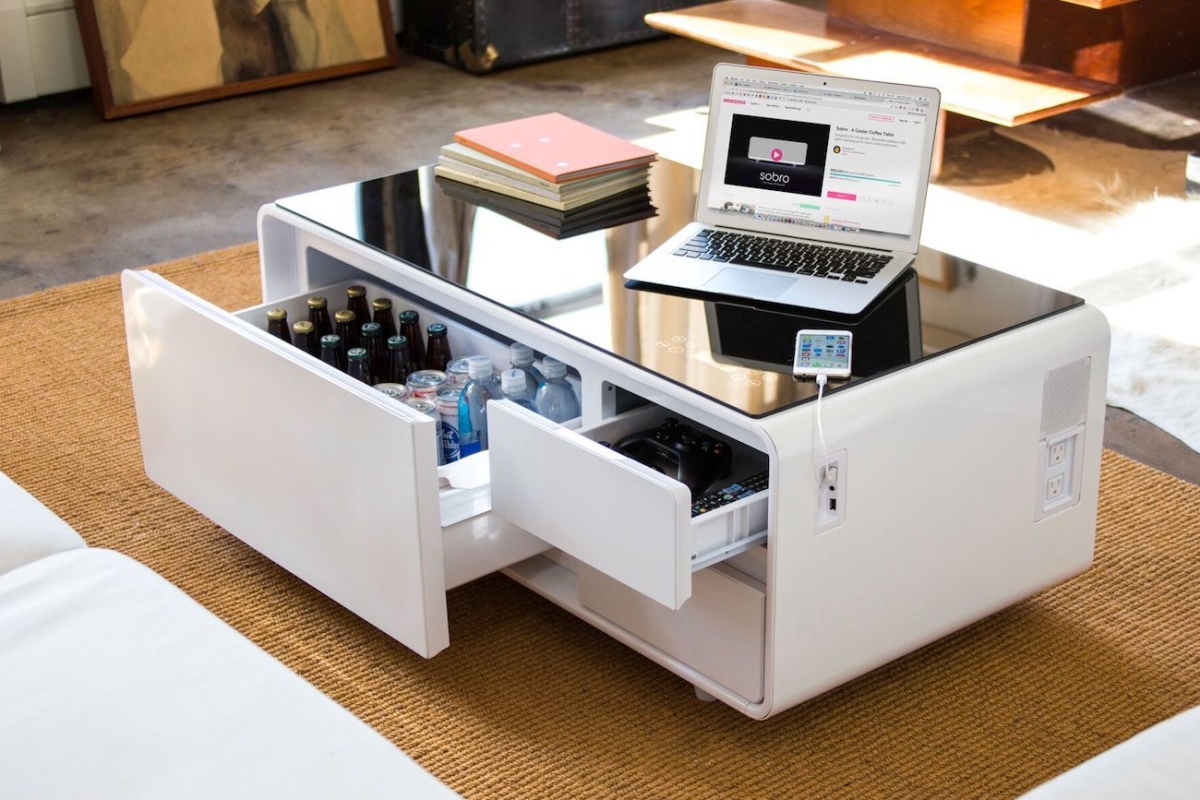 What is smart home furniture? Any chair, table, cabinet, or sofa that has tech embedded. Here are some examples.
Can I get wireless charging in my desk or table? Absolutely. Many work tops and side tables have this feature.
What is the best smart home furniture with hidden tech? You've come to the right place. Keep reading for our favorite techy furniture!
When you see a smart speaker, you expect something clever. But what about a sofa or an armchair? From wireless charging nightstands to gesture-controlled chairs, furniture is getting smarter by the day. Here is a list of our favorite smart home furniture with hidden technology and cool extra features.
FurniQi Bamboo Qi Wireless Charging Side Table
Wouldn't it be neat if your phone started charging every time you put it down? With this bamboo side table, that idea becomes a reality. The built-in charging pad delivers power to any Qi-compatible devices
Price: $199 USD
JLA M1 Minimalist Hybrid Table Speaker
If music matters more to you, the JLA M1 should float your boat. Tucked away inside this side table is an 8-inch sub-woofer and a 1⅛-inch optimized silk dome tweeter.
Price: $1,800 USD
Köllen Eget Smart Interactive Workspace
The minimalist style of Köllen's Eget desk belies the high-tech nature of this work surface. It comes with four USB ports, four power sockets, and a wireless charger. It even has a magnetic board and ambient lighting built in.
Price: $1,799.80 USD
[tweet_box]This smart home furniture will blow your mind with hidden tech and cool extra features[/tweet_box]
Vondom Sabinas Indoor/Outdoor Sofa
Made from polyethylene resin, the Sabinas sofa set provides a unique seating spot during the day. But when night falls, the sofa lights up from the inside. It's a fantastic party trick that works both indoors and outside.
Price: $1,510.49 USD
Sobro Cooler Coffee Table
Normally speaking, a coffee table is for magazines and a cup of java. But Sobro doubles as a large cooler for your drinks, meaning you can grab a beer without leaving the couch. The table also has built-in USB charging ports and outlets.
Price: $1,299 USD
Stow Fitness Gym Chair
It might look like a regular armchair, but this seat from Stow Fitness actually contains a mini gym. When you want to cycle or bench press, you simply open the front and slide out the hidden equipment.
Price: $1,499 USD
Yaasa Smart Adjustable Support Bed
Yaasa is essentially the Optimus Prime of beds. The main deck has multiple hinges, allowing Yaasa to assume several different positions for better overnight support.
Price: $1,499 USD
Elysium Gesture Controlled Chair
Although Elysium looks like a dentist's chair (*shudder*) you will definitely want to sit in it. This remarkable seat has been designed to simulate weightlessness, and you control the floatation therapy with hand gestures.
Price: Available on Request
Tabula Sense Smart Desk
Another great workspace option is Tabula Sense. This smart desk has built-in Bluetooth speakers, wireless charging spots, and even an induction heater to keep your coffee warm.
Price: $2490 USD
Curvilux Smart Sleep Nightstand
Although relatively simple at first glance, the Curvilux nightstand has integrated lights that simulate sunrise to help you rise refreshed. Furthermore, you can charge three devices overnight via the built-in USB ports.
Price: $349 USD
Smart home furniture
What features would be in your dream smart home furniture? Share your big ideas in the comments!
The Gadget Flow Daily Digest highlights and explores the latest in tech trends to keep you informed. Want it straight to your inbox? Subscribe ➜