Best-designed products this July that have a unique twist
Take an ordinary idea and make it extraordinary with a high-tech twist. In today's Daily Digest, we unearth a myriad of must-have best designed tech gadgets that achieves just that. Suitable for office and home use, there's something for everyone.
Pay homage to tech with our list of the best-designed products with a unique quality to them. We won't be sharing a compilation of unworldly gadgets that are like something out of the future. Instead, we assembled a collection of familiar products with a charming quality to them—whether that's a two-in-one advancement or a more home-friendly or office-friendly design. Either way, there's something for everyone in today's article.
Related: The best must-have Apple gadgets and accessories—July edition
Kit out your living room with a smart speaker that's also a lamp or a Wi-Fi speaker that doubles as artwork when in idle mode. We even included some office or WFH-compatible gadgets to upgrade your work inventory. Find everything you need with our top best findings.
1. Fill every corner of a room with 360° sound with the Sony LSPX-S3 glass sound speaker. It also provides candle-lit ambiance.
A two-in-one accessory, the Sony LSPX-S3 glass sound speaker is also a lamp that features a Candlelight mode. You can even change the atmosphere thanks to a choice of 32 illumination levels. Moreover, this 46 mm speaker delivers powerful midrange audio and offers a generous 8-hour battery life.
The release date for this speaker has yet to be released, but it'll cost $349.99.
2. Receive powerful sound and strong bass with the GravaStar Venus futuristic portable speaker. It even offers a generous 50-foot range.
Uniquely designed, the GravaStar Venus futuristic portable speaker sports a zinc alloy shell that enables sound waves to resonate within its space. It includes 6 RGB lights for a stunning design in a dark setting. Moreover, its 1500 mAh battery allows for up to 10 hours of playtime.
Order this speaker for $74.95.
The IKEA x Sonos SYMFONISK Picture Frame Wi-Fi Speaker can sit on a wall or on the floor; either way, it won't take up valuable space. When used as a speaker, you can connect it to a Sonos device to create immersive audio. And, when the party's over, it transforms into a beautiful piece of art.
This home accessory is available for $199.
4. The Anicorn The Space Watch pays homage to the owner's relationship with NASA. It's a unique accessory for everyday use.
Accessorize your wrist with the Anicorn The Space Watch. This watch draws its inspiration from space with its silence, beauty, and rotating planets. Moreover, it provides 42 hours of running time and a 5 ATM water-resistance rating for convenience and durability.
Preorder this watch for $1,030.
5. Packed with various buttons, the Sony SRS-NB10 neckband speaker is uniquely designed to accommodate remote work.
Take important phone calls when working from home with the Sony SRS-NB10 neckband speaker. This gadget includes dedicated mute, volume, and power buttons for ease of use. Additionally, it has a full-range upward-facing speaker unit for enhanced clarity and power.
Purchase this neckband speaker for $149.99. Its release date has yet to be announced.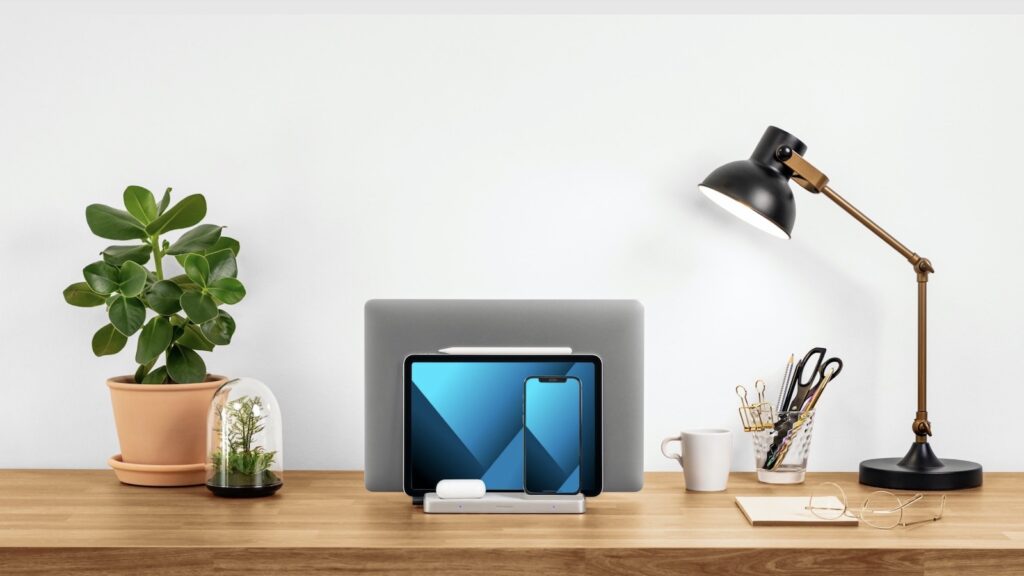 The Kensington StudioCaddy Apple device storage system is expertly designed to care and protect your Apple accessories. Thanks to its space-saving design, the StudioCaddy also keeps your desk clutter-free. Additionally, it features a non-slip material for maximum sturdiness.
This storage system is coming soon and costs $179.99.
The Saint Laurent x Bang & Olufsen limited-edition collaboration includes the Beosound Edge, Beoplay E8, Beoplay Charging Pad, Beoplay A1, and Beoplay A9 3rd gen. Contemporary, functional, and stunning, each gadget is expertly designed.
Purchase pieces from this limited-edition collaboration starting at $300.
8. Feel safer indoors with the Nooie Smart Cam Doorbell. It lets you monitor visitors and interact with guests remotely.
With the Nooie Smart Cam Doorbell's Live View mode, you can see anyone who's at your door at any time, no matter where you are. Furthermore, this gadget includes intelligent human detection to prevent unwanted notifications; it can discern a human from an object.
Order this smart doorbell for $149.99.
9. Work with ease wherever you are with the Satechi Slim X2 Bluetooth Backlit Keyboard. Its illuminated keys provide easy typing.
Work in dark conditions with ease when you have the Satechi Slim X2 Bluetooth Backlit Keyboard. Thanks to its light-up keys, you can clearly see the letters and numerals on this gadget. Moreover, it features a modern, slim design that complements any work setup. This also makes it great for taking on the go.
Purchase this computer accessory for $79.99.
10. The Xiaomi Mijia Cordless Electric Screwdriver weighs less than half the typical drill driver. It's uniquely designed for ease.
Handle all DIY projects with the Xiaomi Mijia Cordless Electric Screwdriver. It includes a 2,000-mAh, large-capacity battery that can handle 180 screws on a single charge. Moreover, it comes with a 12-piece S2 steel screw set that you can use with the 60 mm additional extension rod. It's great for any handyperson's needs.
Order this tool from Amazon for $56.99.
Inspired by nature and built for the future, the Titanium Elektron smart self-charging watch is a unique accessory that we love. Impressively, the more you move it, the more it charges. So you'll never have to worry about a low battery again. Furthermore, it offers health advice.
Preorder this watch for $415.36.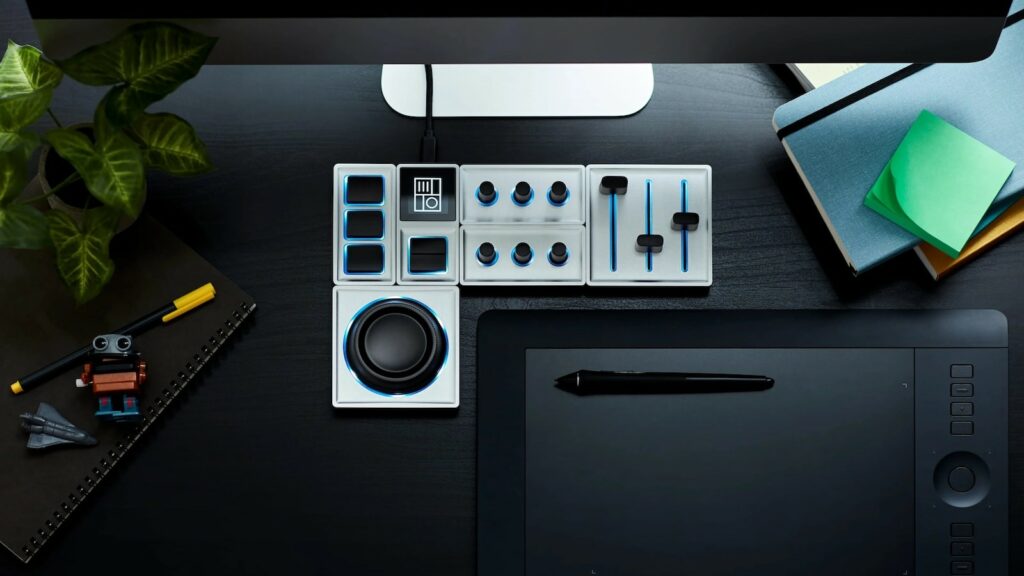 There are no limits with the Monogram Creative Console modular control collection. This unique gadget allows you to combine modules of any size or shape to optimize your workflow and style. Furthermore, it'll enhance your productivity by putting your most-used applications at your fingertips.
Order this for $99.
With built-in Wi-Fi, you can operate the Café Appliances Specialty Drip Smart Coffee Maker with the SmartHQ app, Alexa, Google, and via Voice-to-Brew controls. Certified by the Specialty Coffee Association's standards, it's durable and designed for vigorous use. Finally, you can choose your ideal temperature between 185–205° F.
Purchase this coffee maker for $349.99.
14. Play chess against other players virtually with the PHANTOM wooden robotic chessboard. It's a unique twist on a beloved game.
Now you can compete against any human on earth with the PHANTOM wooden robotic chessboard. Your opponent's moves happen in real time as if they were in the same room. They can even play against you via their smartphone or computer. Impressively, you can make the chess pieces move via voice command.
Preorder this high-tech chessboard from Kickstarter for $399.
We could go on and on, but this list has to end sometime, and we're confident that you'll find something you love. Which of these best-designed products caught your eye? Let us know in the comments.
Want more tech news, reviews, and guides from Gadget Flow? Follow us on Apple News, Google News, Feedly, and Flipboard. If you use Flipboard, you should definitely check out our Curated Stories. We publish three new stories every day, so make sure to follow us to stay updated!
The Gadget Flow Daily Digest highlights and explores the latest in tech trends to keep you informed. Want it straight to your inbox? Subscribe ➜