2018 in review – Gadget Flow's best voted products of the year
From truly wireless earbuds to high-flying 4K drones, AR to smart refrigerators, 2018 spoiled us with impressive products. But, which ones top the charts?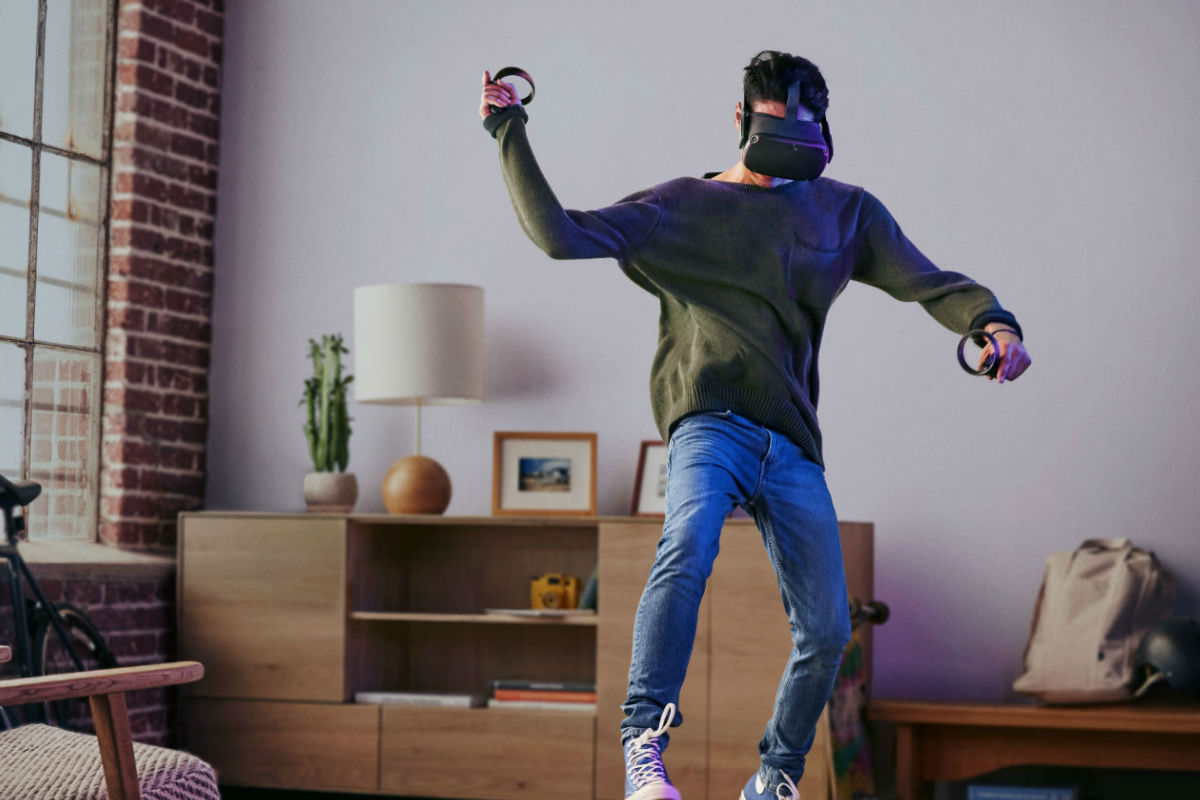 What are some of our most recent favorite products? You can find all of our recent favorites under the Staff Picks category here.
What are some of the latest tech releases? You can stay updated with the latest major tech products releases from our category here.
Are there any futuristic smart home gadgets? Given the current pace of change, some new products feel like old hat. But these futuristic smart home gadgets should impress even early adopters.
The last twelve months have been rife with impressive design, technology, and new products. Some of the biggest brands continued to wow us with newer versions while smaller brands paved the way with innovative technology. From augmented reality to unique clocks, we've compiled our list of the best voted products of 2018.
NAVION Augmented Reality Car HUD
This clever device takes a new approach to GPS, with graphics overlaid on the real world. For instance, you see a line on the road to show where your next turn should be.
Samsung Family Hub Smart Refrigerator 2018
Complete with Bixby, Samsung's smart assistant, this kitchen cooler is more than meets the eye. You can use it to control other smart devices around your home by simply speaking to your refrigerator.
Huawei Mate 10 Porsche Design Luxury Smartphone
The Huawei Mate 10 Porsche Design combines style and strength with a sleek handcrafted design and glass uni-body construction. Available only in Diamond Black, it comes with a Leica Dual Camera that offers 20/12 megapixel resolution.
Lenovo Mirage Solo VR Headset
The Lenovo Mirage Solo comes with an all-in-one headset and motion-tracking technology using Daydream's VR platform. You can also record, watch and share your personal VR videos.
ORII Voice Powered Smart Ring
This wearable device actually turns your finger into a smartphone. Incredibly, you can simply tap your ear and make calls, send texts, create reminders, and more. ORII uses the power of bone conduction technology and dual microphones.
FoldiMate Automatic Laundry Folding Robot
This prototype machine takes your freshly aired garments and towels and folds them into a neat pile. You simply clip your laundry into the feeding mechanism and wait for FoldiMate to do all the work for you.
YI 360 VR Camera
This compact device uses two lenses to achieve a full 360 degrees. However, each lens covers 220 degrees to offer more cohesive stitching. In addition, the YI Camera is capable of shooting at up to 5.7K/30fps video.
Heroclip Unique Multifunctional Clip
The Heroclip is a fully functional clip with a rotating, folding hook that hangs or rests practically anywhere. Featuring a simple yet effective design, the Heroclip works like a carabiner and opens to a hook.
IRONATE – Perfect "No Oven" Pizza In Just 3 Minutes
In under 10 minutes, IRONATE can heat to over 800°F (around 430°C) just like commercial pizza ovens. No more waiting 30+ minutes for your oven to preheat, heating up your apartment, or wasting all that energy.
Twelve South HiRise 2 iDevice Stand
Compatible with all Lightning devices, this stand puts your tablet, smartphone, or remote on full display. While offering a full charge experience, the stand also keeps your space tidy and clutter free.
Sonos One Amazon Alexa Smart Speaker
Designed for music lovers, this device pushes out sound in a full 360 degrees. With Sonos technology, you can be sure you're hearing every note of any song you play.
Silo Sculptural Wall Clock
Using angular hour and minute hands, the Silo is a moving sculpture that changes its shape as it tells the time. Featuring a truly unique design, Silo is much more than a simple wall clock.
Vasco 7-Piece Smart Packing Luggage
This system uses intuitive design to organize your bag. The first in this set, the No.1, includes three different sized packing cubes complete with unique compression zippers to help reduce space in luggage by 60%.
FurniQi Bamboo Qi Wireless Charging Side Table
Featuring a Qi Wireless Charging spot, the FurniQi table can charge any of your Qi compatible devices. Additionally, you can easily see where to place your device thanks to the subtle laser engraving.
Dreamlight Rechargeable Sleep Mask
Using light technology, Dreamlight helps you sleep and experience optimal rest. It tracks and analyzes your sleep patterns each time you use it for the best sleep of your life.
Zinteh Circles 3D Illusion Table Lamp
From a distance, this lamp looks like something out of Blade Runner. Two glowing loops intertwine, while the third levitates around the outside.
NASA Exoplanet Travel Bureau Art Reprint Posters
These posters are full-size reprints of the Exoplanet Travel Bureau series, which is a creative art project by NASA. The posters are retouched versions of the originals to achieve museum quality art.
Microsoft Surface Pro LTE Laptop
Featuring a beautiful PixelSense Display, the new Surface Pro works with Surface Pen and touch. Likewise, it's compatible with Surface Dial and Office.
Dyson Cyclone V10 Cordless Vacuum
Featuring a V10 digital motor, the Dyson Cyclone offers powerful performance. In fact, its suction is around 20% better than its predecessor, the V8.
Bossa Moonraker Wireless Speaker System
This speaker duo looks like something out of this world. The pair has orb-like speakers sitting atop solid wood legs and fills any room with pristine sound.
ProBASE HD USB-C Aluminum Monitor Stand
Totally sleek and minimalist, this stand has everything you need right at your fingertips. The ProBASE uses aluminum to offer a durable platform to securely hold your monitor.
Polaroid OneStep+ i-Type Camera
An upgrade to the OneStep 2, this camera connects to the app via Bluetooth to reveal six creative tools. The Polaroid OneStep+ comes with light painting and double exposure features.
Jabra Elite 65t True Wireless Earbuds
The Jabra Elite 65t earbuds feature four-microphone technology, offering exceptional voice and call quality. Similarly, the technology provides effective wind noise reduction during your calls.
Snapchat Spectacles V2 HD Camera Sunglasses
Offering more style options than before, these sunglasses are an intuitive extension of your eyesight. The built-in camera captures both photos and videos with a touch of a button. Because the camera is by your eyes, it captures exactly what you see.
Oculus Quest 6DOF All-in-One VR System
Offering six degrees of freedom and intuitive Touch controllers, you can move freely and naturally and even interact with other objects and people around you.
DJI Phantom 4 Pro V2.0 4K Drone
Offering upgraded specs all around, this drone makes it easy to capture what we can't see from the ground. The Phantom 4 Pro V2.0 sports an impressive 30-minute flight time to keep up with your adventures.
HP ENVY x2 Always-On ARM Laptop
With an incredible battery, this two-in-one device can last up to 1,000 hours on standby. In addition, it powers you through the day with a whopping 22 hours of running time.
SmartHalo Smart Biking System
Securely locking onto your handlebars with a military-grade system, this device has intuitive navigation to guide you through turn by turn directions wherever you are. SmartHalo also fends off bike thieves with a motion-sensitive alarm.
Amazon Echo Wall Clock
Impressively simple, this Alexa clock does so much more than what's hanging on your wall. The Echo Wall Clock is complete with a ring of LED lights around the circumference and gives you instant access to the smart assistant.
Sonos Beam Smart Compact Soundbar
Available in black or white, the curved silhouette of the Sonos Beam complements any home decor. Thanks to its low profile and compact size, this Sonos compact soundbar effortlessly fits under wall mounted TVs or sideboard.
Which gadgets have been your favorites this year? Share with us in the comments below.
The Gadget Flow Daily Digest highlights and explores the latest in tech trends to keep you informed. Want it straight to your inbox? Subscribe ➜