2018 in review – Gadget Flow's most innovative products of the year
Technologically speaking, 2018 delivered plenty of personal robots and smart devices to customize our home routines. Socially, 2018 was all about eco-friendly products to help our planet. But which ones were the most innovative?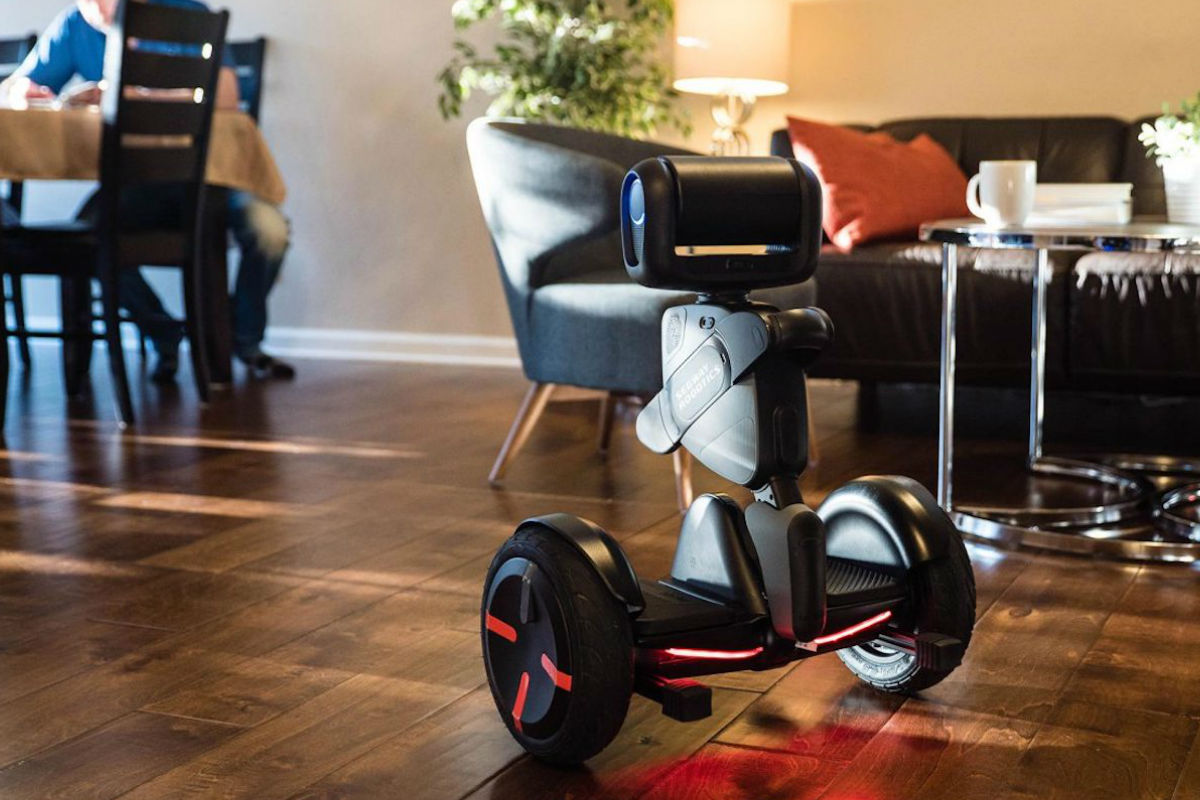 What are some never-seen-before gadgets? Here are some of the most incredible gadgets and accessories you need to see to believe.
Which products had the most unique designs in 2018? Discover the best product designs whose forms transcend their everyday functions from our category here.
Have there been any pre-CES 2019 announcements? The weeks leading up to the event are full of pre-event announcements to get everyone excited.
With the holidays of gift-giving behind us, it's time to reflect on the impressive year we've had. In short (and like every other year), 2018 brought innovation to all new levels with incredible technology. Of course, a new idea doesn't necessarily mean success. Innovation isn't just about a new technology or design. It's about the implementation of the technology and contribution it makes to our society. Here's our roundup of the most innovative products we've featured over the past year.
mophie Powerstation AC Universal Battery
This jumbo battery pack charges most of your power-hungry devices, including those that come with an AC plug. In fact, you can also quickly charge your USB-C laptop at 30W by plugging into the USB-C PD input/output port.
Mango Mirror Smart Mirror
This smart mirror displays vital stats and information such as your health, fitness, sleep schedule, nutrition, news, reminders, daily quotes and more. Offering health-related data like your steps, sleep, weight, exercise, calories and hydration, Mango Mirror makes it easier to make healthy decisions.
Segway Loomo Personal Robot
You can ride Loomo around like a hoverboard and use it to carry your items up to 100kg. Its self-balancing base design offers an enjoyable riding experience every time.
Sony aibo Intelligent Dog Robot Pet
You'll instantly notice his big and joyful eyes and you'll love his inquisitive ears. Just like an adorable puppy, aibo moves, scratches, and even shakes his head.
Razer Project Linda Phone Powered Laptop
Get the best of both worlds using the power of the Razer phone with the Razer Project Linda Phone Powered Laptop. Simply dock your Razer phone to instantly access a full size backlight keyboard. Similarly, the docked phone transforms from a trackpad into a second touch screen for more tools, effects, and options.
Knocki – Make Any Surface Smart
Be in control of your smart home without having to reach for your phone. You don't need to fiddle with buttons or switches either. This gadget transforms surfaces to bring simple and intuitive control right where you need it.
Laundroid Laundry Folding Robot
With a stunning design and sleek mirrored finish, Laundroid looks great in most homes. But what's more important than its appearance is what the Laundroid can do. It determines the best way to handle your clothing. It even knows where it should hold it and how to fold it.
U by Moen Smart Shower
These showers are controllable down to the water temperature with just your voice. You can easily start, stop and pause your shower with a simple command. Just ask Alexa and you're ready to go.
FoodCycler Eco-Friendly Food Recycler
Eco-friendly and efficient, this device takes your food scraps and turns them into nutrient-rich soil. The FoodCycler actually reduces the waste by up to 90% and the soil is perfect for your garden.
TimeFlip Time-Tracking Device
Fun and easy to use, this clever system gives you a physical interaction with time. TimeFlip is a dodecahedron; it has ten different sides. Throughout your day, you flip the device over to reveal the task at hand.
Fireside Audiobox Interactive Fire Sound System
Located next to the volume adjustment knob is a button seldom seen on speakers: flame. Rather than simply provide you with some ambience, the Fireside Audiobox flames actually respond to your music. In real time, the flames react to your tunes with the beat to create a brilliant show.
Sobro Cooler Coffee Table
This modern furniture is complete with a refrigerator drawer to store and chill your beverages. From water to beer, your drinks will always be ready for game time.
Qarnot QC-1 Noiseless Crypto Heater
The QC-1 gets heat from the two graphics cards in the device as well as blockchain transactions or mining cryptocurrencies. Featuring a high-end design, the QC-1 crypto heater is completely noiseless.
Coding for Ages 3+ Made Easy with the Cubetto
Powered by a Montessori-influenced coding language children can touch, it works without the need for screens or literacy. Cubetto simplifies the way kids learn coding so it's fun and easy.
UX Kits Wireframe Card Deck
Featuring 80 double-sided cards, the UX Kits Wireframe Deck contains common website and UI elements, with lo-fi elements on one side and hi-fi on the other. The cards allow you to brainstorm and build layouts through a hands-on activity with your client or team members.
Jibo Intelligent Home Robot
Equipped with brilliant technology, this robot interacts with your family with natural ease. In addition to jokes and quips, you can ask Jibo about the news, traffic, or weather.
Jamstik 7 Portable Smart Guitar
Designed as the ultimate portable guitar instruction tool, this guitar is ideal for beginners and travelers alike. Jamstik 7 comes with apps and software that take the guesswork out of learning to play.
Twelve South AirFly Bluetooth Headphone Adapter
This small device connects your AirPods or wireless headphones to headphone jacks in the gym, on planes, and more. By using Bluetooth connectivity, AirFly joins your wireless headphones or earbuds to in-flight entertainment systems.
NATEDE Smart Natural Air Purifier
This purifier levels up the air purification process with advanced sensors and a photocatalytic filter. Thanks to the beautiful Italian design and smart functionality, the air purifier eliminates air toxins in a whole new way. You can even control the air flow with the app.
DJI Osmo Pocket Compact Smart Camera
A much smaller version of the original Osmo, the Osmo Pocket is a handheld device with a built-in three-axis gimbal for impressive image stabilization. Standing just over four inches tall, the Osmo Pocket is complete with a super small yet practical touchscreen and one-handed operation design.
3doodler Create+ 3D Printing Pen
This pen allows you to draw solid 3D objects by extruding heated plastic that hardens in almost an instant. For example, you can draw a flat triangle then draw up and hold.
Echo Look Amazon Alexa Camera
This nifty device uses the power of Alexa to become your personal fashion assistant. With just your voice, you can activate this camera system to take a full-length photo of your outfit. In addition, the Echo Look uses built-in LED lights as well as a depth-sensing camera to capture your look.
TechDen™ – Screen Time Managing Device
Combining an app parents use to manage screen time with a physical home for devices, this system also functions as a secure charging station. TechDen helps your family produce healthier screen habits so you can enjoy more time together.
Magic Leap One AR Goggles
These goggles unveil an augmented reality system you've never seen before. The Creation Edition includes the goggles and an external computer called Lightpack as well as a handheld controller.
HoverGlide Ultra Lightweight Floating Backpack
Utilizing Suspended Load Technology, this revolutionary backpack reduces the stress of the weight load on your body. Likewise, it reduces the risk of injury due to too much strain on your knees, back or neck.
Tonal Intelligent Fitness System
This personalized gadget offers interactive video exercises that are driven by machine learning. Tonal combines a whole gym and personal trainer into one system, allowing you to use it in your own home whenever you want.
Twelve South PowerPic Wireless Charger Photo Frame
Compatible with all Qi-enabled smartphones, this device is a picture frame that comes with wireless charging capabilities. The Qi charger hidden inside PowerPic can provide up to 10 watts of fast charging power to your device.
Which is your favorite from the list? Share with us in the comments below.
The Gadget Flow Daily Digest highlights and explores the latest in tech trends to keep you informed. Want it straight to your inbox? Subscribe ➜