Gadget Flow Year in Review – The Best Products of 2017
As we wind down the year, 2017 will go down in the books as one of the most interesting, if not entertaining, of all time. In the tech world, we've seen advances of all kinds with an emphasis on smart products. From innovative design to clever AI, these products are simplifying everyday tasks in our lives. They've lessened our commutes, kept us warm and cozy, and even helped us become better parents. And, in some cases, they're filling a void we didn't know we had.
WIth that, we give you our year in review and the best products of 2017. If this list tells us anything, it's that next year will only bring more innovation and improvements. And we can't wait.
An ideal way to change the way you listen to records. This turntable plays your records vertically through built-in, dynamic, full-range stereo speakers (or via RCA line out).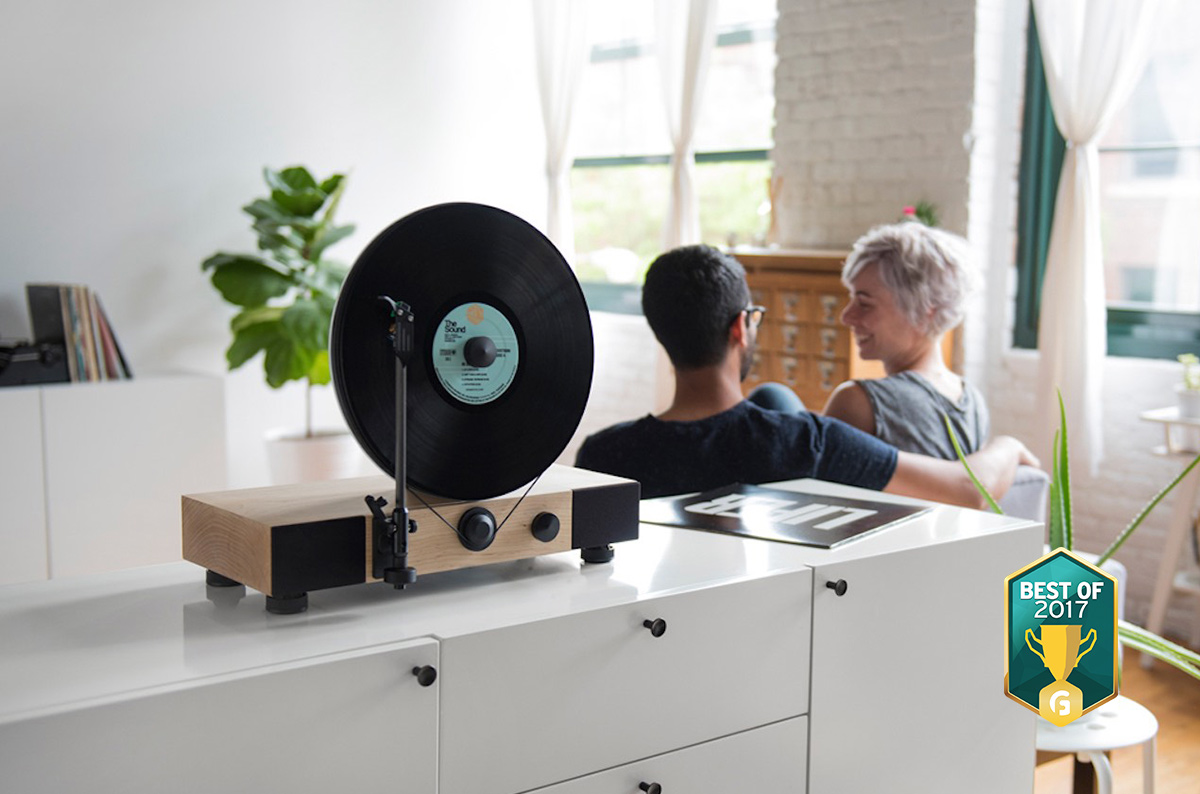 If you want to make your desk look more unique, this lamp is an absolute must-have. It has a 2D-like design but produces a 3D effect.
Featuring Kauri wood from New Zealand, this table complements a natural style in an artistic way. What makes the design so captivating is the Earth-like geography.
There are five incredible rockets for legs which gives this coffee table a style of its own. Now that's worth having as a centerpiece in your living room.
This lamp has a unique loop shape which helps in disperse light in any direction. Additionally, the white glow of light adds an extra spark to the overall design.
If you are looking forward to experiencing a touchscreen on your MacBook, this sensor is truly worth a try. It changes the way you interact with your MacBook in a whole new way for unprecedented precision.
Immersive gaming will finally be better with this triple display laptop from Razer. In addition to the experience, the entire design is highly portable and perfect for using on the go.
Equipped with a built-in camera, all it takes is one use to realize this device is so much more than just a mirror. It's actually your personal skin expert.
Transform your gaming console into a portable system with the Nintendo Switch. In one snap, you can now carry your games anywhere and everywhere you go.
This innovative device helps you train your muscles with a bit of fun. Through the use of virtual reality, the experience is beyond imagination.
Offering unlimited designs, this wireless speaker system gives you total customization. Coming in 3D cube shapes, the BeoSound Shape Speaker also features a variety of colors.
With a set of over 70 pieces, you can attach these wooden shapes to become whatever structure you need. SPYNDI was inspired by the human spine to be both flexible and strong.
This modern furniture is complete with a refrigerator drawer to store and chill your beverages. From water to beer, your drinks will always be ready for game time.
This device is a Siri-powered talking music system for your home. At just 7 inches tall, it uses a 7 beam-forming tweeter array for better music control.
Taking inspiration from the incredible 911 GT3, this speaker system brings together luxury and quality. It uses high-quality materials and technology to deliver premium audio.
This intelligent device has the ability to measure your weight and BMI, as well as your body composition. Connecting to the Qardio app, you can track these metrics over time.
Offering tons of storage space, Gita has a full range of mobility and speed. It can crawl to stay in pace with you or even dash along in a sprint.
Compatible with a variety of devices, this system puts the power literally in your hands. With simple gestures, you can turn on the lights, activate your thermostat, unlock your door, and much more.
Tapia can remember birthdays and names as it learns with each conversation. Shaped like an egg, the robot can even inform you of the weather, help you make calls, or order a variety of products online.
Producing a display up to 80 inches, this device works on walls and tables as well as the floor with short-throw projection. The state-of-the-art technology allows for full immersion even in small spaces.
This display system features a massive 49-inch museum-quality display for your photography, drawings, paintings, and more. Connecting to your device, the beautiful 4K ultra HD resolution delivers even the finest details with impeccable clarity.
With an authoritative size, it can fit a variety of jellyfish of different sizes and species. The Pulse 160 actually has a volume of 46 gallons so it really makes a statement in any space.
A masterpiece by Minneapolis-based designer John Foster, it's a magnificent cocktail table. At the center of the table is a unique stand made of glass and features a reversed pyramid of elegantly cut glass crystals.
The innovative design together with the proprietary functionality ensures to keep your wine fresh for 30 days. You will get the freedom to choose the glass of wine you want, whenever you want without wasting a drop.
With pristine corner to corner audio, the Beosound 2 will delight your family no matter the genre of music. In addition, it comes with integrated music services so you can explore new tunes.
Miro features a stunning 5.5-inch HD touchscreen display. With this, all of your content is just a tap away. In addition, Miro also features on-board controls for effortless browsing.
This camera can stick to glass and marble as well as wood. Pairing with the app on your device, this camera will transform the way you take photos and videos.
Offering you a full 360° of photo and video captures, this camera is small yet mighty. In addition to the lens capability, the Gear 360 is complete with a built-in stabilization ring.
Through the use of powerful magnets, this incredible cup actually floats in mid-air. Amazingly, you can even slide your hand beneath it. The secret is in the magnetic base.
By merging wood and ceramic in an artistic way, Mugr has transformed your standard mug into a classic showpiece. The mug is a very simple design with no ornamentation.
Looking for something futuristic yet highly fashionable? This chair has one very distinct feature. Both sides feature rather enormous wings coming out at 90-degree angles for privacy.
Saying "Hey, Kuri" enables her to respond to a variety voice commands thanks to a four-microphone system. In response, Kuri lights up and makes an adorable "beep boop" noise to confirm your command.
This flawless system creates a personal firewall right at home. When in use, CUJO protects devices such as your laptop, smartphone, tablet, and more against online threats.
This compact device uses two lenses to achieve a full 360 degrees. However, each lens covers 220 degrees to more cohesively stitch together for seamless footage.
It has a 7-inch touchscreen display as well as eight microphones to hear you throughout the house. The new Alexa Calling feature lets you make voice and video calls to other Alexa devices.
Made from quartz glass, these remarkable tiles turn the sun's energy into power. Unlike regular solar panels, they look like normal roofing tiles from the ground level.
This speaker duo looks like something out of this world. The pair has orb-like speakers sitting atop solid wood legs for a totally modern aesthetic.
Capture the world around you one photo at a time with the DJI Spark Mini Drone. Complete with a camera, this drone has advanced technology to snap images unlike ever before. Plus, it has intelligent in-flight modes.
This device is modern and advanced to capture anything in its path for total peace of mind at home. However, it's also intelligent to offer personalized security.
This revolutionary oral cleaning device gives each of your teeth the royal treatment in just seconds. The Amabrush consists of three parts: the mouthpiece, handpiece, and toothpaste capsules.
This incredible design gives you three different ways to relax. Once you inflate the Modul'Air, you can use it as a simple sunbed with extra cushion.
It's a new digital brush that makes it easy to use AR technology to create, play, and print 3D designs all in mid-air. And, there's no experience needed.
With Prynt Pocket, you can turn your smartphone into a Polaroid camera by instantly plugging and printing. Just plug in your phone, snap a photo or choose one from your gallery and print out a physical version instantly.
With four hubless wheels, this suitcase helps you glide around the airport. Once you pass through check-in, the class-A Makrolon polycarbonate shell should also protect your kit in the overhead compartments.
Totally comfortable and wire-free, this system lets you move and interact with scenes like never before for a seamless virtual experience.
Minimalist yet capable, this modern keyboard is complete with a creative input dial. In the upper left corner is a smooth moving dial that you can adjust in small increments.
Featuring K9 crystal, this glass ball will literally turn your world upside down. The ultra-clear sphere reflects the view around you but flipped 180°. Because it captures all of your surroundings, you can actually focus on the Lensball and produce a beautifully creative composition.
With that done, we're looking forward to seeing even better products in 2018.