This eco-friendly phone case is good for the planet
Do you hesitate to buy yet another plastic cover for your smartphone? Then you should check out the KURQ sustainable phone case. It's made from cork and recycled plastic. Keep reading to learn more about this eco-friendly phone case.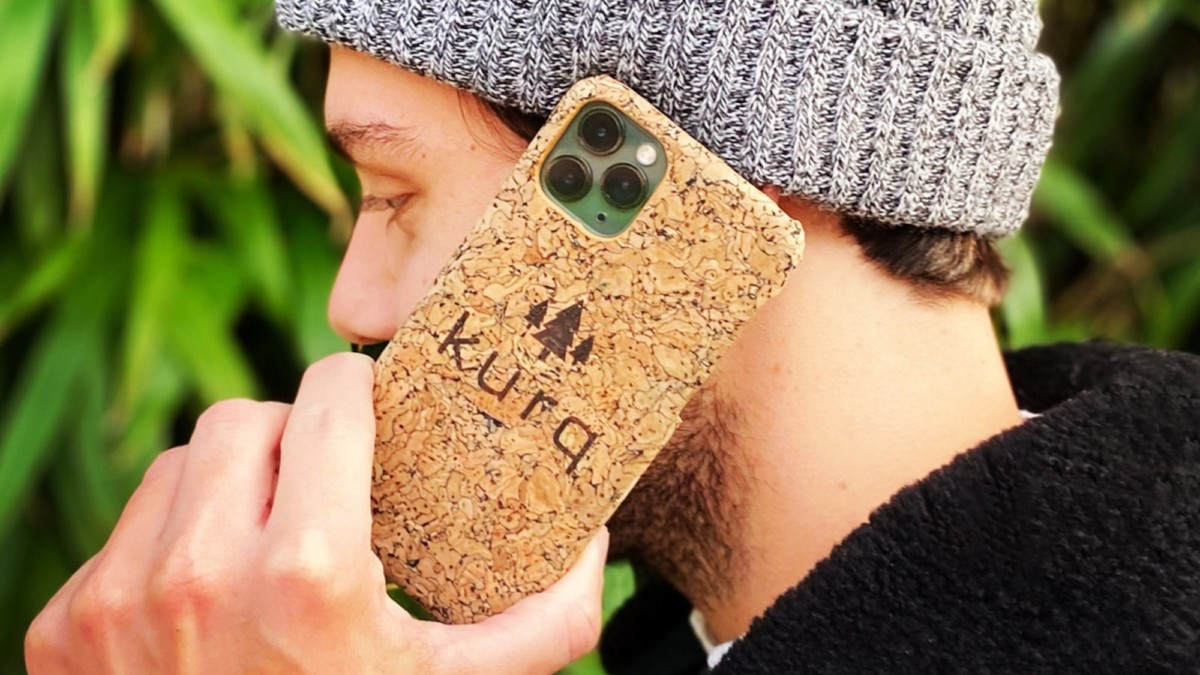 Do you feel a little guilty every time you look in your tech drawer and see all of the plastic phone covers you've accumulated over the years? You probably won't use them again and will have to buy yet another cover the next time you get a new phone. But your next phone cover might not have to contribute more plastic to the environment. Not when it's the KURQ sustainable phone case. This phone case is made from both cork and recycled plastic, making it a sustainable phone cover.
The KURQ sustainable phone case has a woodsy, natural look thanks to its cork material. The cork keeps this eco-friendly phone case thin, waterproof, durable, and more. The cover is attached to a plastic base made from recycled plastic. Both materials help the planet and prevent any new plastics from being produced. Let's take a closer look at this cool new product.
What's so great about cork?
It's a good question, and a natural one (pun intended) since cork is a material derived from trees. Wouldn't its use in a product contribute to more deforestation? Well, actually, it won't. According to the company's Kickstarter page, cork comes from the bark of the cork oak tree. Only the bark is removed during the extraction process, and no trees are cut down. In fact, this process can take place every five years without harming forests. Even better, cork oaks absorb three to five times more CO2 when their bark is stripped. And that helps in the fight against global warming. So more cork actually helps the planet.
What about the recycled plastic?
Cork on its own is pretty brittle and needs a stabilizer, but the inventors wanted to keep this product sustainable. That's where the recycled plastic comes in. It's actually 3D-printed into the base of the phone case, and the base is covered with cork material. Because this product uses plastic that has already been produced, it's more sustainable than typical phone covers , which only use newly-made plastic.
Can you use this sustainable phone case with a MagSafe charger?
Of course, you can. We mentioned above that this eco-friendly phone case is just 1.7 millimeters thick. That enables the KURQ sustainable phone case to be compatible with MagSafe and other wireless chargers. This is great news and an excellent way to bring sustainable materials into a seamless user experience.
Is this cork phone case durable?
You bet it is. Cork is shock-absorbing and protects the phone when it's dropped. So just because this product is eco-friendly and made from a natural material doesn't mean it won't protect your phone. Cork is also naturally water repellant. This means your phone will be safe if you accidentally spill a glass of water on the table with your phone on it.
Is this unique phone case hypoallergenic?
The answer to that question is also yes. Cork is naturally hypoallergenic, so you won't have to worry about any reactions if you have sensitive skin.  It's also antistatic, which means dust and dirt won't attach to the case. Since debris can't catch on it while the case in your purse or bag, it's likely to be one of the cleanest phone cases you've ever owned. How's that for a useful phone accessory?
How much does this cork phone case weigh?
You'd think that since this eco-friendly phone case is made from a wood-derived material and is 3D printed with plastic, it would also be quite heavy. Actually, the KURQ sustainable phone case is quite lightweight at just 20 grams. This means you won't have the feeling that you're carrying more weight or extra bulk because you won't be. This phone case fits on your phone and is easy to store in your pockets, backpack, or purse.
What phones does KURQ work with?
According to the company's Kickstarter page, the KURQ sustainable phone case works with almost any phone. You can choose the phone case model you want right before selecting shipping.
What will my phone case look like?
Nobody will have a KURQ sustainable phone case like yours. That's because the cork is a natural good; therefore, each case will have a different look. Some covers might have finer grain, while others might boast larger wood pieces. With natural products, you're never guaranteed to have a certain design, and that's the beauty of it.
Overall, The KURQ sustainable phone case is a pretty cool phone accessory. It's made of eco-friendly cork and recycled plastic, so it's a product you can feel good about using. It also offers serious protection for your phone thanks to the natural cork's durable quality. If you're looking to make your tech more environmentally friendly, this is the case for you. The KURQ sustainable phone case costs $24.09 and is available for preorder on Kickstarter.
What are some of your favorite sustainable products? As always, let us know about your favorite finds in the comments section.