This neck fan keeps you cool when it's hot outside
Want to stay cool all summer long? Then have a look at this wearable fan. It channels cool air around your neck so you can have a fresh breeze anywhere. Wear it at the amusement park, office, or while you're golfing; this wearable will keep you chill anywhere. Check out this blog post to see how.
Stay cool even when it's sweltering outside with The Airable wearable fan. This neck fan lets you enjoy a cool breeze with the touch of a button. You love being outdoors, but the summer heat can make being in the fresh air unbearable. And let's say you promised to take the kids to the amusement park on a 90-degree scorcher. You're all going to need a way to keep cool or you'll be stuck ducking in and out of the air-conditioned candy shop. But with The Airable, you can actually enjoy the summer weather.
The Airable is lightweight and features a sleek, modern design. Two fans at the bottom of the device sit comfortably beside your neck. When you turn it on, the gadget channels air around your neck, cooling you down quickly. It's like a necklace that keeps fresh air on you, wherever you go. And say you'd really like some cool air on your face? That's not a problem, either. The Airable is detachable, so you could remove a section to create a breeze over your forehead, temples, or to share it with someone else. Are you hoping to enjoy the summer instead of spending it indoors because of the heat? Then let's check out this cool neck fan.
Check out its innovative airflow
This neck fan isn't your typical wearable fan. We mentioned above that it features an aerodynamic design, but let's talk about that some more. This component of The Airable moves the air from your collarbone area all the way around your neck. So it doesn't just create a breeze where the fans are located but around the entire neck. This cools you down faster. The fans also turn 180 degrees, which makes it possible to position them the way you want.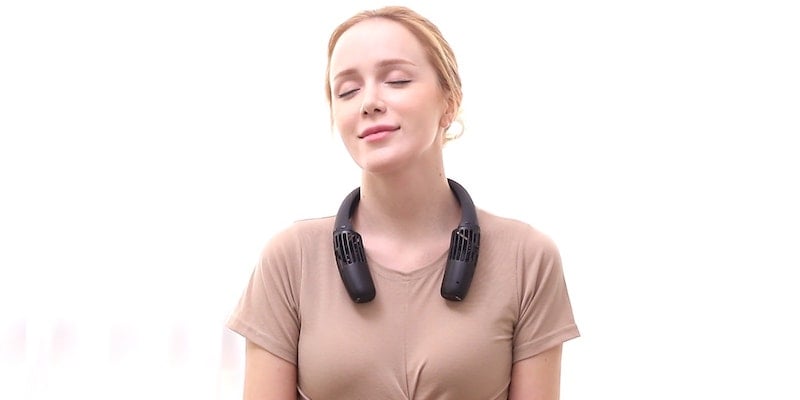 Discover its unique propellers
This wearable fan's propeller is pretty unique, too. In fact, the company says they've built and tested over 500 propellers before they settled on one that met their standards. Instead of simply modifying the angles, they altered the pressure that gets applied to each wing. They also selected updated materials and calibrated the noise according to the wing's shape. So this fan is designed to keep you cool, right down to the propeller. And that's why it's a must-have outdoor gadget this summer.
This portable neck fan attaches to your clothes
Does your gym lack air conditioning or do you prefer to exercise outdoors? Luckily The Airable stays stable as you move thanks to its magnetic fastener for your clothes. This feature keeps this neck fan attached to your clothing even during rough movements. So yes, you can totally wear this portable fan during your boxing routine, while you're killing it on the treadmill, or playing all manner of sports.
Detach this wearable fan for more cooling options
The Airable isn't just a hands-free wearable; it's also detachable. This is a great feature if you like to play sports outdoors in the summer. If you play tennis, for instance, you could wear this fan around your neck during your match. When you take a break or are done for the afternoon, you can detach one of the portions to wave cool air over your face. It's easy to separate the fans from the neckband. And yes, the fans will still work even once you separate them from the device's main part. How cool is that?
Keep cool, no matter your activity
Summer brings us longer days and hotter weather. While this is the time of year when you want to do more things outside, it's not always possible once the temperature surpasses 90 degrees Fahrenheit. If you love being outside in the summer, The Airable can be your saving grace. In addition to sports, this gadget is also ideal for outdoor activities like camping or walks around the city. And if you don't have AC in your home or office, this is the wearable for you.
Choose a wearable that's convenient to own
The trouble with many wearable devices is that they can be complicated to maintain; their batteries run out of juice, and you have to follow a whole procedure to clean them. That's not the case with this neck fan. In fact, The Airable is rechargeable with a safe battery certified by UL, CE, KC, and PSE. And a cable with two USB-C ports can charge both sides of the device at once. What's more, the entire fan is lightweight at just 5.7 oz. And as far as cleaning goes, that's simple, too; just rinse The Airable under running tap water.
The Airable is the ultimate EDC item for the summer. Its fans cool air around and behind your neck, which is just where you need it. And the magnetic fastener keeps it attached to your clothing, so you can wear it while you play sports or exercise without it falling off. It helps you stay cool outdoors, but it's also an excellent solution if your home or office doesn't have air conditioning. Keeping comfortable in the summer has never been easier with this practical gadget.
The Airable wearable fan costs $46, and you can preorder it on Indiegogo. What are your favorite gadgets for beating the heat? Let us know about your discoveries in the comments.