The KAISR Inflatable Lounge is Everything You Need this Summer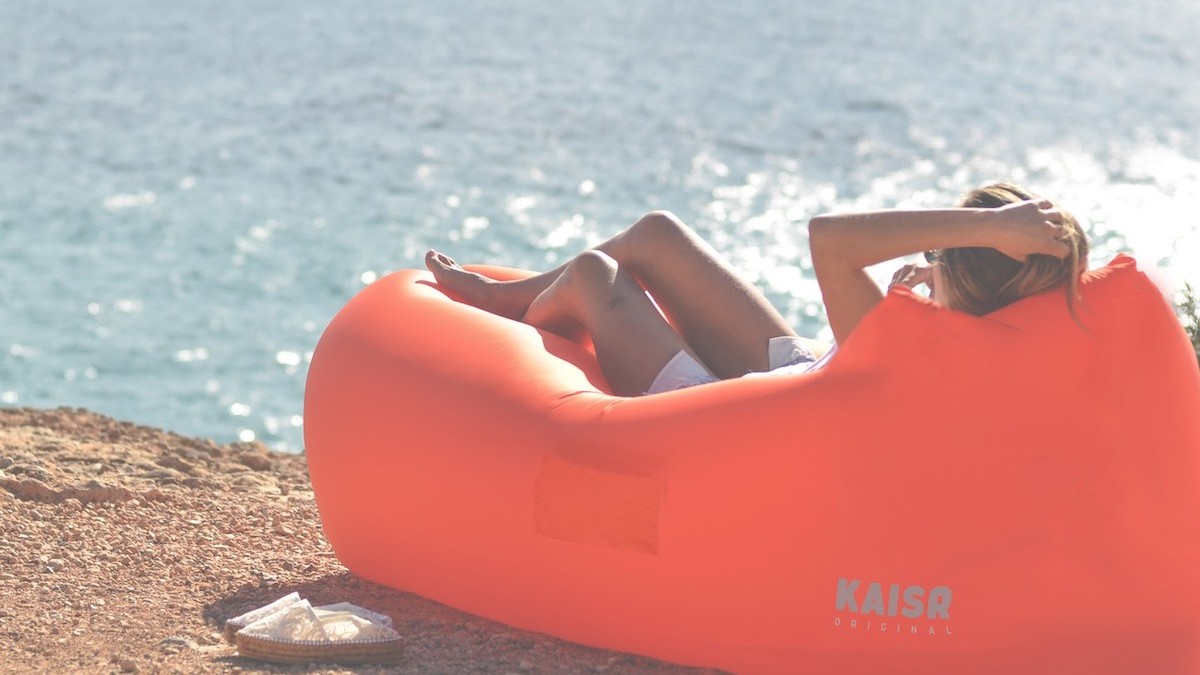 Ah – spring has finally sprung. Fresh flowers in the house, the sun setting later each day, and our winter dreams of BBQs and sitting in the sun are nearly a reality. For me, I love lounging outside, especially in the park with my dogs. However, I seldom do this because I don't fancy lugging a large blanket along with me (which is equivalent in comfort to laying on the ground) nor a lawn chair. It would seem that the KAISR was made just for me.
This incredible product is essentially the most comfortable and portable and versatile lounge system in the world. The KAISR is inflatable and goes from tightly packed to a fully fledged chair-cross-chaise longue-cross-sofa in just seconds with little effort.
The KAISR is made of top quality parachute fabric and comes rolled up. To use, simply unroll it and open the end. Much like you shake a garbage back to get it entirely open, you fill the KAISR by scooping the opening through the air. In just two scoops, the KAISR is completely filled and the unique closure can be rolled down to create a seal.
Although I write for a living, I know my description isn't doing it justice. Because seeing is believing and I absolutely adore GIFs, here's just how easy it is to inflate and use KAISR:
The durable materials and lack of electronics mean that the KAISR can be taken and used anywhere. Use it on the grass, on gravel, or even to float in the pool as it's waterproof. Because it's designed to be portable, the KAISR deflates in a matter of seconds to be folded and put back in the carrying bag. Ideal for absolutely any setting, this inflatable chair comes with a handy elastic pocket on the side to hold your tablet and smartphone, another elastic pocket to hold your beverage securely, and a convenient bottle opener located on the closure buckle.
The KAISR can easily fit two people when used like a sofa and it has a maximum weight capacity of over 250kg (over 550lbs). With just the two scoops of air to fill it, the KAISR will last you over six hours. Thanks to their successful crowdfunding campaign, this incredibly comfortable product is available in your choice of eight colors.
Live on Indiegogo until April 22nd, the KAISR team have surpassed their goal of $18k with over $1.5 million in donations. Of course, this means the product will come to life and you could very well wait until it's over to get one. But, you can still receive over 20% off the retail price by reserving your own with a pledge of just $84. The KAISR will ship to backers in May, a super fast turnaround and another reason to reserve early.