Monthly Curation of Some of the Most Unbelievable Innovations the Tech World Witnessed in August
It was just a month back when gadgets like Jibo and Swash had us stunned because of the incredible functionalities they have in store. But time just flows by and a whole new range of thoughts and crazy ideas take shape into products we could and should introduce in our daily lifestyle. The focus behind this monthly tech roundup has always been about making you aware of all those new technologies and products we find worth sharing every month. Continuing that expedition, it's time we bring you some of August's best innovations that are not only useful but extraordinary in terms of the solutions they offer. From easing car navigation to levitating your music speakers, these are concepts which were way beyond imagination until today.
Let's dive deep into knowing more about these new blockbusters from the tech world below: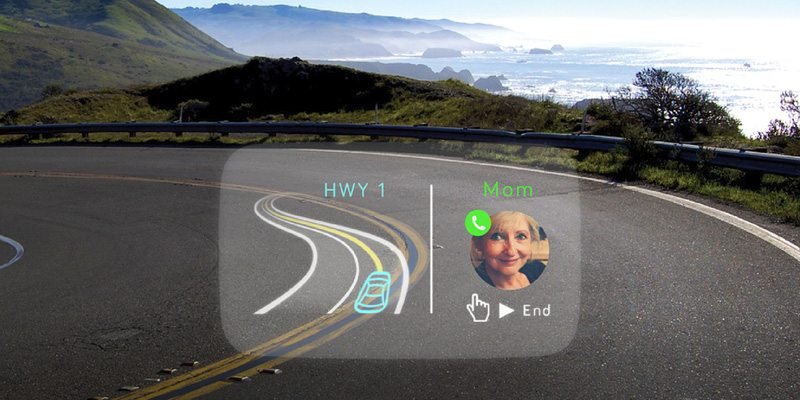 According to the National Highway Traffic Safety Administration (NHTSA), "At any given daylight moment across America, approximately 660,000 drivers are using cell phones or manipulating electronic devices while driving, a number that has held steady since 2010." To drive without your concentration on the road is like calling death with open hands and this connected world we live in has actually made that kind of careless driving a common attitude found among drivers. The thought behind introducing Navdy was to reduce the number of car accidents that happen daily due to the driver not focusing on the road but on his phone. It comes with an inbuilt projector that displays all your information which could be anything ranging from navigation details to calls and social media messages on the driver's field of view. A Google Glass like experience which can keep your eyes on the road without disconnecting you from the digital world.
Om/One Levitating Music Speaker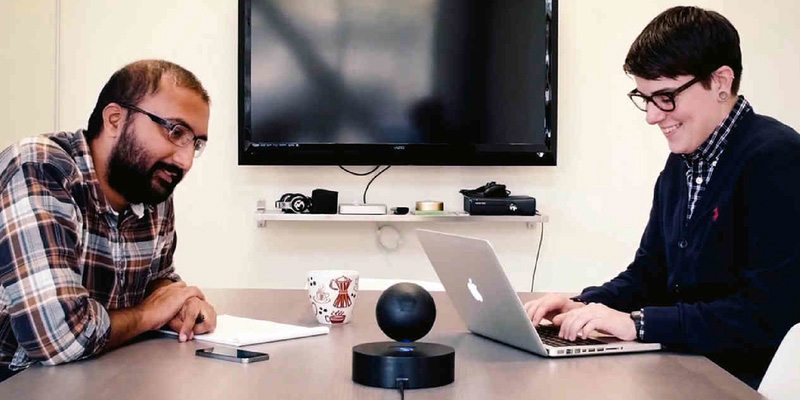 Music speakers are often visually pleasing these days. They come with simple yet eye-catching designs along with high-quality audio outputs which keeps a music lover hooked on to the speaker for a long stretch of time. But what if your speaker gives you efficient audio and floats in the air at the same time! Om/One is the world's first levitating speaker which is a talking piece today among techies and non-techies simply overwhelmed with the visual effects this tiny speaker brings forth. The speaker looking like an orb, is found to levitate once placed above the Om/One magnetic base and can smartly fit into the palm of your hand otherwise. That way, it makes an interesting piece of audio technology you can use as a magical device to hear your sound indoors while carry it just like another portable accessory when you move outdoors. Now that's what we mean by incredible innovation for sure.
One Fast Cat Exercise Wheel for your Feline Buddies
To make your kitty less hyper and more productive, One Fast Cat is probably the best exercise wheel you could have for her. It's affordable and extremely beneficial in terms of the solutions it has in store. The Kickstarter project raised $344,911, a number way beyond their $10, 000 stretch goal which is a clear evidence of the popularity this kitty exercise kit has already had in the consumer world. Staying indoors can make your cat depressed with time given the kind of hunting instinct they naturally have. So, this exercise wheel is actually an energy booster that can keep them healthy as well as entertained for hours. Why wait for silly feline toys when you could do with such a healthy solution for your kitties that look aesthetic as well.
Nanoleaf Bloom is a Smart Light Requiring No Additional App
Nanoleaf Bloom has this interesting concept of presenting a dimmable light that can be controlled from the regular ON/OFF switch without looking at an app installed on your phone. Using their patented technology, this light has been able to control the switching of the light switch into a control signal for the light. So, instead of 100% on or off features, you'll get to enjoy dimmability from that same, old light switch you thought was incapable of doing anything else that turning your light on/off. The more you dim, the more energy you get to save when using your lights. It calls itself the world's most energy efficient light bulb because of achieving a max brightness of 1200 lumens (75 watt equivalent) using only 10 watts of electricity! Pretty neat a choice for your indoor lighting.
3DPrinterOS Brings an Operating System for 3D Printers Alone
This intelligents standalone software system is targeted for the 3D printing market which already connects to a number of popular 3D printers out there. By connecting your 3D printers on the cloud, you'll be able to control them from one interface all the time. Printers such as Makerbot 2, 2X, Dual, Ultimaker 1 and 2 and Duplicator 3 and 4 are already supported on this OS with more heading its way. The idea is to make 3D printing as easy a job as 2D printing. "It's incredibly exciting how fast the 3D Printing world is growing but without a platform that's able to communicate across printers, softwares and applications users are unable to truly enjoy and unleash the full potential of 3D Printing," said CEO John Dogru on Techcrunch. "Our goal is a platform compatible with the majority of design tools and 3D printers so dreamers, designers and first time makers can collaborate, communicate and create in a universal language for the first time."
inFORM by MIT Tangible Media Group
After being succumbed into the touchscreen world, where lies the next display is still a myth. But at the MIT Media Lab, the Tangible Media Group believe that the future of computing is tactile. That is, the next set of displays will not be made of pixels and will instead be a construction of atom you can head forward and touch. As told by creator Daniel Leithinger on Co.Design, "Right now, the things designers can create with graphics are more powerful and flexible than in hardware. The result is our gadgets have been consumed by the screen and become indistinguishable black rectangles with barely any physical controls. That's why BlackBerry is dying." When this age of atom-like displays steps in, we might as well find touchscreens "tacky", you never know.
Bieree Makes Beer Brewing Smartphone Controlled
According to 20-year beer-brewing veteran, Leo Estevez, beer brewing is a time-consuming process which requires constant monitoring and temperature control. So, he revamped Bieree along with colleague Sam Dalong through which you can now control your brewing process using your smartphones. Doing any other work while your beer is brewing becomes possible as your smartphone brings you important notifications along the way. The Kickstarter project has been successfully funded which now awaits the release of this innovatively controlled beer brewing process that can make you a good beer brewer along the way.
Electric Objects Brings Internet Art to Your Home
We've been used to flaunting our favorite artworks on the wall ever since Picasso and Leonardo da Vinci made their presence on earth. But Jake Levine from Electric Objects wants to bring a paradigm shift in the way we visualize art by introducing the first computer that showcases digital art in the home. As New York Times rightly says, "And if people are willing to buy stand-alone gadgets to play music, monitor their health and help manage their homes, why not purchase one for culture and art?" Easily wall mounted without requiring any keyboard or mouse, this digital art canvas will make you dive deeper into the internet world of art we often neglect in our day-to-day digital lifestyle today.
4SeTV Brings 4 Live TV Shows Simultaneously
Now here's something cool for sports fans out there. 4SeTV is that intelligent box which gives you the control to choose 4 sports channels you'd want to watch simultaneously instead of crowding over at the bar, not being able to watch any game properly. So, with friends and family having different tastes in sports, it's a good thing to have indoors. All can sit together on the couch and enjoy their round of golf, cricket, soccer and tennis together. No more struggling with the remote and fighting over petty issues on TV shows – you now have 4SeTV to bring that diversity on your own TV divided into 4 screens. If you're looking forward to getting one, go fund their Kickstarter campaign today.
360fly Captures Your Life From Every Angle
Led by Catterton, Qualcomm Ventures, and others, this 360 camera viewing product has already raised $17.8 million for bringing forth a more enriched video recording experience. It's not the only 360 degree video camera in the market but is different from others because it uses only a single lens to capture its video. It's both rugged and portable so you can easily capture any of those crazy adventures you're on and can also shoot 240 degrees worth of video vertically. So bringing that ultimate camera experience in your life no matter where you travel is no more a far stretched goal.
Hanx Typewriter App for Going Back in Time
If you love that traditional typewriting sound and chiming, this app by Tom Hanks himself is the one worth downloading from the App Store. It's already had a lot of popularity and had been declared no.1 in free apps, boasting a 4.5 star rating based on more than 1,300 reviews. It comes with a single font, color and typewriter available in the free, default version which can obviously be upgraded with in-app purchases. When asked on how he expects Hanx Writer to be used, Hanks said "For the love letter that has to look, you know, special. For the nine paragraphs that leap out of your mind… #HanxWriter."
Xiaomi is the New Top Phone Manufacturer in China
After distributing 15 million phones in early 2014 with Samsung coming down to 13.2 million, Xiaomi is surely the fresh top phone manufacturer in China. With China having 37% share of the global phone market, Xiaomi's popularity clearly shows the kind of disruption it can create worldwide in the coming days. Canalys research analyst Jingwen Wang wrote in a statement, "But that is only half the story — Xiaomi has also executed on its strategy to grow volume shipments. It has delivered compelling products at aggressive price points … backed by effectively targeted marketing." With that kind of success, Xiaomi's next target to expand lies in countries such as Mexico, Thailand, Indonesia, Russia and Turkey.
Myo Smartband Integrated With Smart Glasses
Especially for workplace environments like construction, healthcare, bike messengers and field service, the Myo Smartband by Thalmic Labs has recently been integrated with Google Glass, Recon Jet and Epson Moverio. It's specifically targeted for situations where you won't prefer having a phone in your hands. The concept of wearing a smart glass as well as an armband may seem a bit too much for some but given the rate at which wearable tech consumers are increasing, this does pose a good opportunity for field workers to enjoy a more connected lifestyle at work.
Air Rides To Become Transparent With Airbus
The next genre of airplanes won't look that dull as this time they are going to come with transparent cabin walls you can see through. That's the idea behind aerospace manufacturing company Airbus which has recently announced that their future planes will be mimicking the efficiency of a bird's skeleton and be see-through at the same time. This may be a bit challenging a ride for those with vertigo but otherwise, it's going to be a superb experience flying the sky with a clear view of the clouds around.
Estimote's Super Slim Nearables
After the success of the Estimote Beacons that had started shipping last year, it's time to enjoy a whole new world of sensing technology with Estimote's super slim stickers heading its way. Knowing everything you own becomes so easy and trackable with this tiny, little sensing masterpieces that won't take any time in installing and giving you the details you require. From comprehending which items in your store shoppers picked the most to analyzing the health status of your indoor herb, the possibilities of syncing your real world with technology using Estimote stickers is endless. As described on the press release, "Estimote is introducing the term nearable as an intelligent object linked by a smart beacon with a rich SDK to the cloud. Estimote Stickers will be pre-programmed with nearable-specific context and an upcoming new version of our SDK with a higher level of abstraction." They call it Nearables, I call them the route to make life more connected than ever.
Living with technology is pretty unpredictable at times especially because of the kind of rapid advancement it's having day in and day out. Wonder what's coming up next to make our headlines this September. Stay tuned for next month's updates coming soon. Happy Gadgeting!