Om/One Has Made a Dramatic Advancement in Audio Technology By Introducing the World's First Levitating Speaker
Chances are that you've already come across the versatilities in the range of audio speakers we see around today. There are ones which change tracks with a hand twist, get charged using a candle, portrays light shows or have a rugged build that make them waterproof – the whole world of audio technology is pumped up with new innovations thriving time and again. But have you come across one that has the potential to defy gravity and float in the air as if you've recently cast the spell of "Wingardium Leviosa" on them. Whilst this may seem possible in the world of witchcraft and wizardry, to expect such fantasy in reality was nothing close to being possible till date. Having said that, I do not mean to say that we might have the chance of owning fully functional magic wands but when it comes to our style of listening to music, it's surely going to undergo a paradigm shift as you get introduced to this fresh innovation from the audio industry.
After the success they had with INEARPEACE Earphones, Om Audio's next project concentrates on an audio speaker that is a perfect merger of classic design and exceptional audio quality. The description may sound like another piece of Bluetooth speaker technology which looks good but only when you see Om/One for once, you'll know how unconventional it is in the world of personal audio you've been accustomed to using until now. Coming with the latest music technologies enveloped in a well-concepted design, Om/One is the world's first levitating speaker. Yes, you heard that right….it does levitate!
Bringing the Magical World of Levitation to Life
This speaker was built with the notion of combining iconic design and quality in one piece which not only defies gravity but can effortlessly fit in any room of your choice. As described by Jack Conte, Founder/CEO Patreon.com on Om/One's Tilt crowdfunding website, "I didn't believe it until I saw it — there's something weird about walking toward a beat, only to realize that it's coming out of a rotating orb, floating in mid air. That's some cool sh*t. This will make a great gift!" The speaker, which in this case looks like an orb, is found to levitate once placed above the Om/One magnetic base and can smartly fit into the palm of your hand otherwise. That way, it makes an interesting piece of audio technology you can use as a magical device to hear your sound indoors while carry it just like another portable accessory when you move outdoors. The levitation principle followed by the speaker does not take away the possibilities of carrying this around and staying by the side of your music practically anywhere you go.
The fact that the speaker levitates is actually a good reason why it delivers such high-quality sound output as compared to others. Here, the entire amplification energy gets transmitted to the speaker driver instead of the surrounding walls and tables which in turn gives back crisp and clear sound quality for you to enjoy music at its best. In an interview with Mashable, David DeVillez, the co-founder and CEO of Om Audio had said, "The fact that it levitates gives us an angle on some audio techniques that make the speaker a lot better. The unit has a 3-watt RMS [root mean square] amplifier inside of it, and it can produce a 110dB output, where competitive products like the [Jawbone] Jambox or the [Beats] Pill… they're using 9 to 10 watts to get 110dB." This is also a vital reason why Om/One has a battery life of about 15 hours with 70% volume at a stretch without undergoing any disturbance in sound quality.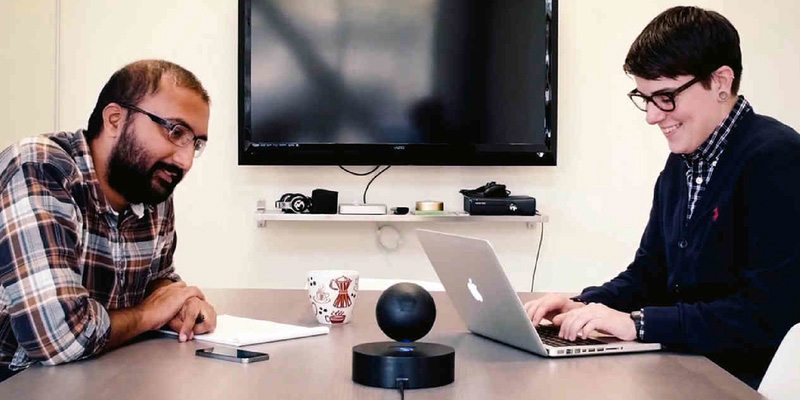 Enjoy the Effectiveness of True Stereo Sound
Two Om/One's can be paired together which once done will bring you the enchanting experience of enjoying true stereo sound under the roof. Since the speaker utilizes Bluetooth 4.0 technology, you can pair it up with your phones or computer and listen to your favorite numbers from music apps like Pandora, Spotify, Rdio, and Beats Music which can be controlled from upto 33 ft away. That being the way you listen to music, Om/One also brings the possibility of taking your phone calls in a levitating style which won't just sound good but will give you the temporary feeling of being from the wizardry world (if that's what you fantasize time and again). This is not just a speaker you can keep in any corner of the room – it's meant to be the center of attraction with the kind of magical enchantments it tries to bring. As told by CMO Naveen Jain on Yahoo Tech, "We're from the San Francisco Bay Area. We've shown all of our friends and family throughout Silicon Valley. These are people who are really jaded by technology. They've seen a lot of things. But every time you break out Om/One, it's like moths to a flame. It's a talking piece."
Available in jet black, glacier white and disco ball designs, Om/One is nothing short of becoming the best gift you could give your near and dear ones as well have for yourself this Christmas Holiday. Given the fact that the pre-order price of such an innovative technology starts from $179, it's cool to make your music hours even more entertaining with a levitating disco ball floating by your side. Happy Gadgeting!