tado° Cooling Kickstarts a Smart AC Control Unit That Lets You Beat the Heat In An Eco-Friendly Way
With the multitude of smart home gadgets flourishing around, today's indoor lifestyle has become less of a practice and more of an experience. To call this mode of living ordinary would definitely be an understatement. This is because every single device we use indoors have now metamorphosed into smart devices which sense a lot more than we could do ourselves. Take for example, Goldee's intelligent lighting system that operates depending on your availability or these tiny little Cubesensors that can lead you towards a healthy format of living – every form of gadget today seems to be on this run for effortless living. The modern generation is quite in need of this now that the world is on the brink of facing the effects of large ecological footprints that have been left behind. It's necessary for us to conserve energy in every way we can and that should start by bringing automation in our lives.
The smart controller we are going to talk about henceforth is one of its kind in saving energy. This time we are talking about the energy that is spent in heating and cooling buildings (which is estimated to be one third of the energy consumed around the world). The intelligent futurists from tado° have been on this mission of reducing energy consumption since 2011 starting with their heating management app which is quite a popular device in the European continent today. But our focus lies on their latest venture called the tado° Cooling which is a smart AC control unit targeted for warmer continents such as Asia. A comfortable and sustainable form of living is finally on its way.
Air Conditioning Gone Smart For a Sustainable Future
To put it simple, tado° Cooling is a control unit that has turned the entire process of air conditioning smart, by bringing facilities like Auto-off, precooling, indoor presence detection and single room control in the limelight. It's compatible with 82% of all installed AC units in the world, be it window units, wall mounted split units or even portable units. By pairing your AC with tado°, you can now ensure to reduce your energy consumption by 40% without compromising on your time sitting under the AC. When speaking about the reason why tado° Cooling was built, Christian Deilmann, founder and CEO of tado° had said on their press release, "At tado° we strongly believe that combining efficient use of energy seamlessly into our lifestyle will enable a more comfortable and sustainable world. Therefore, we are designing cutting edge technology to add intelligence to the devices used in our daily lives. The potential for the tado° community around the world to have a big impact on the environment and the resources of our planet is tremendous."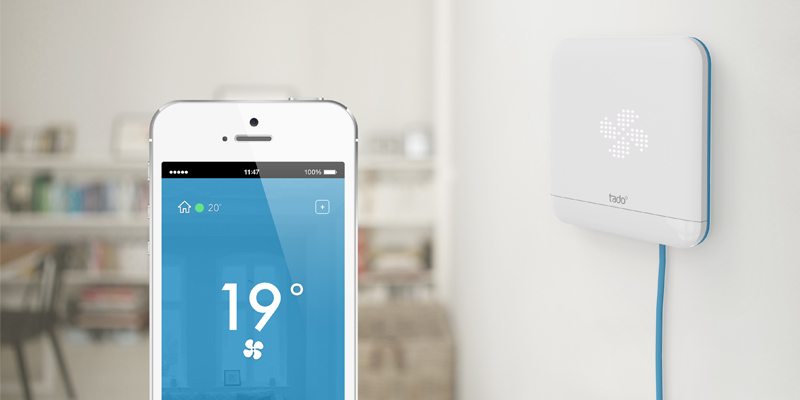 tado°'s operating principle is pretty simple. It connects with your AC unit via infrared and with the corresponding smartphone app via wifi. The unit automatically turns off your AC when the last person has stepped out of the house. So, incase you have anyone constantly forgetting to turn off the AC while he/she leaves, you're now relieved with tado° there. Through the location awareness system, it can sense your presence as you near your way to the house and pre-cools your apartment accordingly. The Bluetooth Smart technology has given it special powers to undergo room to room adaptation as you move around the house thus minimalising your power usage without letting you feel so. You can also preset a humidity level for your apartment from the app so that tado° ensures it's always maintained within that limit. The highly intelligent features have indeed made this device an efficient energy conserver for a sustainable future ahead.
The device looks extremely sleek and stylish as a wall mount and has an LED matrix on front which displays information only when you need it. Since it requires a constant line of sight with your AC in order to operate, you need to place it close to your AC on the wall. The app, on the other hand, turns on the geolocation functionalities for the device which lets the AC turn on or off depending on your presence. It's also got other customizable features through which you can set your preferred temperature depending on your needs.
Endows Your AC With an Intelligent Brain
Now, having had a prior experience with their heating management solution, this time the tado° team has thought of a better way to reach out to their audience by using Kickstarter. When speaking about this to Techcrunch, co-founder and CEO Christian Deilmann had said, "When we launched our heating product in the UK last fall we underestimated the demand and therefore ran out of stock for four weeks in Jan 2014. Forecasting volumes for Tado Cooling — a brand new product category — on an international level is very difficult. Kickstarter gives us the chance to scale production to the right volume after receiving the orders."
Currently, the project is still doing its round on Kickstarter and is nearly close to reaching its funding goal of $150,000. The Early Bird offer on Kickstarter will give 500 lucky backers the opportunity to get this awesome product for $69, the future retail price for which would be $149. On successful completion of the campaign, the team hopes to start their first round of delivery by September 2014. Together with its high-end technology and magnificent controlling features, tado° is close to welcoming a new future that lies ahead with better efficiency both in terms of comfort and energy conservation. Happy Gadgeting!