The best portable air conditioners for purification everywhere you go
While the sweltering heat of summer is attractive for sunbathing or enjoying a beer in the garden, the warm weather isn't always ideal for remote work or when you feel flustered. Fortunately, portable air conditioners allow you to feel cool in the summer heat. And, in today's Daily Digest, we have the best units you'll definitely want to get your hands on.
Portable air conditioners are a more efficient and powerful alternative to a cooling fan on your desk. These units feature a compressor that sucks in hot air and extracts a cooler (often customized) temperature that makes warmer weather more tolerable. Because not everyone adores the heat—especially when you're trying to sleep or are attending to chores.
Related: The best travel backpacks for summer 2021
In today's article, we have the top four portable air conditioners—including a wearable device and smart LG unit. These have been specially chosen for those who dread a heatwave; aspire for a powerful, cooling unit; or are looking for an air conditioner with an array of smart features. Either way, we have everything you need below.
1. The Evapolar evaSMART is one of the best portable air conditioners with smart features and convenient functions.
Control the temperature and lighting on the Evapolar evaSMART via the integrated phone app or voice assistance. That way, you can make adjustments wherever you are. Best of all, you can power this conditioner unit with a power bank, a laptop, or a power socket. During operation, it's whisper quiet and only consumes 12.5 W.
Order this portable air conditioner for $229.
2. Keep your temperature just right with the POLAR SEAL GEMM. It's a wearable that both cools you down and heats you up.
The POLAR SEAL GEMM uses patent-pending thermoelectric technology to provide instant cooling or heating in seconds. Moreover, this unique air conditioner features three power levels, and you can choose your ideal temperature at the tap of a button. It also offers a generous seven-hour battery. Overall, wear this device over or under your clothes to feel comfortable wherever you are.
Purchase this wearable air conditioner for a reduced price of £229.
3. Super quiet and offering a space-saving design, the LG DUAL Inverter Smart Wi-Fi Portable Air Conditioner can cool an area up to 500 sq. ft. It also features LoDecibel technology.
Keep you and your family cool indoors with the LG DUAL Inverter Smart Wi-Fi Portable Air Conditioner. This unit includes LG's DUAL Inverter Compressor to operate as low as 44 dB. So you can feel cool at night without a machine disturbing your sleep. Additionally, it's compatible with Alexa and Hey Google, providing a convenient way to make adjustments. Best of all, it includes 3 modes—cool, fan, and dry—so you can tailor it to your environment.
Order this for $649.
4. The BLACK+DECKER BPACT12WT cools and reduces indoor humidity at the same time. It also features 3 fan speeds.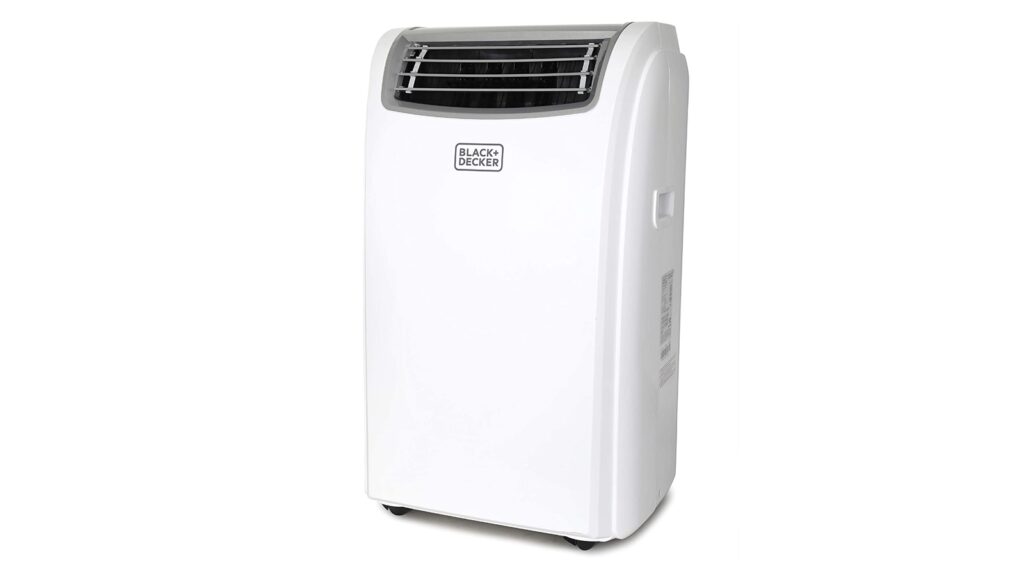 Portable and easy to install, the BLACK+DECKER BPACT12WT is a must-have portable air conditioner for spaces up to 150 sq. ft. Moreover, this unit includes a 24-hour timer that puts you in control, prevents waste and helps you save money. Designed to offer 5,950 BTUs, it delivers strong cooling power. Meanwhile, 3 fan levels—low, medium, and high—provide an array of choices.
This air conditioner will be available on Amazon soon for $399.99.
How portable air conditioners work
Portable air conditioners are equipped with a ventilating system that expels exhaust, similar to how a washing machine's venting system works. Most portable units include a water reservoir that also helps to dehumidify the room, helping to prevent mold buildup—a bonus!
You'll need to maintain these reservoirs regularly on basic models. But many high-end portable air conditions come with a drainage hose that eradicates this chore. However, keep in mind that a hose comes with commitments as well. Alternatively, you can choose a model that evaporates the moisture in the air and directs the exhaust through the air duct. This process reduces the number of times you need to empty the water.
Why you need a portable unit
The clue is in the name; these types of air conditioners can be easily transported from room to room. This is ideal if you live alone and only need to cool one area of your home at a time. With most units featuring built-in wheels, you can conveniently transport them from the living room to the bedroom. Plus, they're easier to store out of the way during winter.
Comfort
Additionally, you can't deny the level of comfort you'll receive in summer with a portable air conditioner. Many of the best models feature several fan settings—from low to high—helping to fight away the heat and keep you cool. There are even some unique devices—take the POLAR SEAL GEMM, for example—that provide a heating element, too. It's also great for winter use.
Easy installation
Above all, a portable option requires no installation. There's no permanent fixture or commitment to fitting the unit in your home. That means you don't have to hire a professional or waste your time. It's also ideal for those who rent properties because you certainly don't want to permanently install a costly unit into a home that's not yours.
Overall, a portable air conditioner gives you control over the temperature in your home or, if you're considering a wearable, on your body. They're an efficient and powerful way to extract warm air and expel a cooler temperature in minutes.
Why choose a smart air conditioner
When choosing your unit, why not consider a smart air conditioner? These allow you to control the settings via voice command or an app for a more convenient operation. Smart conditioners also boast more high-end features like built-in timers, auto shut off, additional modes and temperatures, scheduled timers, and much more. You won't regret investing in your happiness this summer.
What are some ways you remain cool for the summer? Share your hacks or favorite cooling gadgets in the comments.
Want more tech news, reviews, and guides from Gadget Flow? Follow us on Apple News, Google News, Feedly, and Flipboard. If you use Flipboard, you should definitely check out our Curated Stories. We publish three new stories every day, so make sure to follow us to stay updated!
The Gadget Flow Daily Digest highlights and explores the latest in tech trends to keep you informed. Want it straight to your inbox? Subscribe ➜