Week in Review: 5 New Hot Collections, Eero, jamstik+ and More
This week has been really busy at The Gadget Flow as we were working hard to launch the Platform Version 4.10.9. Finally, it's live and you get to see tons of new features once again. Starting with the notification panel on the top right corner of the homepage that will help you stay up to date with anything and everything new happening on our platform every day. Just to make your product exploration a bit more detailed, we've launched the Product Information Tab under every product which helps you go through the specs at a glance. But what's really fun is the introduction of 5 New Hot Collections. In case you haven't checked them as yet, here's the list –
2. Camping Gear
Coming back to our regular weekly updates on the best products and blog reviews, here's a lookback for those who haven't logged in for a while.
Best From the Gadget Blog
1. oBravo HAMT-1: A Refined, Natural Design with a Superb, Crisp Sound
2. VENQUE Briefpack Utility XL Can Be the Best Briefcase For a Modern Professional
3. Evoz: Smart Baby Monitor For Always Connected Parents
4. Product Photography – Why Is It Important At All?
5. Ringly Only Notifies You About the Important Stuff
6. Eero Represents a New-Age WiFi System That is Remarkably Fast and Secure
7. Imogen Heap Introduces Mi.Mu, Ariana Grande and Other Artists Embrace the Technology
8. Tech Roundup – 15 Excellent Headphones For the Musical Generation
Best Product Picks
For those who value the power of writing more than anything else. This Bamboo Pen Set has been designed to work as a perfect gift for your writer friends which comes in a number of options.
Enjoy distortion free mobile photography with the Telephoto Smartphone Lens by Moment. It gives you perfect mobile image captures without degrading the image.
Connected Medical Kit by CliniCloud
Getting medical opinion sitting back at home was never this easy. By using the Connected Medical Kit by CliniCloud, you'll be able to bring the doctor home anytime anywhere.
Marilyn D.28 Table Lamp
Furnish your modern home with this Marilyn D.28 Table Lamp having simple yet attractive sinuous lines. The lamp has been made out of aluminium with the design being extremely creative and new-age.
By including one of these adorable Full Moon Wall Sticker by Oakdene Designs in your bedroom, you'll only be making your nights the most special of them all.
The Inyo pack is a classic daypack design with a few simple features shown on most new packs. Water resistant nylon pack cloth. Durable canvas base. Leather reinforced strap point.
Flyshark Folding Keyboard
Now carry your keyboard in your pocket. The Flyshark Folding Keyboard has made your ordinary keyboard ultra-portable by making them foldable in nature.
Doorway Jungle Gym
Interesting swing and trapeze bar installable in a doorway. Give your little superstars a good option for indoor activity by installing the Doorway Jungle Gym at home.
Beam can turn any flat surface into a big screen. It is a powerful projector equipped with a smart computer, all inside a beautifully designed casing.
KMASHI Dual USB Portable Battery
The Kmashi MP816, prolong your battery lifetime wherever you are. Holding enough power to charge most smartphones, keep your gadgets going for days and still have juice left to share.
GINO Glass Server by notNeutral
Brew your coffee in a sophisticated style. Experience a meticulously designed GINO Glass Server by notNeutral to make those coffee times the best hours of the day.
Introducing aerelight, the world's first OLED lamp designed for you. Crafted from a single piece of anodized aluminum, aerelight is simple, sleek and brilliant.
Alter Ego Water Filtration Bottle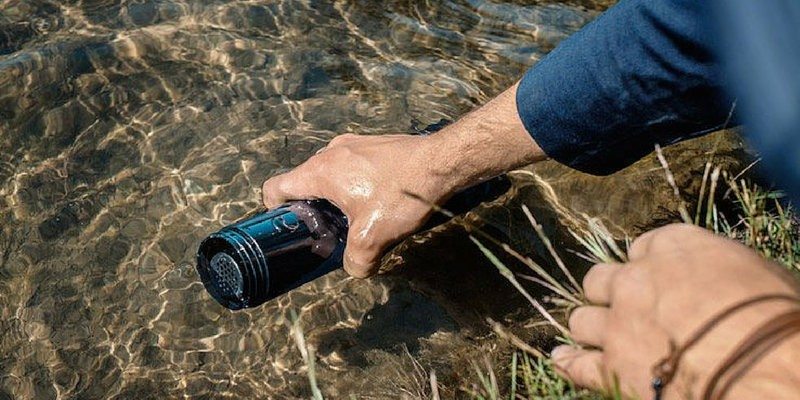 Designed for the urban travelers and outdoor adventurers. By using the Alter Ego Water Filtration Bottle, you'll be able to meet up to your hydration needs even in developing countries where access to clean water is often limited.
BEVL – iPhone 6 – 6 Plus Dock
Everyone has different preferences. A unique swivel design lets you use the phone at your preferred viewing angle without compromising the stability.
The jamstik+ is a digital SmartGuitar with real strings and real frets. It connects wirelessly to iPad® iPhone® and Mac® and works with a multitude of music apps for beginners and pros alike.
Trending on Facebook
Trending on Twitter
Meet @getCLUG – the world's smallest #bikerack http://t.co/xsW25To9g3 Minimal way to hold your bike! #bikelovers pic.twitter.com/okGota099G

— The Gadget Flow (@TheGadgetFlow) April 10, 2015
ZipShooter #Camera Dolly System http://t.co/oxBjRN0h9L Designed with flexibility under consideration! #photography pic.twitter.com/PHOhFNVDv1 — The Gadget Flow (@TheGadgetFlow) April 10, 2015
Trending on Instagram
That's all for this week everyone. Let's catch up again next Saturday with more new products and reviews. Till then, Happy Gadgeting!