If you're a collector, you're going to love this hand-painted Transformers Gen-1 chess set
Are you a fan of the 1980s Transformers series? Then you'll want to look at this chess set. It features individually sculpted, Hasbro-approved designs.
Add a true collector's item to your assortment of table games with the Eaglemoss Hero Collector Transformers Gen-1 Chess Set. This unique set features 32 characters from the 1984 to 1987 Transformers: Animated series. Each character is individually sculpted and painted by hand.
The Eaglemoss Hero Collector Transformers Gen-1 Chess Set is the first Kickstarter project from an international collectibles company with a two-decades-long history of creating high-quality superhero and science-fiction figurines.
For this particular set, the brand worked closely with Hasbro to create a brand-new mold based on the original designs of the Gen-1 characters. This is unique since, according to the company, not even the Transformers toys at the time were based on the series' designs.
Get 32 individually sculpted Transformers chess pieces
With this Transformer's Gen-1 chess set, you get a unique work of art. As we mentioned above, the set consists of 32 pieces, or Transformer characters. 16 are evil Decepticons, while another 16 are heroic Autobots. Each piece is sculpted digitally and has Hasbro's approval before being cast in metallic resin and painted by hand. Overall, it's a set you'll want to put in your display case along with your other home accessories.
Team Autobot
As your white chess set, team Autobots consists of 16 favorite characters from the animated show and the 1986 feature film. So your king will be Optimus Prime while your queen is Elita One. Bishops are Ultra Magnus and Grimlock, while knights are Hot Rod and Springer. Other great characters make up the rooks and pawns. All in all, it looks like a solid team.
Team Decepticon
On the darker side is team Decepticon, your black chess set. And, of course, it's ready to take over Cybertron. Your king is Megatron, while your Queen is Starscream. Skywarp and Thundercracker serve as bishops, while Shockwave and Soundwave are your ruthless knights.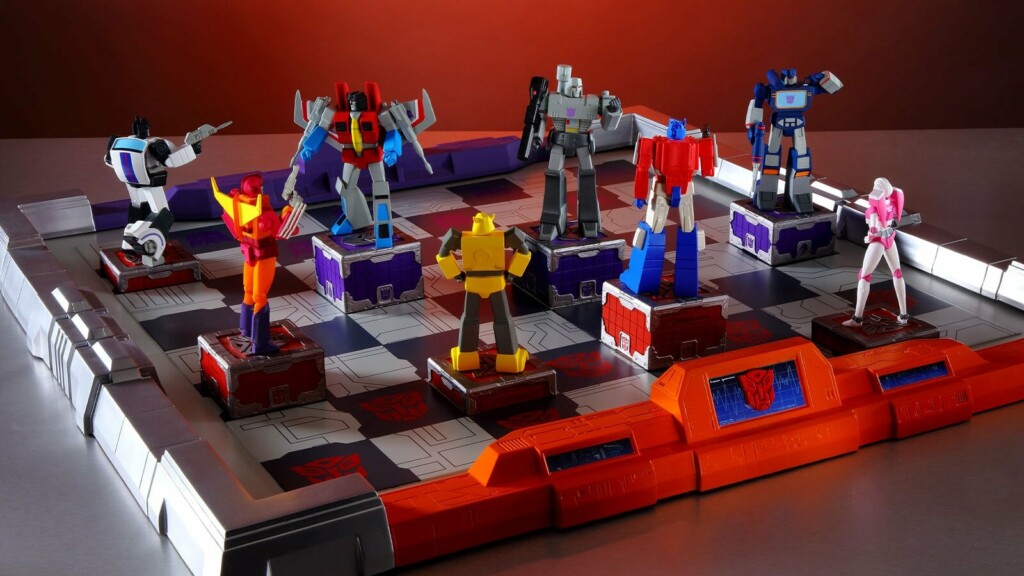 Enjoy impressively tall Transformers figurines
What's more, the pieces in the Eaglemoss Hero Collector Chess Set are pretty tall. Each measures 4.5 to 6 inches in height and sits on a base that tells you which piece it is. The pieces' stature adds to their impressive look and allows them to really dominate the chessboard.
Play on a custom-made Transformers chess board
But the craftsmanship doesn't end with the chess pieces. The Eaglemoss Hero Collector Transformers Gen-1 Series also comes with a Kickstarter exclusive chessboard. It measures over 25 square inches and matches the chess pieces.
It also has a raised frame with details relating to each side's headquarters. So the Decepticon's side is purple, matching its underwater base, while the Autobot's side is orange, the color of Autobot City. So this chess set has Transformer details incorporated into every aspect of its design.
Go for a design that Hasbro approved
In creating this Transformers Gen-1 chess set, Eaglemoss Hero Collector worked closely with Hasbro to produce definitive versions of each character. It consulted original character studies from the animation and in-depth reviews of the animated shows to achieve an exact look.
After research, the team created original digital sculptures for each figurine, which Hasbro approved. Only after this approval did the team cast the pieces in metallic resin and paint them. So these pieces are as accurate as a replica Transformers chess set can get. Yet, with their hand-painted design, they are originals.
Read about each character in the included 272-page book
Of course, you'll want to read about your exclusive set, and the Eaglemoss Hero Collector Transformers Gen-1 Series doesn't disappoint. Your purchase comes with an exclusive 272-page book with profiles of all 32 characters along with a synopsis of Gen-1's best episodes.
What's more, the book is full of images from each of the show's four seasons and the 1986 feature film. Meanwhile, it also includes new CGI artwork for the chess collection. So, while you admire your Transformers chess set as it sits front and center on your coffee table, you can read more about it in this collectible book.
The Eaglemoss Hero Collector Transformers Gen-1 Chess Set is a one-of-a-kind collector's item that fans of the 1980s Transformers series are going to love. Each of the 32 individually sculpted and hand-painted pieces is a Transformers Gen-1 character that Hasbro approved. For impressive Transformers memorabilia, look no further than this chess set.
Want an Eaglemoss Hero Collector Transformers Gen-1 Chess Set of your own? Preorder it for $600 on Kickstarter. What are some of your favorite superhero figurines and collectibles? Let us know about your discoveries in the comments.
TRANSFORMERS and all related characters are trademarks of Hasbro and are used with permission © 2021 Hasbro. All Rights Reserved. Licensed by Hasbro.