Lightpaper Makes Illumination as Thin as Material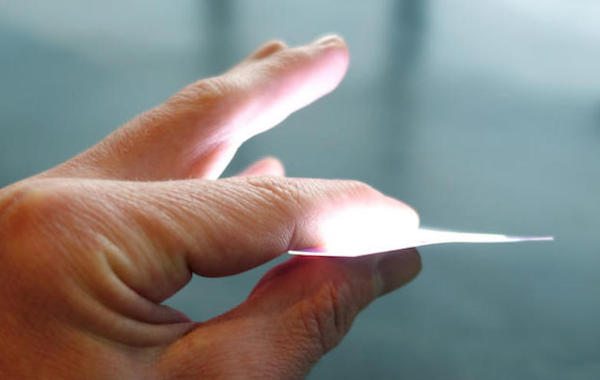 We may laugh at the moths that flutter around our lights, but in reality, humans love light too. We like brightly lit rooms and streets, and are attracted to illuminated decorations. Naturally, any major technological progress in making light will likely receive a lot of attention — at least, that is what a startup named Rohinni believes. It has created Lightpaper, a new coating that allows LEDs to be printed onto wafer-thin, bendable materials.
The major technological breakthrough here is the use of minuscule diodes (around 6-8 µm across) mixed in with ink. This allows the lights to be smoothed out onto a conductive surface, which is sealed between two protective layers. Simply passing a current through the material is then enough to power the light-emitting coating.
Visually, the result is remarkable. Watching bright white light stream out from the paper-like material breaks the mental concept of depth we've come to expect with light sources. But what practical purpose does it serve? Of course, if such a coating could leapfrog OLED technology in the race to create a super-slim display, Rohinni would soon be a multi-billion dollar company. Although, Rohinni believes it already has a viable product. One example use-case is in mobile devices — using a coated surface for screen illumination and notification lights must surely save some space in an already compacted phone. The startup is also working with car manufacturers, and there is much scope for the maker crowd to work with Lightpaper, too.
Research and development continues, not least because the first version of the coating isn't quite as uniform as Rohinni would like. This should be fixed in version two, however, and the general public will be able to get their hands on the technology around Q2/Q3 of next year.
To find out more about Rohinni and Lightpaper, check out the company's website.