GravaStar Venus portable speaker is a cyberpunk audio powerhouse with RGB lighting
If you're looking for the perfect sci-fi Bluetooth speaker for your office or at home, look no further than the GravaStar Venus portable speaker: An audio powerhouse out of this world.
Portable Bluetooth speakers are an excellent way to enjoy music and audio without tethering yourself to a more extensive sound system. They're easy to transport, great for outdoor gatherings like summer barbeques, and sometimes deliver surprisingly powerful sound. The GravaStar Venus portable speaker is one of these, and it's sure to blow you away. Let's take a look, or better yet, a listen!
GravaStar Venus portable speaker has solid build where it counts
Sometimes products with flashy outside appearances don't live up on the inside where it counts. This is hardly the case for the Venus portable speaker. The housing has a triangular support structure made to absorb shocks and impact. Its water-resistant design helps protect it when outdoors and near water (like a pool, for example.) All of this weighs in at only 1 lb. If solid build quality is important to you, you can count it as a win for the Venus speaker.
You can connect to the speaker from 50 feet away
Many Bluetooth devices have a somewhat low range in which they can connect. Sometimes it can be as little as 15-30 feet. This can be incredibly irritating outdoors, where you're more likely to wander out from that limited space. The GravaStar's Venus portable speaker can maintain wireless connectivity up to 50 feet, which should be acceptable for most backyard activities.
Produces remarkable sound and can link to other Venus speakers
Chances are what you're most interested in when shopping for a speaker is the sound quality. Well, GravaStar has made a genuine effort to create a great listening experience.
The Venus speaker uses a zinc alloy so that sound waves can resonate more efficaciously. Combined with phenomenal bass (via full-range subwoofer drivers), you're sure to enjoy powerful audio. Want a little more? The speaker contains True Wireless Stereo V2.1+EDR/5.0 technology so that two GravaStar Venus speakers can be joined together. We'd say that's kicking things up a notch.
The speaker with 6 RGB light options and a substantial battery
Like GravaStar's other products, the Venus Bluetooth speaker has a robot-like cyberpunk aesthetic. Lending to that look comes 6 RGB lighting options to enhance the sci-fi vibe further. Surely this would fit nicely into the neon-clad gaming setups that have become popular in recent years.
Venus is powered by a 1500 mAh rechargeable Li-ion battery. The battery can get up to 10 hours of playtime and be charged in under 2. There's also a 5V/1A power supply and type-C cable available.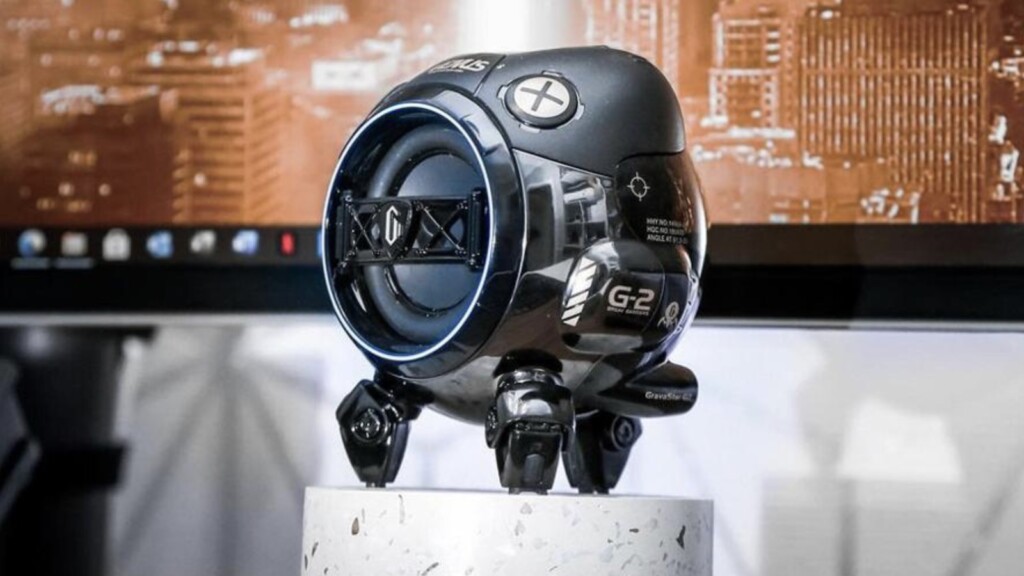 GravaStar Venus is a cyberpunk-style audio powerhouse
All in all, GravaStar's Venus speaker is a rad little audio companion waiting for a home on your desk or tabletop. If you enjoy listening to music and like the portability of Bluetooth speakers, you'll undoubtedly appreciate this quality option. If you're a fan of sci-fi (and/or all-things-cyberpunk), you're going to adore this little gadget.
The GravaStar Venus portable Bluetooth speaker comes in several colors and can be purchased from GravaStar's official website for $74.95