30 Winter Gadgets to Prep You for the Next Bomb Cyclone
While the bomb cyclone of Storm Grayson leaves the East Coast in brutal cold, we're thinking about how to cope with the next one. From double-layered touchscreen gloves to electric snow blowers, these winter gadgets are sure to help.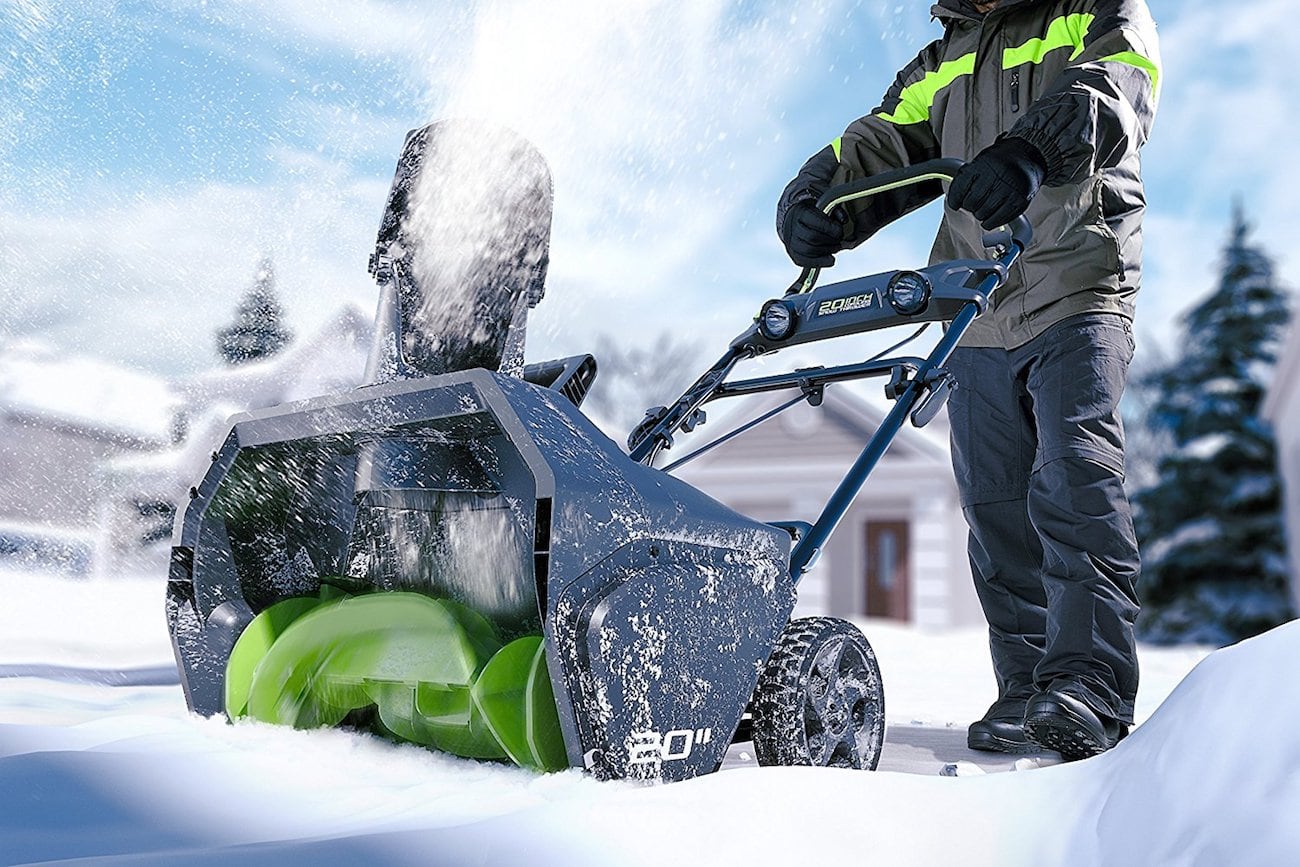 Electric blankets use very little energy. A great option for times when you want to curl up and save energy at the same time.
While putting a tarp over your car's windshield the night before to protect the glass is great, you can always try newer ideas like the Icescreen.
Innovations like "digital twins," predictive analytics, and blockchain can help companies prepare for and react to severe weather events according to Recode.
Recent weather has gone off its normal path in the past year as the northeast was obliterated with extreme wind and heavy snow. In fact, Storm Grayson even brought snow to the south. If you were unprepared, this type of weather can leave you cold and hungry. Or, you can prep yourself with the best gadgets to keep yourself nice and cozy. Whether you want to stay inside and stay warm or brace the harsh storm, these devices and gadgets will see you through any inclement weather. Or, you could just decide to sleep through it all.
Strong and powerful, this piece of kit can clear a path as wide as 20 inches in a single pass. In addition, it can battle through snow as much as ten inches deep. Inside the GreenWorks Pro are a powerful 2.0Ah battery and an 80V li-ion system.
It's not Zeus's thunderbolt or Poseidon's trident, but it's just as powerful as if it were made by the Gods. The collapsible handle of this shovel comes off to make it a snow brush, and attaching the handle back extends it into a full-fledged snow shovel.
Each mat produces enough heat to melt 2 inches of snow per hour. The best part is that you can buy a whole of bunch of them and connect them to each other using built-in watertight connecting cables and a single power unit.
Instead of shoveling snow and freezing your butt off in the process, get the Snow Joe Cordless Snow Blower. It uses rechargeable lithium-ion batteries that provide more than half an hour of perfectly silent runtime.
Featuring a rough and ready exterior, this tablet can withstand even the harshest of conditions, including snow. Of course, it remains lightweight to make any task a breeze. Additionally, it's technologically equipped to get the job done.
Much more effective than a piece of wood, arduous shoveling, or painful pushing, this simple system works with a variety of cars, vans, and ATVS to add traction when stuck in the mud, ice, or snow. The thick strap secures the rubber base of the Trac-Grabber to your tires.
An extra layer, made out of wool, acts as an insulator and doubles as lining, providing enhanced insulation. The updated design includes a leather wrist strap with a magnetic snap closure and upgraded material for increased durability.
A clean window in the middle of winter no longer has to be considered a luxury, reserved only for those with a garage. Now anyone can drive away with a clean windshield in less time than it takes to locate your scraper.
These durable battery -powered winter socks have a heating capability to keep your feet warm all day. Available in black with pink accents, these socks are ideal for any winter sport or activity from hiking and snowboarding to shoveling your driveway.
The WinterCase makes holding and using your device more enjoyable no matter how low the temperature. Additionally, it makes taking calls in sub-zero weather a cinch.
The Eight Smart Mattresses provide the perfect comfort and support for any sleeper. In fact, the only thing in mind with these mattresses is your comfort. Through its app, it tells you how you are sleeping, keeps you warm at night, and wakes you up at the right time.
This storage system is totally minimalistic to fit in with any interior. The Quadrat features raw style welded metal. Complete with a black color, the holder juxtaposes materials to bring an entirely new layer of style.
Once installed, the unit will be a 6-inch extension from the wall which won't take up too much of your indoor space. The wide realistic flame inside is surrounded by a black or stainless steel frame in order to create that perfect fireplace atmosphere on the wall.
This kitchen device uses high-quality stainless steel conical burrs. These help to decrease grinding heat and secure and protect the oil of the coffee beans. You can also grind in 0.2-second intervals to stop at the exact moment of perfection.
Although it looks like a typical mug, it's far from it. Coming with a connected coaster, you can adjust the exact temperature of your beverage with this intelligent vessel. The Ceramic Mug also connects to the app on your smartphone or smartwatch.
This incredible device controls the temperature of your entire home from a single hub. In addition, as the 4th generation of the device, the ecobee4 gives you seamless control with the app.
Complete with a massive 26800mAh battery inside to recharge your USB devices, this battery is ideal for taking on the go. It has enough juice to recharge your iPhone nine times over.
Using the legendary Dyson mechanics, this incredible system provides a long-range heat projection so you can warm up in every corner of the room. Additionally, it can be used with its cooling mode to produce a powerful airflow and velocity to cool you down even during a scorching summer.
Egloo battles the waste of electricity by using a candle for power. A cheaper and more eco-friendly solution, the candle is housed in a beautiful terracotta casing to help store heat and release it.
Using all of the iconic features of the Rumpl blankets such as portability, all-weather design, and size, the PUFFe Heated Blanket is equipped with a heating feature that can warm up even the coldest of hearts (err, toes).
You can now hit the slopes (or the roads) with your bike! The Bike Snowboard attaches to the front tire of your bicycle and does not require removal of the wheel. Clamping in place, you can slide and glide to make the most of the snow.
Winter brings along quite a few pains and irksome duties, but none more painful or vexing than shoveling snow. All that lower back pain and exertion in the freezing cold can be avoided entirely with this clever wheeled system.
As the world's lightest goggles, the frame is constructed from 100% EVA. In addition to this ultralight material, the strap features thermo-set compression molded silicone to stay in place.
Remaining super slim and extra cozy, this feet-warming system is a must-have for any winter activity. The +Winter Heated Insoles give you that perfect temperature to keep you defrosted.
The vests are padded with Thinsulate insulation, one of the most experienced suppliers of insulation in the world. Thinsulate provides optimal wick abilities. In the sides are strategically placed mesh materials to provide great breathability while it supplies heat.
Available in a variety of colors and sizes, these gloves are equipped with Invisitouch technology sewn right into the fabric. This means every inch of your hand works with your touchscreen for a more natural user experience.
This intelligent bed not only conforms to your shape but also to your lifestyle. The Sleep Number 360 is perfect for couples as you can each select your own sleep comfort levels.
Intelligently designed, this smartwear features integrated heating zones in the back to keep you warm and cozy. With a touch of a button, you can crank up the heat to make any winter wonderland seem like an oasis.
Coming in all black, these gloves were originally designed for European Special Forces. Despite offering impeccable warmth, they also offer superior grip and dexterity.
In a delightfully classic beanie style, this hat is large enough to cover your ears from the winter cold. But, its modest looks actually conceal a built-in music system. Complete with on-board controls, this beanie actually plays music.
Have more to add to this list? Let us know in the comments below.