Best standing desks to boost your productivity
Do you want to improve your productivity at work? It might be time to consider buying a standing desk, an office design trend that has really taken hold over the past decade or so. These desks let you stand while you do your work and could offer health benefits like improved posture, reduced pain, and better alertness. Plus, they allow you to alter your position throughout the day, which is something everyone who works long hours in an office dreams of.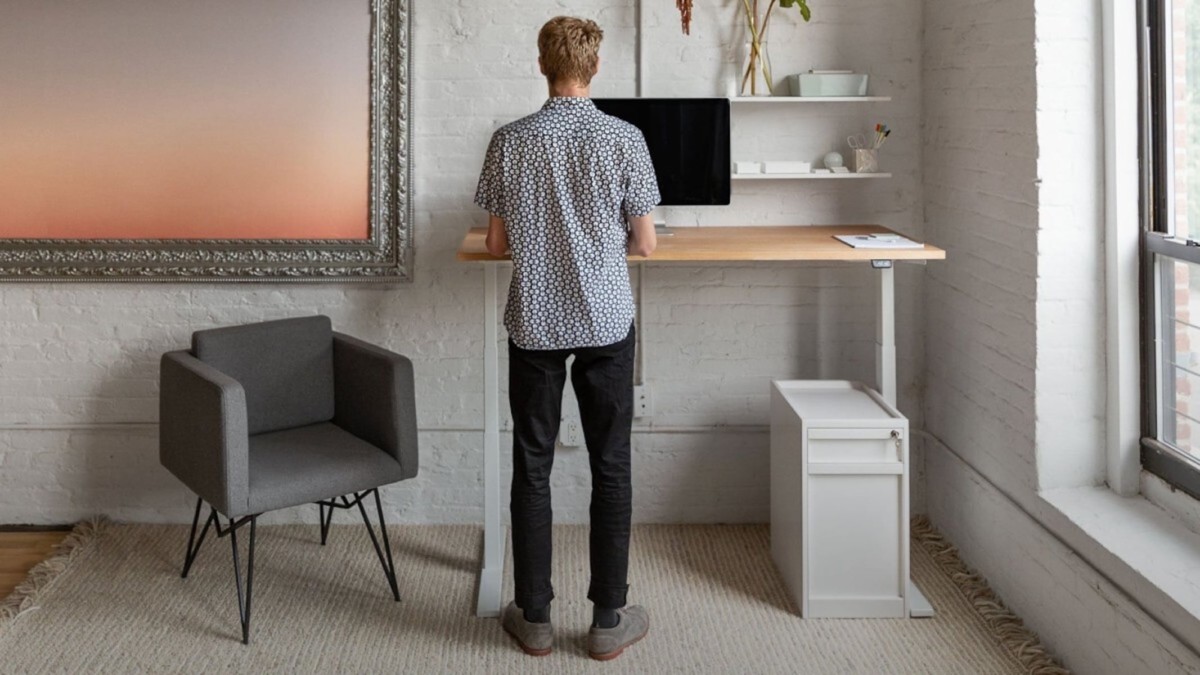 If your job involves long hours sitting at a desk and staring at a computer screen, you probably reach a slump after about an hour or so. And after lunch? That's when the drudge kicks in, and concentrating on those spreadsheets can be a challenge. But the fix might be as simple as switching to a standing desk. We've all seen them on office design sites. And switching to one could have benefits for you.
In 2013, an American Medical Association board member said, "Prolonged sitting, particularly in work settings, can cause health problems, and encouraging workplaces to offer employees alternatives to sitting all day will help to create a healthier workforce." This board member also suggested that employers should incorporate standing work stations at offices.
To back up this statement with research, CNN reported in 2019 that April Chambers, assistant professor of bioengineering at the University of Pittsburgh, led a research review of sit-stands as they relate to people's health. Chambers says, "We saw consistently across the studies an improvement in discomfort and pain as people use the desks. And this was found not only in people who, for example, experienced low back pain, but also in adults with obesity and in healthy populations as well."
Other studies show that standing after a meal could help blood sugar levels return to normal faster. This could potentially help workers avoid the after-lunch slump. So to feel healthier while you work or more awake after lunch, here are some excellent standing desk options.
AiT Smart One App-Controlled Desk
One of our best standing desks is the AiT Smart One App-Controlled Desk. It's height-adjustable, so you can choose if you'd like to sit or stand. And its smartphone app lets you know if you've been sitting too long. It also boasts some cool features like a wireless charger, ambient lighting, an air quality sensor, and more.
Uhuru Design Frame Rise Sit-Stand Desk
A more minimalist standing desk option that's great for a home office setup is the Uhuru Design Frame Rise Sit-Stand Desk. With its steel base, the Frame Rise ensures you can lean on it as much as you'd like. Best of all, the Frame Rise comes in either a 47-inch or 59-inch long version, perfect for work in small rooms.
Autonomous SmartDesk 2 Business Edition Standing Desk
Another of our best standing desks is the SmartDesk 2 Business Edition Standing Desk. Its business-like design is excellent for any type of work, and its ultra-quiet parts ensure you won't disturb your coworkers while you adjust it. It's a sit-stand desk, so you decide when you'd like to sit and when you'd rather stand. Choose from five worktops to complement your décor.
BDI Furniture Kronos 6752 Lift Standing Desk
One of our most beautiful standing desks is the BDI Furniture Kronos 6752 Lift Standing Desk. Another sit-stand desk, the Lift Standing Desk lets you adjust to the perfect height with the press of a button. It also hides your wire clutter with its mezzanine shelf and modesty panel. There's also a storage drawer for items you want to keep near you.
Artifox Wood Standing Desk 02
A lovely standing desk option is the Artifox Wood Standing Desk 02. This workspace furniture combines natural wood with a contemporary design. You have the choice of a walnut or oak worktop that showcases the wood grain. A steel grid organizer keeps all of your cords tidy. You'll also get Artifox PEGS for hanging accessories like your headphones.
NookDesk Adjustable Height Standing Desks
With the NookDesk Adjustable Height Standing Desks, you're sure to find the right height and position for you. These workspaces can adjust to 200 different standing and sitting positions. Height adjustments are quick to make since the workspace moves 1.5 inches per second. It's a good sit-stand if you like larger work areas since the upper work area increases your space by 40%.
These are our best standing desks to boost your productivity. Check them out to include more activity in your day and improve your health. Have you come across any excellent standing or sit-stand desks lately? Let us know in the comments below.
The Gadget Flow Daily Digest highlights and explores the latest in tech trends to keep you informed. Want it straight to your inbox? Subscribe ➜