This unique fidget toy is what you need to release stress
Looking for a fidget spinner that's more multipurpose? The COMMA fidget toy is the answer. This cool spinner comes with a built-in maze, bottle opener, and more. Check out this blog post to read about this useful toy.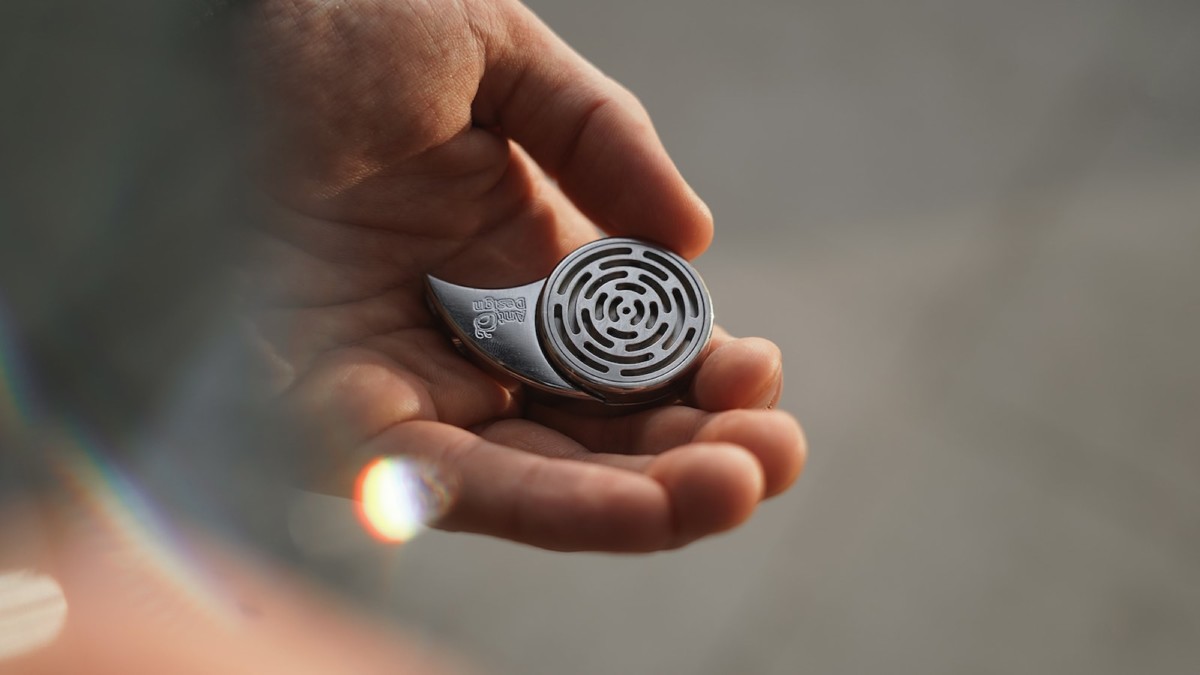 Do you tap your hand or bounce your foot to release pent-up energy? Well, you're not alone, and the popularity of fidget toys and spinners over the last few years speaks to that. But the trouble with the typical fidget spinners is that they tend to break, especially if they aren't made with high-quality materials. They also serve just one purpose; to satisfy your fidgeting. While that's certainly useful, it would be even better if these toys could do more since they end up being part of people's EDC. Thankfully, the COMMA fidget toy is different. This unique fidget toy has a pretty cool spin, comes with EDC features, and more.
The COMMA fidget toy is shaped like, well, a comma. It's a design that fits easily between your fingers and allows for multiple movements. Small in form, this gadget measures just 1.93 inches by 1.18 inches, making it compact and easy to take anywhere. Made of stainless steel from CNC precision machining, this toy is comfortable to touch and always looks new. You can spin, play dice games, make your way through a labyrinth, and so much more with this multifunctional spinner. Really, this is the toy for the modern age.
Adjust this spinner's spin
Like common fidget spinners, COMMA features a high-speed spin. But unlike most, this unique fidget toy allows for damping and sound rotating. It's also adjustable, giving you more options for your fidgeting because everyone likes changing things up once in a while, even when it comes to relieving their jitters.
Improve your focus with a labyrinth
Interestingly, COMMA also includes a rather complex labyrinth, a built-in ball and maze. It's a great activity for when you need a moment to relax before an important meeting or a presentation. Focusing on moving the ball through the barriers can be just enough to distract your thoughts.
Play a dice game
Yes, this unique fidget toy even lets you play with dice. According to the company's Kickstarter page, the dice functions designed for COMMA allow you to play dice with your friends anywhere at any time. Furthermore, COMMA comes engraved with 11 Viking symbols, the dice, each representing a different meaning. You spin it to receive lucky tips.
Have a box-opening tool at your fingertips
This unique fidget toy is a great addition to your EDC because it serves so many functions. It comes with magnets that allow it to attach to metallic surfaces easily. It also has a box opener, so you'll always have a way to open packages and heavy-duty envelopes without having to look for a knife or a pair of scissors last minute.
Crack open a cold one with the bottle opener
Another of the COMMA's practical features is its bottle opener. How many times have you wished you had one of those kitchen gadgets at the ready? Simply detach the bottle opener from the spinner's main body to remove the cap from bottled beer and sodas. It's another way this gadget helps you relax and feel your best.
You can replace the bearings
We mentioned that many fidget spinners break over time. Unfortunately, most can't be repaired, and they end up in the garbage. You won't have to worry about that happening with the COMMA. First of all, this unique fidget toy comes with high-performance R188 bearings. However, if they need to be repaired, you can do so easily, thanks to COMMA's detachable design. This allows you to replace parts if they break or maintain them to ensure a longer lifespan.
Match your style with color options
One color doesn't always fit all, and the inventors of this unique fidget toy understand that. That's why they provide two kinds of exterior designs and four color choices: Silver, Black, Golden, and Gray. With options like these, you're sure to have a spinner that matches your style.
Probably the best thing about COMMA is that It's suitable for all ages. Adults, teens, and children can benefit from playing with this toy since the effects of stress and anxiety can bring so much harm. The company's Kickstarter page writes that all age groups can relieve stress and improve concentration with this toy.
The COMMA fidget toy is a step above the typical spinner. It provides a number of ways to play, including a maze and dice games. But most of all, it also comes with handy features like a box cutter and a bottle opener, making it not just a one-use gadget. If you're looking for a practical way to relieve your need to fiddle throughout the day, this unique fidget toy is for you.
The COMMA fidget toy costs $30, and you can preorder yours on Kickstarter. What are some of your favorite EDC items? Let us know about them in the comments section.