11 Best products to have on your nightstand
We all know that sleep is important but how we fall asleep and how we wake up can really affect our day. From our mood to our energy levels, it's imperative that you optimize your time to rest. These bedside gadgets use incredible technology to help no matter your needs.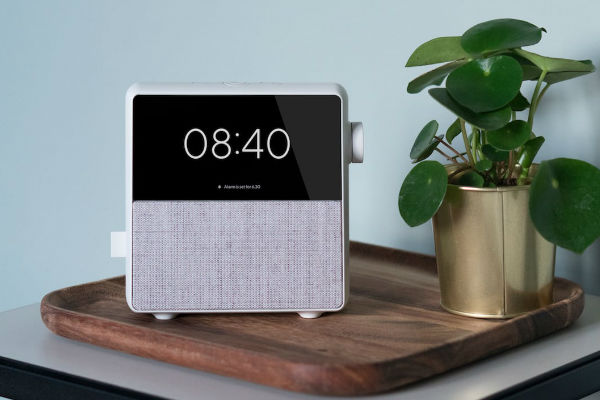 How can you save your eyes from strain? From our smartphones when we wake up to our laptops at work to our smartphones on our commute home, screens are everywhere. With blue light leading to countless health issues, it's time you were proactive. Here's how you can help your eyes.
How can waking up be a little bit easier? There's always a better way to wake up – you just need the right sleep devices and apps.
Is there a better way to catch up on sleep while on the go? If you're always on the go, you often have to get creative. Luckily, these clever travel pillows help you bring the comforts of your bed with you so you can power nap anywhere.
Waking up on the wrong side of the bed isn't just a saying to explain away cranky behavior. While it might not actually matter which side of the bed it is, how you wake up, and how you fall asleep, can actually greatly impact the trajectory of your day.
Whether you have a partner who snores or your brain doesn't wake up until you have coffee, these 10 bedside gadgets will help you make the most of your time in bed for a better day ahead.
Google Home Hub Smart Display
Exclusively designed for your time at home, this dashboard can also make bedtime even better. Equipped with an ambient light sensor, the display automatically dims at night and brightens in the morning. Plus, the screen automatically shuts off. When you wake up, Google Assistant can tell you about your calendar events, the traffic, or even start making your cup of coffee.
Vobot Smart Bedside Alarm Clock
This Alexa integrated device does so much more simply than wake you up. Once you touch to activate Alexa, you can listen to music, check the weather and more using voice command. No matter your preference, it's a great way to start your day.
iHome Zenergy Meditative Therapy Candle
Offering a flameless candle effect, this light adds a warm charm to your space, making it more peaceful and inviting. The Zenergy Candle also produces meditative lighting and sleep therapy effects to help you stay calm. It's ideal for setting your mind at ease before you fall asleep.
QuietOn ANC Anti-Snore Earbuds
With active noise cancellation, these ultra comfortable earbuds stop the sounds of your snoring partner in their tracks. They work by cancelling low-frequency sounds which foam earplugs simply cannot do. With snoring sounds eliminated, you can rest peacefully all night long.
Bonjour Smart AI Alarm Clock
Another incredible invention from Holi, this alarm clock has voice-controlled AI that turns it into your personal assistant. Bonjour features a warm and welcoming female voice to inform you of information like traffic and weather to help you make informed decisions about your day. Plus, Holi can respond to your every request.
Sensorwake Trio Smell-Based Alarm Clock
Using dry diffusion technology, this bedside gadget offers a wide range of smells, such as coffee, peppermint, or the forest. Designed to improve your mornings, the Sensorwake Trio wakes you up in three minutes using your favorite smell.
HyperCube Wireless Charger Sleep Aid
With 13 smart functions, this clever device helps both you and your devices charge up at night. Using Qi technology, the HyperCube has three charging pads for ultra-fast wireless charging. With everything in one place, you never have to worry about dead batteries as you leave the house.
Sobro Smart Side Table
Designed to simplify and improve your life, this side table comes with an array of smart features. It has a built-in cooler drawer so you can quickly grab a cold drink in the middle of the night. Likewise, it has a locking storage drawer to keep your valuables secure yet close by.
Philips Somneo Sleep and Wake-Up Light
With this light, you can easily fall asleep using the RelaxBreathe function. This helps you slow down your breathing by using lights or sound as a guide. Additionally, the sunset simulation prepares your body for rest so you get the most out of your sleep.
Scentee Machina Smart Room Diffuser
Featuring a modern aesthetic, the Scentee Machine is easy to use with a simple plug-and-play design. Using the app, you can choose how you want the diffuser to function. With Scentee, you can relax your mind at night or wake up feeling more refreshed.
Circa Standalone Smart Alarm Clock
More than just a clock, this device makes it easy to fall asleep and wake up on time. Even down to the aesthetics, this clock helps you sleep. The sleep tracking functionality clues you into your sleep habits so you can improve. Plus, the OLED touchscreen emits less light at night than your average alarm clock.
What else do you like on your bedside table? Share with us in the comments below.
The Gadget Flow Daily Digest highlights and explores the latest in tech trends to keep you informed. Want it straight to your inbox? Subscribe ➜